Pittsburgh is not only the city of the three rivers and countless bridges – on the southern bank of Monongahela and Ohio River, one of the scenic natural beauties is the not too high, but very steep Mount Washington, which offers an excellent view of the city. During my December 2019 trip to Steel City, I again visited the place several times and enjoyed the views as well as the rides with the historic inclines. Enjoy one of the most enjoyable places of the lovely city in the overall 500th Flyctory.com posting.
This posting is supported by a major size picture gallery, which contains 199 items. You can also find it in the travel gallery.
I selected this posting as my Posting of the Year 2019.
Mt. Washington – Location and Access
Mount Washington is a hill South of Pittsburgh Downtown, right at the strand of Monongahela and Ohio River. Though it is comparably flat – none of the outlook points is higher than 115 meters above river / downtown level, it feels quite elevate, also because it is very steep. Multiple tunnels cross Mount Washington.
Due to its view and central location, the area is a quite posh residential area. However, the area is also famous among tourists. This posting does not give a full overview of the Mount Washington attractions, but, for example, Shiloh Street is very famous for shopping and enjoying yourself.
If you want to ride the Mount Washington inclines, there are parking facilities on hill as well as on river level. curbside parking on hill level is about 1 USD / hour and typically limited to two hours. Parking for example close to Station Square on river level may be more expansive, but therefore offers a better connection to downtown via "The T", Pittsburgh's light rail system.
Views from Mount Washington (Pittsburgh)
At the edge of Mount Washington along Grandview Avenue (where you will exit when you ride one of the two inclines), there are multiple scenic overlooks. Most of them are built as a platform above the mountain structures. There are also viewing platforms next to both incline summit stations  – however, both were closed due to construction at my December 2019 visit.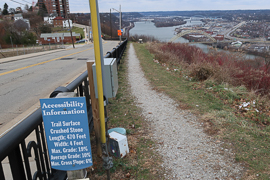 The platforms offer an amazing view of Pittsburgh. Naturally, the more Western ones closer to Duquesne Incline give a nice view of Fort Pitt, Heinz Stadium, PNC Park and the Carnegie Science Center and the Ohio River.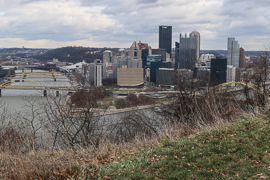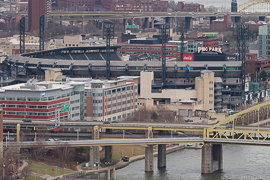 Closer to the Monongahela incline, you have a better view of Pittsburgh downtown and the bridges over Monongahela River.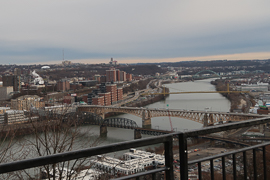 The Pittsburgh Mount Washington Inclines
Originally, there were 17 inclines in Pittsburgh. Only two of them are still existing, both connecting Mount Washington with river level. Both have their pros and cons, so that I felt to introduce both to you in one posting. Both have about the same time of operation, roughly 5:30 to 00:30 hrs on weekdays and slightly shorter on Sundays – which shows that both inclines are still used as transportation by the local as well. Riding time for both, one way is just few minutes each way. They are both powered by an engine on the respective summit station, as they are connected by a cable and thus working similar to the Chattanooga Incline, for example.
Monongahela Incline
The Monongahela Incline is likely the one you run into first when you visit Pittsburgh. The key reason is that its river-level station is more centrally located, right at Station Square Light Rail Station at the end of Smithfield Street Bridge. Another advantage of that incline is that it is integrated into the local traffic system and run by the Port Authority. If you want to have an immediate return (within three hours), you can do so by using a transfer ticket, which is 3.75 USD (single trip: 2.50 USD). You generally pay at the summit station and may also use your connect card.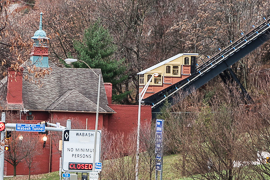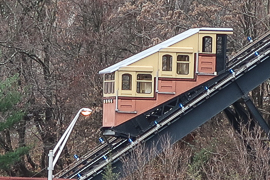 There are a few down sides, though. For example, the cars are not original, but are part of a 1982/83 renovations. There are three cabins in a car, which is organized in steps. The upper cabin is open and just features grids instead of windows. There is no proper seating on that top level. It may be that you do not see a person who is riding with you in another compartment.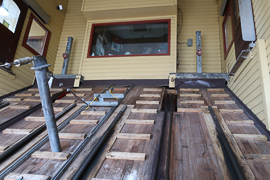 The view is of course very nice and gives you a nice look of downtown. Nevertheless, I like the Duquesne Incline view better. For stat fans, the length of the incline is roughly 194 meters with a steady grade of 35 degrees.
Duquesne Incline
Apart from that it is more Western, there are some differences to Duquesne Incline. The most obvious one is that there is just one compartment in each car. The incline is some 50 meters longer, but less steep (30 degrees). It is driven by a private conservation society. Some local transport tickets seem to be accepted, but you majorly buy a 2.50 USD one-way trip (there is no reduction for a return ticket). You pay cash at the river-level station, which is in fact at a not too interesting part of Pittsburgh and not as good connected as the Monongahela peer.  On the other hands, the cars used are based on the original structures.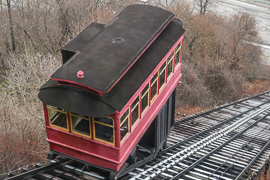 I also feel that the view from the Duquesne Incline is better, but this may be just a matter of taste. The summit station also includes a small and nice museum.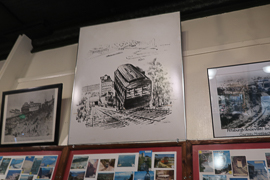 Mount Washington & Inclines – Gallery
As I love the place that much, I decided to have a major size picture gallery to this posting containing 199 pictures. You will also find it in the travel gallery:
Mount Washington & Inclines – My View
Mount Washington is one of my favorite places in Pittsburgh. The view from the platforms is breathtaking (and sometimes a bit frightening as well). Riding the inclines is just a wonderful trip back in transportation history. I absolutely enjoy both of the rides, though I overall prefer the atmosphere around Duquesne Incline. You majorly may opt for the Monongahela Incline due to the easier transportation links. If you visit Pittsburgh, this area is a must visit – maybe even daytime as well as nighttime.
Flyctory.com Views from Above
Here are all postings tagged as Views from Above, dealing with any kind up-in-the-air viewpoints:
Flyctory.com in Pittsburgh
Here are more postings by Flyctory.com related to Greater Pittsburgh: