In previous postings, I already introduced you to my excellent travel experience with the Southern Florida high-speed rail provider Brightline and their Premium Lounge at MiamiCentral station. To complete my review of their operations, here is my lounge review at the Northernmost station at my time of visit (in October 2022), the Premium Lounge at West Palm Beach.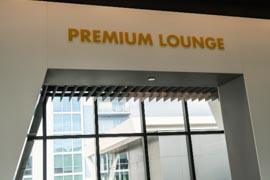 Brightline Lounge West Palm Beach – Location & Access
West Palm Beach train station is located rather centrally in the city. For example, the The Square mall is just a few blocks away. You can also reach the shore towards the lagoon in an a few minutes walk. Please note that the Brightline operations use different stations than Amtrak and regional rail company Tri-Rail. The West Palm Beach station for these companies' operations are just a few blocks away to the West.
The lounge is located on the Southern tip of the train station terminal, which is built above the tracks. You only have access to the Brightline Premium Lounges with a valid Premium ticket. I wanted to explore their whole network and thus headed from West Palm Beach South to their terminus, Miami.
Brightline Lounge West Palm Beach – Atmosphere
Especially if you compared the Brightline Lounges to European rail lounges, they feel very modern and comfortable. The lounge is roughly split into two parts. The Western section is also holding the buffet, whiile the East part (which also features the automated entrance gates) is having the slightly more cosy seating options. Power outlets are provided throughout the whole train station, also in the "lounge" waiting area for Standard Class passengers.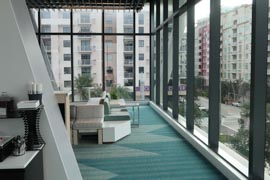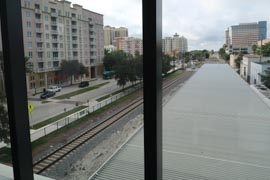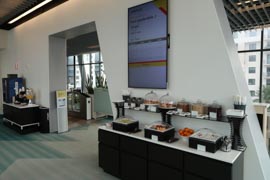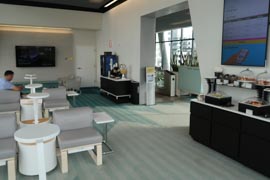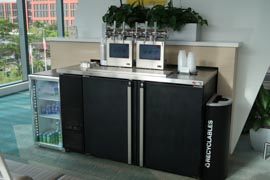 Brightline Lounge West Palm Beach – Food & Drink
I visited the Brightline Lounge in the morning hours, so that I enjoyed their breakfast service. The food and breakfast items were really great – I liked the selection even more than the afternoon snacks in Miami later the same day. Per visit, you also have a two alcoholic drinks (wine, beer) free allowance. For that reason, you need to scan your ticket when you grab one of the sips.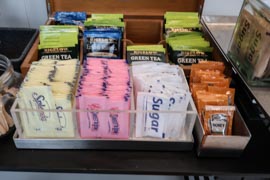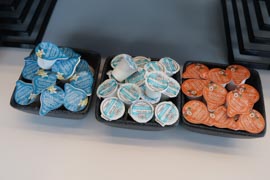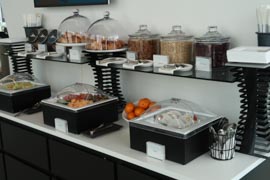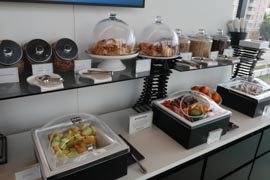 Brightline Lounge West Palm Beach – Services
In general, the staff in the station was very welcoming. However, in the lounge itself, you don't have too much contact to the Brightline people, who just enter the place to service the buffet or the lounge. The WiFi connection in the Brightline Lounge West Palm Beach was excellent.
Brightline Lounge West Palm Beach – My View
In fact, this has been my very first visit at a Brightline Premium Lounge – and I loved it. The atmosphere is beautiful and relaxed and the breakfast in the lounge was a lovely. The Miami lounge was more beautiful and featured different kinds of seatings, while I liked the food offered in West Palm Beach more – overall, this leads to similar Top Pick! ratings in both cases.
Rail Lounge Reviews
Here are all lounge reviews related to my Rides on Rail category:
(Greater) Miami
Here are my postings about (Greater) Miami, including West Palm Beach, Fort Lauderdale etc.: