My fifth visit at the tennis US Open is the shortest one – arriving on Thursday afternoon by British Airways signature flight BA 1 and leaving the Big Apple again on Sunday. The more I have been looking forward to two days of tennis in Flushing Meadows – here is my onsite report of Friday 31st August 2018 – which was a very enjoyable day to watch, as it was cloudy, sometimes with a slight mist, which caused very easy temperatures.
There is a larger-size US Open 2018 match picture gallery on Flyctory.com
Men's Doubles: Albot / Jaziri – Rojer / Tecau 3-6 7-8(2) 6-2
I arrived quite late at the grounds.  As I wanted to see Timea Babos playing the second match on Court 5, I decided to see this one, too. It was a very decent men's doubles match, especially in the tie break, where the favourites Jean-Julien Rojer (Netherlands) and Horia Tecau (Romania) even wasted a match point. The Tunesian-Moldovan team came back and gave a great third setter in a thrilling decision.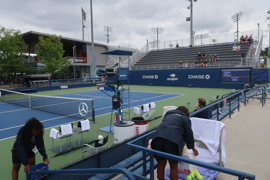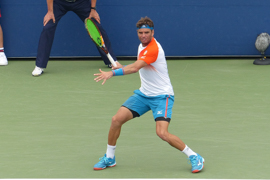 Women's Doubles: Babos / Mladenovic – Gibbs / Santamaria 6-0 6-2
As a friend of Hungary, I always wanted to see Timea Babos playing – and she gave with her partner, French Kristina Mladenovic, a great presentation how good also women's doubles tennis can be. Especially in the first set, the second seed dominated. The young US-American did not do a bad job at all, but they played against titans of doubles tennis. At least, they got some games, absolutely deserved, in the second set. Finally, the match was a 51 minute demonstration of dominance.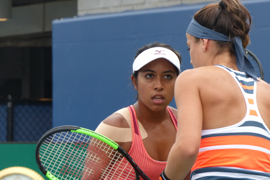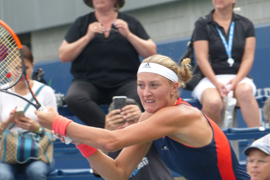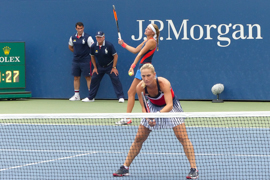 Women's Doubles: Kichenok / Siegmund – Begu / Niculescu 3-6 6-3 6-2
Quite a contrast after the amazing Babos / Mladenovic combo. I wanted to see Laura Siegemund playing after I missed her mixed doubles with Rohan Bopanna due to late start. The Romanians looked better in first set, but Siegemund and her Ukrainian partner Ljudmyla Kichenok gave a nice comeback to a three-set win.
Men's Doubles: Haase / Middelkoop – Petzschner / Pütz 6-3 3-6 6-1
I just stayed at court 13 for some minutes to see one of the best German doubles teams playing. Not as smart as Leander Paes, not as solid as the Bryans, but quite a nice-to-watch match, where a second set win by the Germans was not enough to prevent the victory of the Dutch pairing.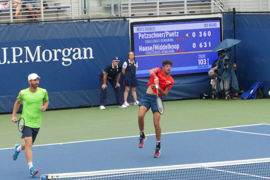 Men's Doubles: Jebavy / Molteni – Berrettini / Seppi 7-6(3) 6-4
I just had a short look into this match, as it was scheduled before Rohan Bopanna's one. Roman Jebavy (Czech Rep.) and Argentinian Andres Molteni finally beat the Italian combo in straight sets. The match has been interrupted by rain for twenty minutes in the second set.
Women's Singles: Kanepi – Peterson 6-3 7-6(3)
I am very much in doubles tennis, but as Rohan's match was delayed to due rain, I was very happy to see some points of Estonian Kaia Kanepi, who had a tough battle with Swedish Rebecca Peterson.
Men's Doubles: Bopanna / Roger-Vasselin – Ebden / Withrow 6-4 6-4
The match was delayed due rain and had to be interrupted again after the first game. Then, the weather stayed reasonable. Indian Rohan Bopanna and his French partner Edouard Roger-Vasselin needed one break in each set to advance to third round. Both teams served very well, the more experienced French-Indian combo were just more genius. A very fun match to watch!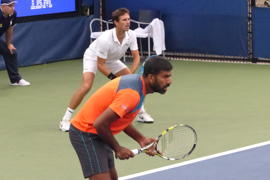 US Open 2018 – Match Picture Gallery
To see more match pictures (also in larger size) of the two days of my visit, please visit the gallery:
There is also a designated article about how the US Open are like from a spectator's perspective.
I just used my point and shoot / bridge cameras for the pictures, as I had ordinary tickets for this event. Thus, please excuse the limited picture quality.
Postings about Tennis
Here are all postings which are related to tennis on Flyctory.com
Postings with Gallery
Here are all Flyctory.com postings, which come with a larger size picture gallery: