Naturally, Day 1 of my trip to Nashville lead me to the airport. The first stage of my trip was Washington, which is one of the most beautiful cities in the United States to me.  However, I flew into Washington Dulles instead of the city center Ronald Reagan Airport after some rebooking. On the positive side, there were no more short connections and a significantly earlier expected arrival in the US capital. Here is my Day 1 towards the big Honky Tonk.
CMA Fest Trip Day 1 – Flying to the States
31st May was majorly transfer day: the alarm clock rang short before 4:00 German time (22:00 Washington, still on 30th…) to be at the airport around 5:30. The flight to Dusseldorf was nothing special. My ticket to Washington was just a World Traveller Plus / Premium Economy ticket, so that I sat in the front row of Economy Class to Heathrow. There were two highlights of about the flight: first of all, the plane had a nice BEA retro livery. And finally, I spent most of the time falling in love with Thomas Rhett's new album.
I had breakfast at the First Class Lounge, where I got a new boarding pass. 14F, op-up to Club World / Business Class, yay! I am not too much a fan of the Club World Cabin, but I am even less a fan of the Club World one… So it was a nice treat in the Boeing 747-400. Washington welcomed me with lovely weather, 30°C and sunshine. Here is a detailed review of the flight.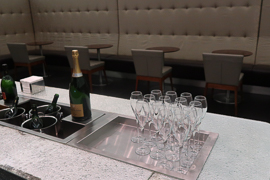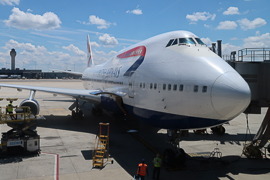 | | | from | to |
| --- | --- | --- | --- |
| 31.05.2019 | BA 935 | Dusseldorf DUS | London LHR |
| 31.05.2019 | BA 217 | London LHR | Washington IAD |
CMA Fest Trip Day 1 – Immigration and Transfer
The transfer from the plane to the immigration was weird. At a designated gate, they had something between a bus and a rolling container, which took quite a lot of people at once. Thereafter, I was quite surprised that Washington-Dulles did not have immigration kiosks (apart from Global Entry passengers) at the Immigration.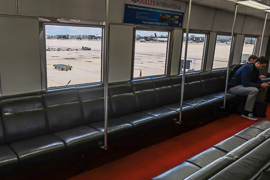 Nevertheless, the processes were quite efficient. I went for a Super Shuttle, a shared shuttle, from Washington-Dulles to my hotels. The price is significantly lower than taking a cab – nevertheless, I would just leave a mixed review here. You pay a gratuity before the shuttle even started, for example. The driving was rather mixed, so that I was quite happy that my hotel was first on the list. Doubletree Crystal City in Arlington, VA, close to Reagan Airport – here is the detailed review of the hotel.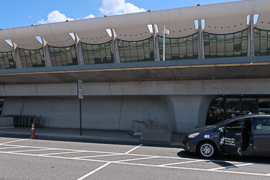 CMA Fest Trip Day 1 – Exploring Pentagon City
There was a lot to do the last days. Thus, I downsized my plans. I just explored the neighborhood around the hotel a bit. Originally, I wanted to head to Gravelly Point Park, from where you can do planespotting for Reagan airport, but my German account did not work at the car2go car sharing network. Thus, I just went for the nice Fashion Centre at Pentagon City mall, having a snack, before going back to the hotel. Just too exhausted, fighting against the jetlack.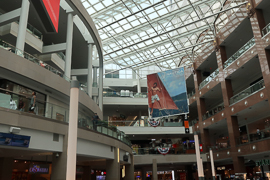 A Musical Trip to CMA Fest 2019 – Day by Day
Here are the links to the daily postings (link will be added once posting is published):
Day 1, 31st May 2019: From Germany to Washington D.C.
USA – All Postings
Here are all postings which deal with the USA: