Nickelodeon Universe American Dream
69 / 79 USD (all attraction pass)
When my wife and I headed to American Dream Mall in East Rutherford, we just aimed to enjoy the view from the Dream Wheel NJ Ferris wheel and maybe visiting Sea Life New Jersey. Finally, we ended up in many more activities, including Angry Birds Mini Golf – and Nickelodeon Universe. The indoor theme park is located right inside the huge mall West of New York City. Here are some impressions and thoughts. According to the website, Nickelodeon Universe is the largest indoor theme park in the United States.
Nickelodeon Universe – Location & Admission
The Nickelodeon Universe park is located right inside the American Dream Mall. The DreamWorks Water Park is almost next to it, other attractions like the New Jersey Sea Life or Legoland Discovery Center New Jersey are in short walking distance. The easiest way to get to the mall is likely by (rental) car. There is also a train station, but according to my information, the schedule is linked to events in MetLife Stadium. There are also a couple of bus options. Some of them require a transfer from Manhattan.
Opening times of the park are rather confusing. Monday to Friday, they open at noon, Saturday is one hour earlier. Monday closing is 20:00, Tuesday to Thursday and Sunday 19:00. On Fridays, you can enjoy the park until 21:00, on Saturdays one hour later. The park does not charge you any admission to the park itself, but you pay for the rides. The easiest way is the all-access pass, which is 79 USD on weekends, 69 USD during the week and gives you unlimited rides. There is also a Twilight Pass at a smaller fee for the last opening hours. Alternatively, you can pay per ride by a ticketing system. American Dream Mall also sells a combined pass for Nickelodeon Universe and the DreamWorks Water Park.
Nickelodeon Universe – Atmosphere
They got the license for all the cool characters – so how could Nickelodeon Universe be a really lousy spot? The park is colorful, there are a lot of the cartoon stars you know from the TV channel. Even just strolling through the park felt enjoyable. If there is a little kid in your soul, I almost guarantee you will be having a good smile in this place.
Nickelodeon Universe – The Visit
The rides are split into two groups, three point rides and six point rides. This is only relevant if you have a pay-as-you-ride point pass. In the cheaper category, you already find the somewhat-swingboat Bikini Bottom Crosstown Express, the Rugrats Reptar Go-Round merry-go-round or the Butterbean's Sweet Spin tea cup ride. Overall, the park features 25 rides, twelve of them in the "more exclusive" range. This one also features roller coasters like Atom Smasher (with Jimmy Neutron) or The Shredder. As a typical point pass is 30 USD for 18 points, not valid on Saturdays, the all-access version is likely the only option to go for. Despite the numerous roller coasters, I would see Nickelodeon rather to be a family park than a thrill ride park.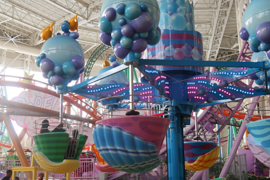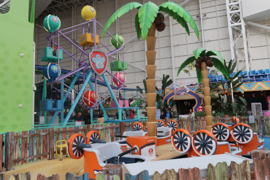 Nickelodeon Universe – Services
A visit at this Nickelodeon indoor theme park would just not be complete with some food and souvenirs – and, of course, they are offering it. We did not check out any snack opportunities in the park, but things looked really nice. At the more thrilling rides, the park typically provides locker for your items. They are free for the ride (45 minutes), but charge you thereafter. As you can walk in and out, you can of course also use the services provided by the mall or use your car as your private locker.
Nickelodeon Universe – My View
The park is not a blast – but it is fun. And it is by far not as crowded as Disney or other Orlando visitor magnets. The price for the all-access pass is just reasonable to have a bit of fun and hang out. Being located right inside a posh mall and going in and out as you like is definitely a nice perk. You meet Spongebob – that's already not too bad. For Manhattan visitors, the traffic situation may be bothering. During our visit, a couple of rides were closed due to maintenance, you should check that out in advance.
Amusement Parks – More Postings
Here are all postings about Amusement Parks:
Travel – USA with Kids
Here are all my travel postings related to the USA marked as Travel with Kids: