The second day on my trip to Nashville was a comparably easy one: waking up in Washington D.C., sleeping in in Washington D.C. – just a full day at the US Capital. I had a huge list of things I though about to do and visit and felt to be flexible, depending on what I feel like and on the weather. Finally, I had a great day in the city. Here is may 1st June 2019 experience.
Early Morning Challenge
Typically, I try to stay awake until 22:00 when arriving in the States. I typically wake up around 5:00 in the morning then, which is not too bad. I just did not make it this time, went to bed too early and woke up too early as well. Doubletree Crystal City is not the best place for early-birds – breakfast is served from 7:00 on weekends – quite late for an airport hotel. At least the buffet breakfast was really nice, so that the hotel got back some of the lost sympathy.
Ubering to the Giant Panda
Washington with its Smithsonian Museums is just an amazing place. There are so many top notch exhibitions which are for free. The only thing I paid to get into the National Zoo was the Uber Ride, which I thought will save me a lot of time – unfortunately there were some road closures, majorly due to roadworks.
The Zoo was amazing. Highlight of their inhabitants is the Giant Panda – but there are a lot of other animals around.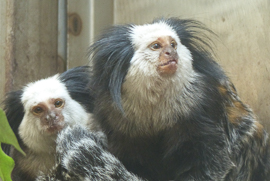 I walked along the Washington Heights – a really lovely area. Finally, I ended up at the Woodley Park-Zoo/Adams Morgan metro station. Quite impressive escalators there 🙂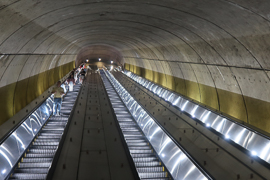 Washington D.C. – The Alternative Tour
I decided to go for Washington attractions which I haven't visited before. I can highly recommend the Smithsonian Air and Space Museum, the Lincoln Memorial, the National Archives or the Capitol – but you won't find it in this travel diary. Instead I first headed to Union Station (a beautiful place) and crossed the street to the National Postal Museum, which is driven by the Smithsonian Institution as well. Yeah, there are masses of stamps, but a lot of other exhibits – and like all other Smithsonian places, the entrance is free. I recommend you to dare a look, definitely!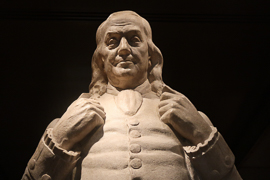 After that, I had a short walk through city center. Originally, I tried to make a Lime electric scooter work, but somehow, I failed. If you ever wondered why I chose Washington on this trip to Nashville, here are some arguments from a one kilometer walk along East Street: if i forget my beloved "Steel City" of Pittsburgh for a second, Washington is just the most beautiful city in the United States (and National Mall is even more beautiful than the area I walked along). The memorial on the last two pictures is the National Law Enforcement Officer Memorial, by the way.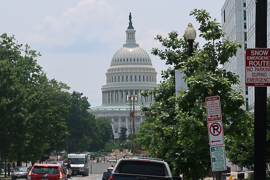 I ended up at Merzi, an Indian restaurant I happened to fall in love with two years ago, when I watched the Edmonton Oilers at the Washington Capitals – Capital One Arena is just some blocks away. They provide some sort of bowl concept with Indian food. I absolutely love that place and recommend it!
Up in the Sky – Reagan Airport and "The View of DC"
After lunch, I headed to the next metro station (Archives-Navy Mem'l-Penn Quarter), passing the US Navy Memorial Plaza.
Strictly speaking, I left Washington D.C. after that, as I headed back to the Virginia part of the Greater Capital Area. In Arlington, not that far away from the hotel and the mall I visited the day before, is the DEA Museum. DEA means Drug Enforcement Administration and is the federal unit to combat drug dealing and distribution. Quite an interesting place to visit.
Then I headed on to Reagan National Airport. As I felt I won't have too much time to explore the Airport on Sunday, I took a walk through the lovely architecture. You feel how packed the airport in fact is. It is operating at its limits and is just about to be expanded. Finally, I had some nice shots for an airport review and headed back to the hotel, using the hotel shuttle, for a short rest.
I finished by day at "The View of DC", which is a quite new Arlington attraction. It is an observation platform located in one of the tallest buildings on the Virginia side of Washington. A really nice place I absolutely recommend. Gave me some nice views – I could also see how much traffic in fact Reagan Airport is hosting – there were just so many planes circling around the building to finally touch down at the city airport.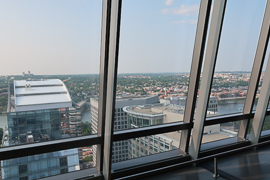 There was a small fire alarm, so that I could see some typical American fire engines before I headed by to the hotel by metro.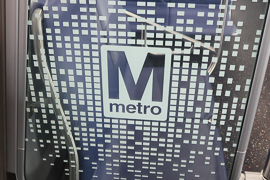 A Musical Trip to CMA Fest 2019 – Day by Day
Here are the links to the daily postings (link will be added once posting is published):
Day 2, 1st June 2019: Day in Washington D.C.
USA – All Postings
Here are all postings which deal with the USA: