As we were aiming to visit Busch Gardens on our December 2018 trip, my wife and I chose the Hampton Inn  & Suites Tampa Busch Gardens Area as our stay. The Hilton hotel is really located close to the park, as you can see right inside it. Here is a review.
Hampton Inn Busch Gardens – Location
Hampton Inn & Suites Busch Gardens Area in Tampa is really right across the theme park. There is a large parking lot (complimentary), so that you can easily walk over to Busch Gardens.
However, the route is not as short as expected / as it could be. The only pedestrian access to the park is located close to the Busch Boulevard / McKinley Drive crossing (I marked it with a small marker above), so that you easily do a detour of more than half a mile to reach the Busch Gardens entrance after some 15 minutes. There are some fast food chains around – we tried a nice Greek one, which I would absolutely recommend if you are around.
Hampton Inn Busch Gardens – Rooms
We stayed in a King Room with Microwave and Fridge, which was really huge and offered a lot of space. The room had a nice sofa, a nice working desk and a modern TV set. The bathroom was very Hampton Inn-alike. The price was 130 USD per night, including tax.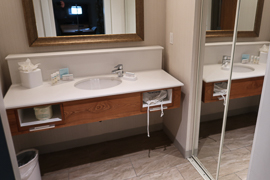 However, we did not like the comfort of our room too much. The key reason was that it was facing towards Busch Blvd. Not sure whether it was the air conditioning or the poor quality of the windows, but you heard the traffic quite a lot. The air conditioning made some sounds even when switched off. Furthermore, the door of the cabinet, which was located in the bathroom area, moved out of his rail and did not look too clean as well. The view on Busch Gardens was definitely a plus, though.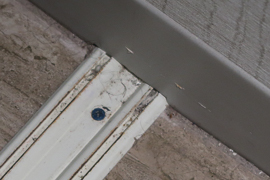 Hampton Inn Busch Gardens – Breakfast
One reason why I love sleeping in Hampton Inn hotels is that they offer you complimentary and very reliable hot breakfast. It is not a luxury feast, but a basic and nice variety of hot dishes, oatmeal and cereal, bread, coffee and drinks and some fruit. We have been quite confused that they offered bagels without cream cheese – first time this happens to me in the US, I feel. You also always have waffle makers. The breakfast area was quite nice. They had some problems to refill the buffet, though. Even at a comparably small-looking breakfast area like the Hampton Inn ones, doing the whole work with one person is very challenging.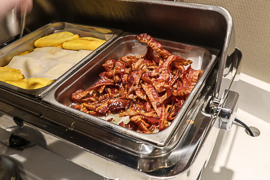 Hampton Inn Busch Gardens – Services
Of course, the hotel offers reduced entrance tickets to the park. There are also discounts on the Tampa City Pass and other Florida attractions. Compared to other US places, the reception staff at check in was not too friendly (for example, they typically thank you for being a loyal Hilton Honors member). The WiFi was really good, even in the complimentary standard version – there is also a Premium one for 5 USD a day.
For your recreation, the hotel offers a nicely made gym and an outdoor pool, which has the ordinary US hotel pool size of a significantly increased bath tub. There is also a business center with printer. You can buy snacks and drinks at a small shop close to the reception.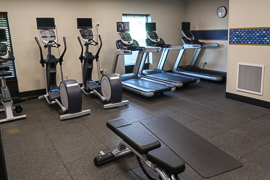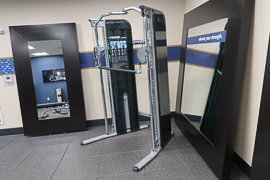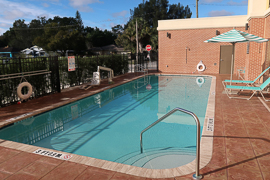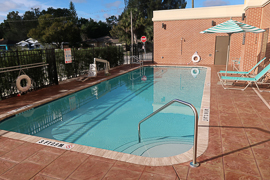 Hampton Inn Busch Gardens – My View
It is hard to really criticize this place – apart from a terribly rated Econo Lodge, the Hampton Inn is just the best location to Busch Gardens and maybe the only place which really allows you to walk to the theme park. The place is not bad at all, but some minor parameters could make it a good one, e.g. improved housekeeping. Nevertheless, due to its location and its nice pricing, I would definitely recommend it when looking for a place near the unique theme park.
Hilton Hotels – More Reviews
Here are all my reviews of Hilton Hotels: