A very interesting direct return flight and the second Pittsburgh Penguins match – Sunday in Pennsylvania felt to be a promising perspective. However, the weather felt to cause risk on my plans. Here are the flights intended on the fourth day on my March 2022 trip followng the Pittsburgh Penguins:
| Date | Flight | from | to |
| --- | --- | --- | --- |
| 13.03.2022 | 4B 840 | Altoona (AOO) | Pittsburgh (PIT) |
| 13.03.2022 | 4B 841 | Pittsburgh (PIT) | Altoona (AOO) |
Early Morning
I had the feeling that you don't need to be that early at Altoona Blair Airport (AOO). Nonetheless, including all the Flyctory.com stuff which needs to be done as well, the alarm clock gave me its ring-ring at 3:45 in the morning already for the 6:00. departure. As US Daylight Saving Time is not in sync with Europe, this night has even been an hour shorter then preferred. No breakfast, obviously, at the lovely Hampton Inn Altoona – which is, by the way, some 17 miles away from the airport(!). Nice pictures from around the hotel. I have been very lucky that despite the temperatures below -10 Centigrade, my car's windows haven't been frozen at all. The drive to the airport was also rather relaxed.
Boutique Airlines… No debut
I arrived at the airport at about 5:05 hrs. The flight to Pittsburgh, scheduled for 6:00, had four passengers, including myself. You wait for the flight landside, as there are no major airside facilities (not even a toilet…). At about 5:45, the friendly Boutique airline representative said that they need some 30 more minutes to clean the runway from ice. So far so good. Later, the postponed to 7:00 and then to 9:00hrs, i.e. a three hour delay. The Pilatus PC-12 is (in contrast to a private jet, which departed during the wait) not able to break on ice, thus it is not able to abort a take-off properly. Finally, they had to wait for the sun to get the job done.
I could not wait longer due to the unfortunate shift in the Penguins match, which had face off at 13:00 hrs and thus cancelled the flight around 7:30. My buffer time, even under the changed match schedule has just been some 2:15 hrs in worst case scenario.
As said, the afternoon before has been quite stormy and snowy. But it strongly felt like the airport crew did not do their Saturday afternoon job. The equipment they got is also comparably lousy, of course. The whole situation is grotesque if you think about that this is an Essential Air Service flight – i.e. the flight is highly supported financially by public funds – but on the other hand, they don't have sufficient winter equipment and staffing. I don't believe there is too much Boutique Air could do – but I was very pissed about the airport, which took my chance to fly with this business jet on scheduled services.
Back to Hockey Hometown
I just cannot deny that I have been super-pissed on the way back to Pittsburgh. The rental car, the stay at the Hampton in Altoona (without the chance to review it), having three different hotels in these three days – all these things have been due to the Boutique air flight. At least, driving back I had lovely views of the area. At a gas station with a doughnut and coffee provider, I bought some drink to keep me way. I also went for a Bavarian cream-filled doughnut and an apple fritter – I am sure, some of my readers have a smile in their face.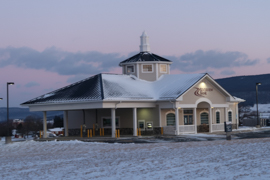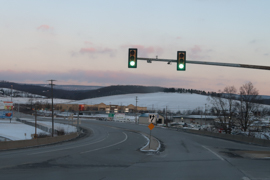 To the Holy Grounds
With the altered situation, I was rather earlier than expected in Pittsburgh. Thus, I decided to head North. The sports store at Cranberry Township has been another try to grab some Penguins merch – but that was not the key reason for my trip, of course.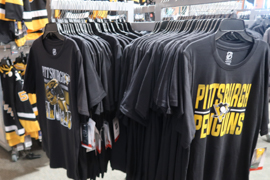 Just a bunch of meters away, there is the UPMC Lemieux Sports Center, some kind of heart of the Penguins, where the team is also having their training sessions. A really nice complex with two full-size ice hockey rinks and a lot of other facilities.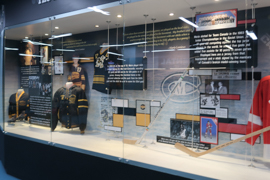 After that, I headed back to PPG Paints Arena for the match. What a lovely view from the motorway to my beloved hockey city:
Home Ice II With King Tristan
I arrived more or less right at gate opening (typically, about 90 minutes before the match) at the arena. The lovely PPG Paints Arena staff could sort out my not working mobile ticket (thanks!) quickly, so that I had time to grab a bite and prepare for the game. This time, I went for the legendary sandwiches by Primanti Bros., a local legend and really delicious. Thereafter, I just could not stand to check out the new, supermarket-alike food places and had some buffalo-wing alike cauliflower pieces – really cool! By the way, due to St. Patrick's Day, Pittsburgh warmed up in green, but played in dark jerseys finally.
The match against the Carolina Hurricanes… I just cannot really explain to you. Carolina plays an amazing season and they really put huge pressure on the Penguins' goal. But they just did not convert. One key player that Sunday afternoon has definitely been our netminder Tristan Jarry – who finally saved 41 shots. Pittsburgh scored the goals in the right situations and finally profited from two empty-net goals (with a nice Carolina scoring in between) to seal the 4-2 victory.
Saying Farewell to the City
I have to admit that the eyes were a bit wet when leaving PPG Paints Arena. I know I will come back – but I never know when. Definitely not this season – but hopefully there is a chance to see my team some time during the 2022-23 shift again. I had to do some detours due to the terrible after-match traffic jams. This also lead me to the South Shore (also named The Strip) South of Alleghany River. The area is beautiful and has a touch of Europe.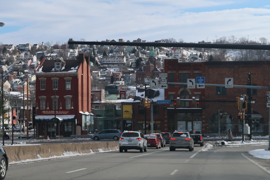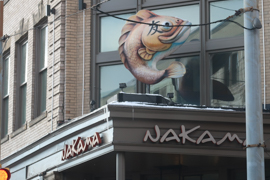 I wanted to say farewell to the city from above. I already introduced you to the view in my posting about Mount Washington and the inclines. Ain't this place a real beauty?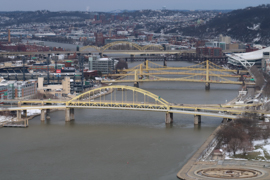 The Last Night in Pittsburgh
After the match and enjoying the view of my city, I already headed to the airport area of Pittsburgh. The next stage of my trip lay ahead of me: Nashville. Back to Music City on Day 5. In fact, the Hampton Inn Pittsburgh Airport felt to be very welcoming. Good night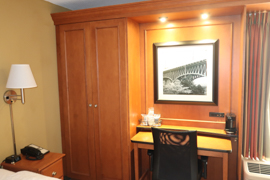 Encore: A Praise to Tom Kühnhackl
So far, I am really proud of Tom Kühnhackl. It is a couple of years ago since the German international played in the Steel City. So far, I wore his jersey in both matches – 2 victories so far. Thanks for that, Tom!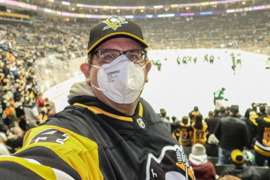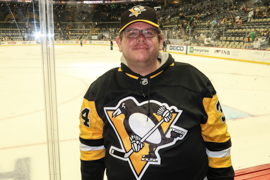 Pittsburgh Penguins March 2022 – Day By Day
Here is the overview of my Trip Report:
Day 4, 13.3.2022 – No Flight, but the second Victory
Flyctory.com Views from Above
Here are all postings tagged as Views from Above, dealing with any kind up-in-the-air viewpoints:
Postings about Road Trips
Here are all road trips on Flyctory.com