You want to spent a day with family or friends and cannot decide whether you want to go for the zoo or have some thrilling rides? Busch Gardens offers both options in one park: first of all, a variety of animals and animal encounters. On the other side, you will be able to choose from a variety of roller coasters. There are two Busch Garden parks, one in Williamsburg, Virginia, and the more well-known one in Tampa. I visited the Florida outlet and had a great day.
Busch Gardens  – Location
Busch Gardens Tampa is located North of the city center, quite conveniently reachable from the Interstates.
There are a couple of hotels nearby. We decided to opt for the Hampton Inn & Suites, which is one of the closest locations to the park entrance and allows a walk from the hotel to the park entrance.
Busch Gardens  – Admission
The nominal one day adult admission ticket for Busch Gardens is 104.99 USD. However, I guess that hardly anyone really does pay that ticket price – an anyday online ticket 89.99 USD and if you buy a ticket at least three days in advance, you save additional 10 USD on that price. An annual pass pays off very quickly, similar to what I wrote in the Christmas at SeaWorld posting. A silver annual ticket including parking is 180 USD. As we could walk from the hotel, I am not sure about the exact pricing, but parking fee should be about 20 USD for one day.
Of course, you can also combine your Busch Garden admission with entrance fees to other SeaWorld attractions like SeaWorld Orlando or the two waterparks, Aquatica or Adventure Islands. As a Florida resident, you profit of additional discounts, which makes it very hard to suggest the right ticket for your visit.
Upgrade Options
The ordinary admission, no matter what you finally paid for it, do include all you need for a park visit. The most common upgrade is likely the Quick Queue, which reduces your waiting time at the major (thrill) attractions. If you just want to have this option once per ride and day of visit, this starts at 19.99 USD, the unlimited option at 34.99 USD. However, the price changes with the number of visitors the park expects at that day. We had the "one-time" option and though it was not too crowded, we felt it was a good value. Annual Pass holders get an annual Quick Queue pass for 300 USD.
I am not the type of guy who is eating much in amusement parks, but if you do, you may upgrade to an all-day dining pass, which is 39.99 USD. The conditions, however, limit you to have one entree, one side or desert and a drink for each hour in numerous restaurants.
Animal Encounters
The most interesting upgrade to your visit are animal encounters. You can get very close to a couple of animals with a zookeeper. Depending on the animal, you may even pet them (however, they do not guarantee). Most of these experiences are 29.99 USD, we selected the penguins. A very popular upgrade is the Serengeti Safari Tour, which allows you to explore Serengeti Plain from the back of a truck and thus get much closer to the animals there. Including feeding giraffes, this also starts at 29.99 USD.
Busch Gardens  – Park Concept & Services
The Busch Gardens approach is to really mix a traditional amusement park with a quite modern zoological park. The park comes with a couple of major roller coasters, but also the huge Serengeti Plain, which is home to numerous animals.
The park is split into different areas, e.g. Egypt, Pantopia, Congo, Jungala or Sesame Street Safari of Fun. Typically, any of these areas mix animal and family or thrill attractions. I visited the whole park, but taking picture in parallel took that long, that there are limited / no pictures of the Southwestern edge of the park, where you for example can feed and pet kangaroos. I decided to split my review rather by animals and rides than by the different areas.
Busch Gardens Christmas Town
We visited Busch Gardens short before Christmas, so that their Christmas Town special events were in place. There were some Christmas-market alike shops and a lot of decoration throughout the park. You could also visit Santa in his house or take pictures with Rudolph and his friends. Most of the attractions were included in the ordinary price. However, you could go for priority access at 24.99 USD per person and there were photo packages to purchase. The branding is similar to the SeaWorld one, but of course, the Orlando version is much better.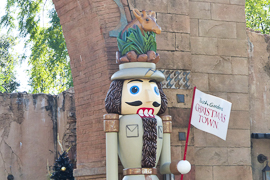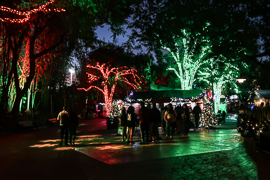 Busch Gardens  – Animals
Busch Gardens state that they host 300 species of animals in the park. The most prominent ones are likely the big cats, like lions, tigers and the cheetah. There are a lot of birds, including a lorikeet feeding aviary and flamingos in the Southwestern tip of the park. Serengeti Plains is of course something like the heart of the wildlife habitats, where you can also find the giraffes, zebras, sloths or antelopes. At the edge of this area, there are also elephants. I also liked the primate area located close to the entrance.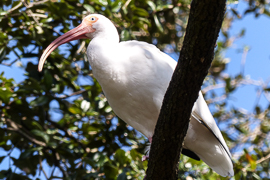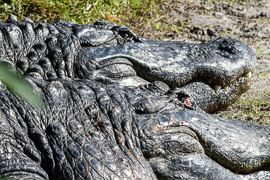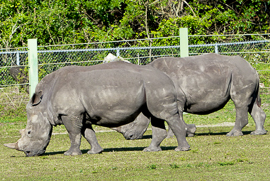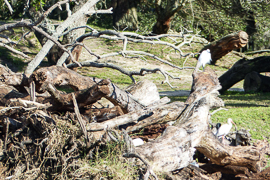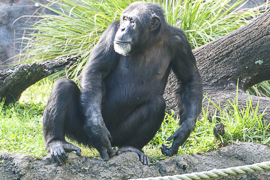 Animal Encounters
As stated above, we selected to meet the penguins. The encounter was really cool and we had quite a lot of time. A guide brought us to the zookeeper who showed us the penguin habitat from the rear, including the separated chicks. You had quite a lot of time to explore the animals and their social behavior while you got background information. After that, we were sitting around a platform, to which one penguin came. Everyone was able to pet his back. Very cool – and soft – experience for a very reasonable price.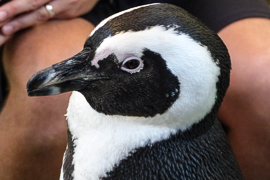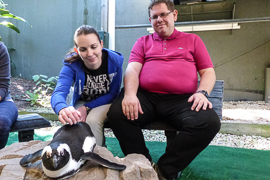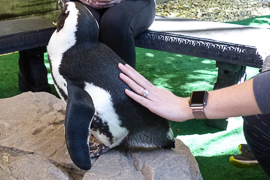 Busch Gardens  – Roller Coasters & More
If you visit all Busch Gardens attractions, you will have visited a couple of very intense thrill rides. Maybe, the two most prominent ones are SheiKra and Falcon's Fury. The first one is a quite "ordinary" roller coaster, which, however, has a fully vertical drop. Falcon's Fury is a Free Fall tower. However, before you drop, your seat will be tilted so that you in fact look down on the floor. Some roller coasters are located quite close to the entrance area. I liked Cobra's Curse, where the waggons may even spin through the ride. Montu is an inverted coaster. Cheetah Hunt is a very fast triple-launch ride, which also rides the edges of Serengeti Plain.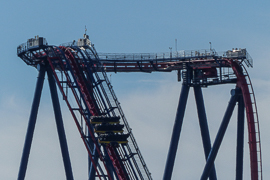 There are some more coasters like Scorpion and SandSerpent, which are more on the family fun side already. Congo River Rapids and Stanley Falls Flume are water rides. There are attractions for kids – there is even a small family-friendly free-fall attraction called Wild Surge. The most prominent family attractions, though, are the train, which you can board at two stations (three in summer) and the Skyride cable car, which gives you nice views of the park. The train is also a good option to explore Serengeti Plain.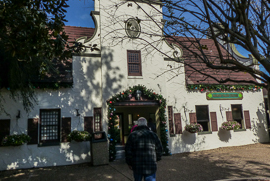 Shows
Due to lack of time, we just visited the Christmas on Ice show, which was presented in the Moroccan Palace theater. I personally felt disappointed of the show, which may also be due to the fact that our local amusement park, Phantasialand near Cologne, has excellent ice skating shows in their regular programme. Furthermore, the ice rink for the Busch Gardens show was quite small and thus limited.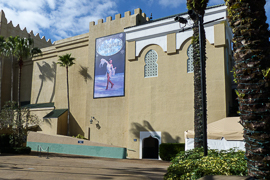 Busch Gardens  – My View
Busch Gardens is massive. It may feel strange at first sight to do this combination of animals and roller coasters, but finally that leads to a great family fun park. The wildlife habitats are modern and spacious, Serengeti Plain is just massive. The rides are cool. The train roundtrip gives you a cool overview of the park – but you may also rush by the zebras doing the Cheetah Hunt. The penguin encounter was awesome and an amazing value for money.
I love Busch Gardens concept and will definitely come back. Though arriving very early and having a quick pass, we left the park just before closing. I thus feel the park is a definite Top Pick and also a great option when you want to have fun with kids. However, if you just want to see animals or just want to go for thrill rides, you may chose different options.
Amusement Parks – More Postings
Here are all postings about Amusement Parks:
Tampa Bay Postings
Here are all pictures of Tampa Bay and surroundings: