Having quite a lot of things on my list, including a five hour drive from Nashville and my very first Cape Air flight, I felt it does make sense to go into St. Louis directly on the seventh day of my March 2022 Pittsburgh Penguins trip. Thus, I opted for a hotel right outside the city with the famous Gateway Arch. Here is my review of the Hampton Inn St. Louis / Fairview Heights, which I chose as a Hilton hotel as well as due to its excellent traffic situation.
Hampton Inn Fairview Heights – Location
The hotel is located at the I-64, some 15 miles East of St. Louis. It is nicely situated right at the interstate – I could even say farewell to the hotel when I headed on into the city the following day. There is a typical US range of other hotels, but also restaurants (like Hooters, Olive Garden etc.) around. Right opposite to the hotel, there is also a trampoline park.
The hotel is a typical transit stay, though. If you are not in contact to any of the businesses around, you will like just spend one night there. For that reason, the hotel is ideally located, though.
Hampton Inn Fairview Heights – Room
My stay was in March 2022. The semi-flex rate for a one night stay from Wednesday to Thursday was 127.69 USD. The room as such was quite nice, coming with two queen beds. There were some housekeeping issues though. For example, the floor in front of my room was really sticky and there was still toilet paper in the loo. The shower bathtub had some heavier marks. Overall, though, the oom was quite nice with a reasonable equipment. The bathroom has been sufficient as well, a bit on the compact side. I did not hear any noise from the highway while sleeping or working at the desk.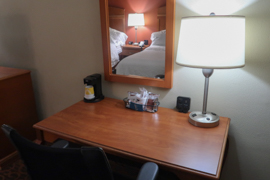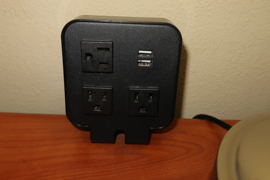 Hampton Inn Fairview Heights – Breakfast
The breakfast at the Hampton Inn had a typical signature of that brand. However, the selection was overall really nice and they had a wider selection of items than quite some of their Hampton peers in the United States. Thus, I felt that the morning at this place was really a nice one.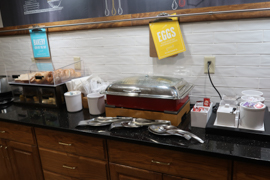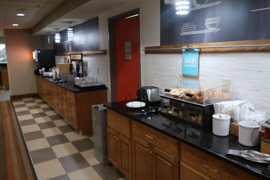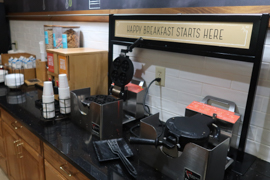 Hampton Inn Fairview Heights – Service
The hotel employee at check-in felt quite weird at first sight, but he was really professional and friendly once you got into his way of dealing with people. The WiFi in the hotel went well. Close to the reception, there is also a compact gym and a rather nice indoor pool.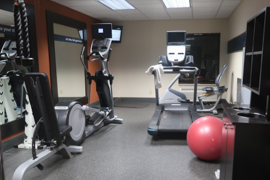 Hampton Inn Fairview Heights – My View
Don't argue too much about the hotel price – it's like what it's like in the States. 2023 was even worse. Apart from the price, which has been just too high, I overall really liked my stay. The maintenance issues finally prevent a better rating – the location is excellent, though.
Hilton Hotels in the USA
Here are all my hotel reviews of Hilton Hotels in the USA:
Trip Report Inceptions
Here are the starting postings of each Trip Report I posted in here so far