Flying back from Chicago to Germany after the Weird Al Yankovic Strings Attached show in Indianapolis, I decided to chose LOT as my carrier for various reasons. My ticket originally was a Premium ticket, but due to Miles & More Upgrade Vouchers, I could enjoy the LOT 787 Business Class on my trip. In contrast to the outbound flight, which was serviced by the newer 787-9, I "just" had a 787-8 on my leg back to Germany.
LOT Business Class – At The Airport
Check-In at Chicago opened three hours before the scheduled departure of the flight. There is a priority lane, which is not only for Business Class passengers, but also for Star Alliance Gold customers, Miles & More Status members and LOT Premium Class clients.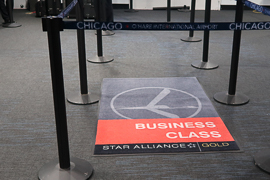 Neither LOT nor Star Alliance drives a lounge at Chicago Airport. There are some lounges of Star Alliance members, for example SWISS. LOT contracts the Air France / KLM lounge, which was very crowded and thus reasonable. Of course, there is also priority boarding at the gate. In Warsaw, for example, LOT drives two lounges, one in the Schengen area and one in the non-Schengen one.
LOT 787-8 Business Class – The Cabin
I felt home from the very first minute in the LOT Business Class – for a very simple reason: They use the same seats as LATAM is using in my favorite flight, the Dreamliner service from Frankfurt to Madrid. Like LATAM, LOT is having a 2-2-2 configuration, so that there are two seats at each window and two seats in the middle. Like at LATAM, you have quite a lot of space below the wide footrest. Apart from that, there is some storage right next to the wide Inflight Entertainment screen and right next to your seat underneath the armrest.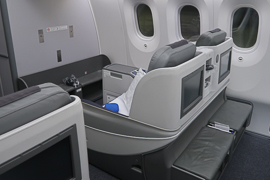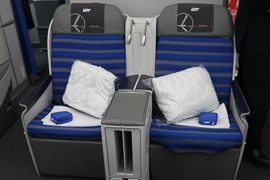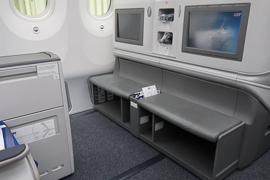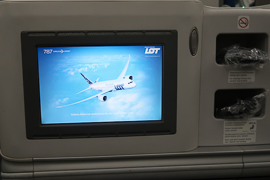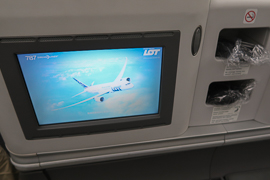 At boarding, there is already a package with a blanket and a cushion, a noise cancelling headphone and an amenity kit at your seat. The amenity kit is the same you receive in the Premium Class, which may feel a bit confusing.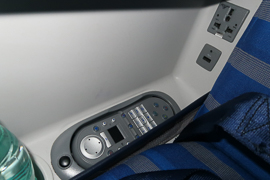 LOT 787-8 Business Class – Food
In general, I like LOT's catering, which is typically very tasty and down to Earth. Before the flight, there was champagne and some nuts. The menu had two choices for the starter, a salad and three choices for main course. Finally, there were several options for dessert or cheese. I preferred a lamb carpaccio with couscous and mango chutney over a mushroom soup for the first couse. My main dish was Sesame Chicken Teriyaki. Alternatively, I could have opted for beef fillet or salmon with herb butter. I opted for ice cream as a desert. The served digestives for desert as well as having a round of Soplica (fruit wodka) thereafter. Surprisingly, there was even a small amuse bouche before the meal, a small canape.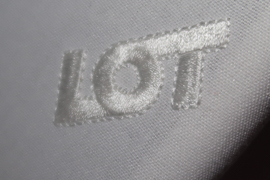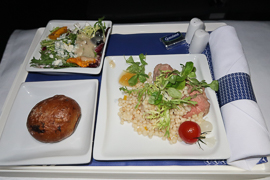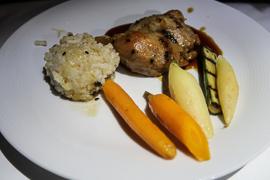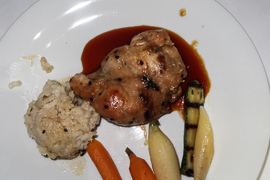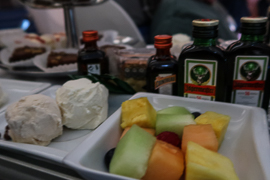 During the flight, there were drink and snack services. Before landing in Warsaw, you could choose between cold cuts or a Spinach Quiche, served with fruit salad and yoghurt with granola. Overall, the quality of all dishes was very nice (though North American catering is not always regarded to be perfect). The meal services were quite quick as well, despite some turbulences over North America, which I highly favor especially on flights returning from the US. The drink menu may be slightly more limtied compared to other airlines, but still very good and absolutely sufficient.
LOT 787-8 Business Class – Service
LOT staff is typically very motivated and proud of their company. The service was absolutely fine, precise and very attentive. I really liked the crew and their performance.
LOT 787-8 Business Class – My View
I was really looking forward to fly LOT in Business for the first time. Though sometimes the stopover in Warsaw might be bothering and feel time-consuming, the service in Premium Economy was already good. I liked my Business Class flight with the Polish as well – really good service, nice food and a cozy cabin configuration. There are minor gaps to the very big players in the front-of-the-cabin business like Lufthansa or Qatar Airways, but therefore, there is not too rarely a difference in price as well. Definitely a good choice!
Flyctory.com about Business Class & More
Here are all articles related to Business Class and First Class travel:
Special Flights at Flyctory.com
Here are all reports about flights, which are special in whatever way: