Flying from Toronto City – or: Billy Bishop – Airport (YTZ) during my September 2021 trip was definitely one of the biggest items on my Canadian bucket list. The airline I selected was – of course – the home carrier, Porter Airlines, which was also my very first time with the carrier (not just the first time as a Flyctory.com coverage). Hope you enjoy the thoughts  my flight review with Porter from Toronto (YTZ) to Ottawa Airport (YOW).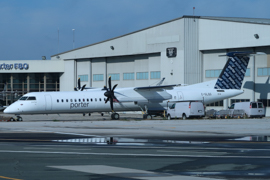 Porter Airlines – Network
Billy Bishop (YTZ) is the hub of Porter Airlines. Here and there, rumors pop up that they might also use the main airport Pearson (YYZ) one day, for example with major and longer distance airplanes. Currently, they majorly connect the largest Canadian city with other destinations in Ontario as well as on the Canadian East Coast. This also includes a bit more remote places like St. John's (YYT) and Stephensville Airport (YJT) on Newfoundland or Timmins Airport (YTS) in Ontario). Additionally, Porter is connecting Toronto with some US-American destinations like Boston (BOS), Washington-Dulles (IAD) or Myrtle Beach (MYR). For that reason, Billy Bishop has a separate US destination terminal area. They interline with several airlines of all alliances.
Porter Airlines – Fleet
At the time of writing, Porter is owning a fleet of 29 Bombardier Q400 turboprop machines. Jets are unable to operate from YTZ Airport. Nonetheless, Porter has an open order of thirty Embraer E195-E2 jets, delivery is expected to begin in later 2022. This would allow them to operate with larger distances from airports like Montreal (YUL) they already service, but also to new destinations in the Caribbean, Mexico and other parts of the United States. They will be the launch customer for that plane time in North America.
Porter Airlines – The Flight
My flight was on 8th September 2021. This was actually the day (by chance) Billy Bishop re-started operations. My flight was the first one after a some 18 month period of stopped operations for Porter Airlines from Billy Bishop to the Canadian capital and their second flight of the day overall.
| Flight | Dep. | Arr. | from | to | |
| --- | --- | --- | --- | --- | --- |
| PD 219 | 1000 | 1059 | Toronto (YTZ) | Ottawa (YOW) | |
My original plan was to stay a night in Ottawa, but I finally returned the same day by rail. I chose the Canadian national rail provider VIA Rail and their Business class for the return. Thus, my 170 CAD including checked in luggage was more expansive than necessary for a hand luggage only day trip. You should be able to pay some 135 to 140 CAD for this flight as a hand luggage only trip. Their Basic fare allows you carry on a small personal item only, which any other fare classes include a personal item and a stand carry on item. For both kinds of carry-on luggage there is a 9 kg weight restriction each. Due to the bus shuttle porter and the airport operate from the city center, getting to the airport is really easy.
Porter Airlines – Ground Services
Mayble also due to flying on the very first day of Porter operations after the lock-down, the service was very friendly and relaxed. People really felt to be motivated to service (again). The check-in procedure was smooth as well – I have been at the airport far too early – YTZ is very efficient, so that being there one hour ahead of departure should be fine for domestic flights.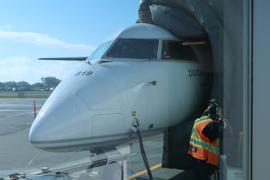 Porter Airlines – The  Cabin
Porter is operating the Dash with a 2-2 cabin configuration and a total capacity of 78 seats. The seat pitch is very comfortable. The table in front of you is small – but I would have even managed to unfold the one right in front of me (which is not that expected, due to my body size). The cabin gave me a really relaxed flight.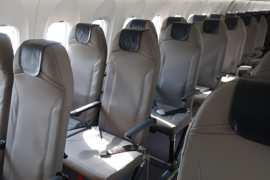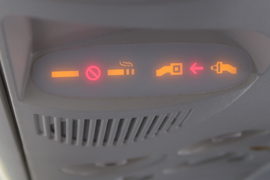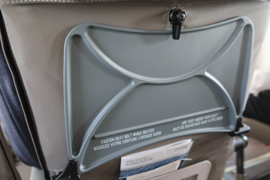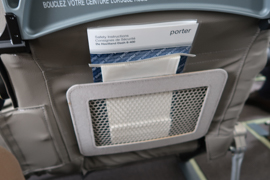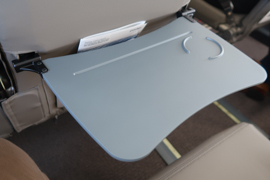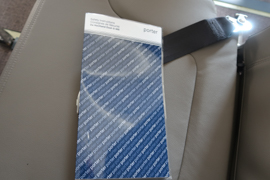 Porter Airlines – Flight Experience
Typically there is a small selection of snacks and drinks onboard Porter Airlines flights. However, there were quite some turbulences on the rather short flight, so that the friendly crew just quickly handed out some water and crisps to me.
As the airport went back to operation after such a long time, the flight has been greeted with a firefighter water fountain – just as you typically do on debut flights. That was really cool – unfortunately, the water also decreased the picture quality (in addition to that taking pictures out of airplane windows is always challenging).
Apart from the turbulences, the flight was really smooth. The arrival in Ottawa was also very efficient – and if I hadn't taken a few snaps, I would have been in the taxi to city center really quickly.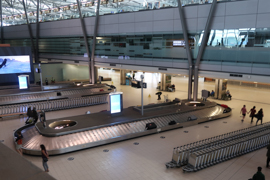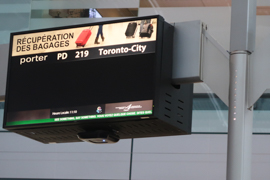 Porter Airlines YTZ – YOW – Impressions
Below are some snaps from the flight. Highlight when flying Billy Bishop is definitely the skyline of Toronto. Despite the refraction due to the water, this was really impressive. After we left Toronto behind, there was not too much more thrilling stuff on the ground, though. Due to the re-start of operations, there was even the Porter CEO and a journalist on board. The total number of passengers was rather low, though (some six pax).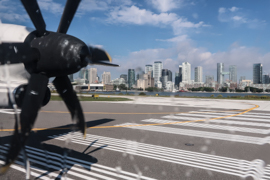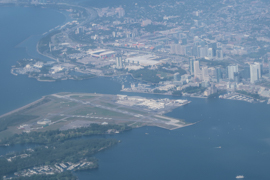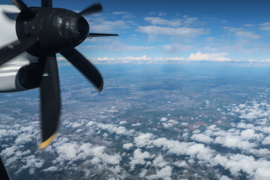 Porter Airlines – My View
Flying with Porter Airlines was really a nice experience. The service on the ground and in the plane was very good and it is a great opportunity to see Toronto from above. The cabin is absolutely fit for purpose for the rather short flights they are currently operating. Nice flight!
Aviation Top Pick! Experiences
Here are all my Airports & Airlines reviews, which I rated in the Top Pick! range:
Airport Hotels
Here are all hotels with a good airport connection: