Aiming to intensify my travels with the oneworld Alliance members also leads to a more frequent visit of their business lounges. Apart from British Airways and Iberia, the key member of the alliance in Europe is Finnair. During the last years, I frequently traveled through their main hub, Helsinki Airport (HEL). While I already introduced you to the two Non-Schengen lounges there, the Non-Schengen Business Lounge and the amazing Platinum Wing, I haven't shared my thoughts about the Schengen connection one with you. Time to do so – here is my review.
Finnair Lounge Helsinki (HEL) Schengen – Location & Access
In contrast to airlines like Lufthansa, who run several Schengen lounges at their hubs Frankfurt (FRA) and Munich (MUC), there is only one Finnair Schengen Lounge. It is located above gate 22. You can reach it via stairs or an elevator, which leads you to the floor right above the ordinary passenger traffic. At the time I took the pictures, there was still quite a lot of renovation in the area, but overall, the location is rather central and you reach all Schengen gates in less than ten minutes.
Even though the size of the lounge has been upgraded, one of the key critics about it is the limited capacity. The lounge serves all eligible flyers, oneworld Sapphire and Emerald passengers and their Finnair equivalents, as well as Business Class ticket holders. Some lower tickets allow to buy lounge access as part of the booking as well. The lounge, however, does not allow to buy in or use lounge passes (this demand is typically covered by the Aspire Lounge Helsinki). Daily opening times are 5:30 to 23:30.
Finnair Lounge Helsinki (HEL) Schengen – Atmosphere
Actually, the latest renovations lead to the situation that there is a wide range of different seating opportunities in the Finnair Schengen Lounge Helsinki. For example, you have rather relaxed seating with a runway view, working areas and bistro-alike tables, rather designed to eat. There is even a phone booth / video conference cabin. In the rear of the lounge, there is also a more quiet area. which even offers a massage chair. Close to the reception there is a small area, which is reserved for Platinum Lumo guests. These passengers, however, still share the dining and sanitary facilities with the other guests.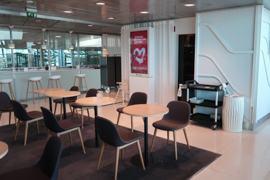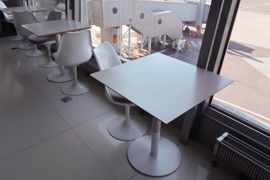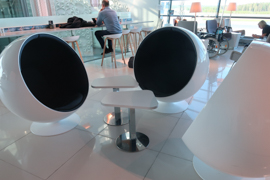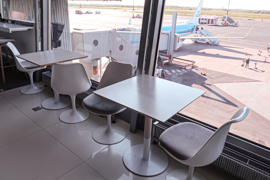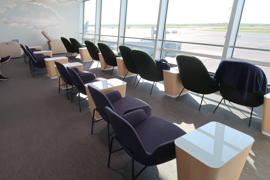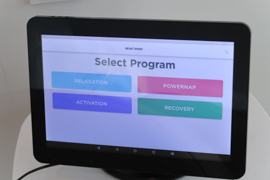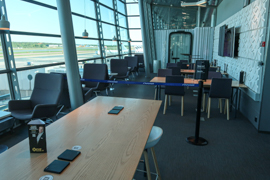 Finnair Lounge Helsinki (HEL) Schengen – Food & Drink
That's not the part where the Finnair Lounge can play an impressing role, indeed. During my visits, there were some warm and cold dishes, but you have to state they are below average – especially also compared to the two Non-Schengen lounges at the same airport. There is beer and wine, but also the supply of drinks is too much on the limited side. Even other Scandinavian peers do better – for example, I like the SAS Gold Lounge Oslo (OSL) much more in this regard.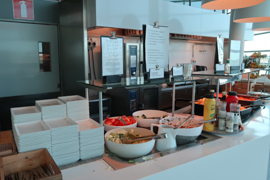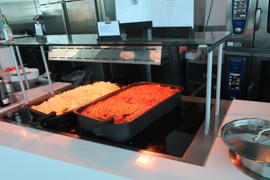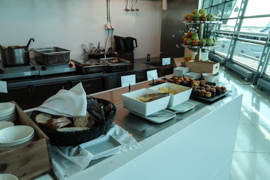 Finnair Lounge Helsinki (HEL) Schengen – Services
There is not too much staff at the reception, but the other services work well and efficient. There are lockers as well as bathrooms in the lounge. You may also have a shower, if not occupied. Again, the capacities are limited. WiFi is working very well.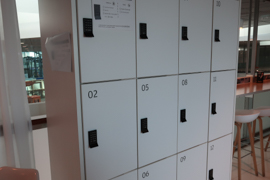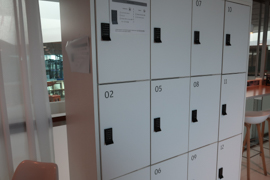 Finnair Lounge Helsinki (HEL) Schengen – My View
Especially if you compare to their Platinum Wing at Helsinki Airport (HEL), it is hard to believe that this lounge is driven by the same airline. The Schengen Lounge should be Finnair's business card somehow – but this reference is not their best, especially in more buzy times. Bad luck, I really like the airline and their services. Still an above average experience.
Finnair at Flyctory.com
Here are all Flyctory.com postings related to the Finnish airline Finnair:
Free Entry – United Kingdom
Here are all my free admission reviews related to the United Kingdom: