The (most of the times) good thing about exploring a new airport? Right before you leave, you have the opportunity to check out one of their lounges (at least, if you are a frequent traveler or lounge pass holder). Thus, I was also very curious about how the corresponding facilities at Tirana Airport (TIA) would look alike before I boarded my Lufthansa flight back to Frankfurt (FRA) in December 2022. Here is my lounge review.
Business Lounge Tirana (TIA) – Location & Access
The architecture of the VIP Business Lounge Tirana Airport (TIA) feels a bit like these VIP boxes in stadiums. The lounge feels to be in fact put on top of the "roof" of the duty free store of the airport. It has likely not been part of the original airport architecture as the access to it feels a bit of hidden and also the door to the lounge rather feels like entering the storage of the duty free store than visiting the most exclusive and posh place of Albania's international flight hub.
I could not find a definite list of access possibilities for the lounge. Lufthansa, Swiss and British Airways guests with business class tickets or eligible status definitely have complimentary access. I also read about access by corresponding classes with the Albanian carrier Albawings. You can also use your Priority Pass or pay access for 15 EUR. The opening times of the lounge move with the flight operations, starting with one hour before the first departure of the day until the final one.
Business Lounge Tirana (TIA) – Atmosphere
Once you managed the a bit of annoying route up to the VIP Tirana Business Lounge "box" above the gates, there is quite a positive surprise. Yeah, the bronze-alike wall covering feels a bit… alternative. But apart from that, the lounge is really nicely designed and comes with very different seating areas I especially loved the "work boxes" which had additional privacy with traditional carpet-alike separators hanging from the sealing. In the rear of the lounge, there is also a large table for working and some very cozy options. Especially if you keep in mind that Tirana (TIA) is majorly operated by low-cost carriers like WizzAir, the nice and warm design of the lounge is absolutely remarkable.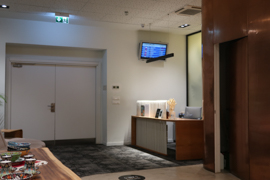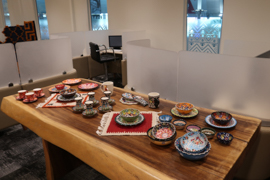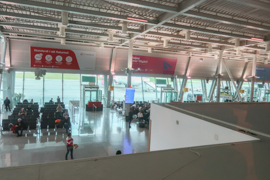 Business Lounge Tirana (TIA) – Food & Drink
As the food buffet was placed at the hatch of the kitchen area, it really felt like a real buffet to me. I absolutely loved the food they offered, especially as there was a rather wide range, including cheese-filled puff paste slices, filled croissants or pizza. You could heat them, if you like in a microwave oven. There were also some pickled options, dips and quite a wide variety of other items. Coffee and other hot drinks were offered by a coffee dispenser, which rather looked like a pay machine (but it was for free, of course). The Business Lounge Tirana (TIA) also surprised me with a nice selection of chilled drinks, including beer and white wine.
Business Lounge Tirana (TIA) – Services
The lounge staff was friendly. Apart from that, they were really quick in refilling food. I feel that I never saw empty plates in the buffet. The lounge WiFi lead to a bit of struggle on my side, but was overall still sufficient in quality. The lounge features own toilets, but now showers or similar facilities.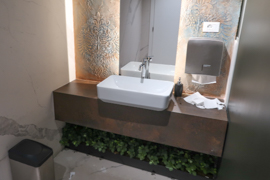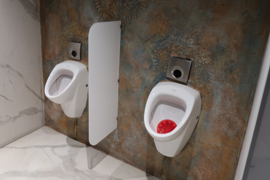 Business Lounge Tirana (TIA) – My View
For sure, the Business Lounge at Tirana Airport (TIA) is not competing with places like a Singapore Airlines Lounge. But the airport is also not competing with places which host these "Mega-Lounges". Thus, I was absolutely pleased with my visit at this place and hope to be able to come back to it one day. It's really a charming place with a regional touch in a comparably small airport.
Lounge Reviews on Flyctory.com
Here are all Lounge Reviews on Flyctory.com:
Airport Hotels
Here are all hotels with a good airport connection: