I originally planned a flight to the new Berlin Brandenburg Airport in late October 2020. Due to all the pandemic limitations, I finally decided to shift this weekend tour to July 2021. Nonetheless, I had the opportunity to visit the airport in April 2021. Here is my review.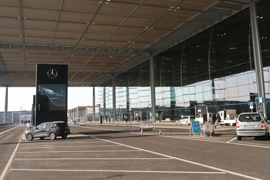 Berlin Brandenburg (BER) T1 – Location
Berlin Brandenburg Airport is in fact an extention of the former airport of the GDR. All terminals and the runways are in fact located in the German state Brandenburg South of Berlin.
Terminal 2 is located right next to Terminal 1. The former Berlin-Schönefeld (SXF) terminal is now called Terminal 5 and is located at the very North of the airport area. It has own traffic connections. There is neither a Terminal 3 nor a Terminal 4. Both terminals are potential upgrades of the airport.
Berlin Brandenburg (BER) T1 – Transport
Terminal 1 and 2 of Berlin Brandenburg Airport are connected by an own autobahn exit of the A 113 autobahn. The airport is located quite closely to the Berlin autobahn orbit. On the public transport side, Terminal 1 and 2 are very well connected by public transport. There are two commuter rail (S-Bahn) train connections, S9 and S45, which overall lead to a train connection every ten minutes. In addition, there are connections by additional regional trains. On top of that, there is a designated airport train, FEX (Flughafenexpress), which is discussed very controversially. I will post a review of it soon. Some long-distance trains also so stop at the airport (T1/2). In addition, there are also express buses to the Underground Station Rudow.
Terminal 5 has its own train station (see below). There are two S-Bahn stops between the two terminals. Other options to commute between Terminal 1/2 and 5 are local bus connections.
Berlin Brandenburg (BER) – Destinations
April 2021 is a bad period for aviation in Germany, indeed. The volume of flights is typically far below normal level, some minor airports have been closed down for scheduled flights completely. BER had surprisingly many destinations on that Friday evening, with a certain focus on destinations East of the German capital. The main carrier (at least at my time of visit) is EasyJet, by the way, neither Lufthansa nor their low cost carrier Eurowings. This also lead to the situation that Lufthansa status and business class passengers were refused at the security fast lane – in contrast to certain EasyJet passengers.
Arriving at Berlin Brandenburg (BER) T1
As I have been arriving on a domestic flight (from Cologne / Bonn Airport), I exited the plane directly to the gate area. The signposting to the arrivals area was bit of tricky, there was no "fast exit" for people without hand luggage. A couple of people from my flight struggled to find the exit – I would say that the airport needs to improve this.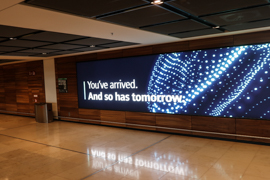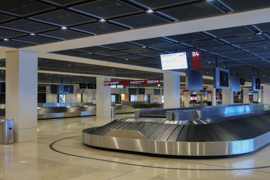 Departing from Berlin Brandenburg (BER) T1
Berlin Brandenburg (BER) Terminal 1 has a really nice design. I liked the check-in area – it may be a bit tricky here and there to find your right check-in area. Check-in and security was very efficient due to the low booking volumes at that time.
The airside area comes with a nice design. I felt, Berlin Brandenburg felt quite modern and welcoming. If you walked to the gates from the posh main hall area, you could however already spot some issues: I feel that if the airport is running on higher capacity, it is too narrow. You invest so much space building an airport – I can hardly understand that the space at the gates is that limtied and that the seating capacity is too sparse. There were only a few power outlets and (in contrast to places like Vienna Airport), there were practically no workdesks outside lounges or restaurants. Even at this low flight volume time, the check-in procedure for my Eurowings flight back to Cologne/Bonn lead to too many obstructions for other passengers. I would have expected better planning in here.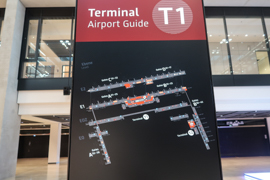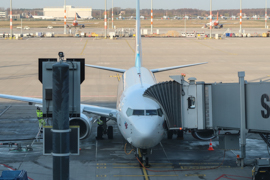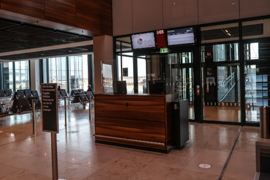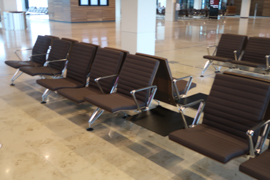 Shopping & Food
Most of the shops and restaurants have been closed during my visit. After security, you had to pass the large duty free (which was operating) and lead you to the main hall area. This also features a food court-alike area. Towards the gates, there are more shopping and dining areas.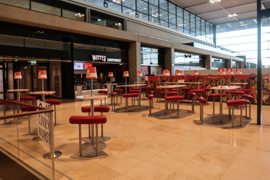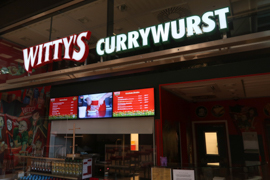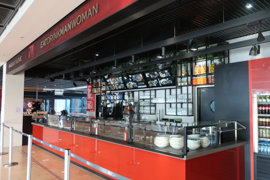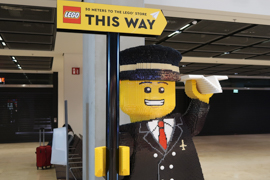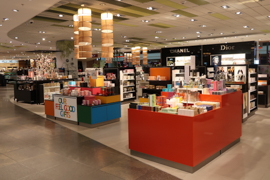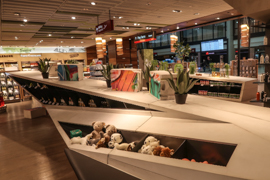 Lufthansa was driving one of their lounges during my flights. Covid-19, however, did not allow them to do catering. I reviewed the Lufthansa Business Lounge BER under these special conditions.
Berlin Brandenburg (BER) T1 – Services
Terminal 1 hosted a couple of interesting services landside, i.e. before security control. There were two Covid-19 testing stations, but also a minor supermarket, which can be very helpful for travelers. The airport features free WiFi.
Berlin Brandenburg Airport (BER) – Other Terminals
The former Schönefeld (SXF) terminal is now called Terminal 5. It is about ten minutes away from the corresponding train station. You have to take the long walk on a half-open covered walkway. Funnily, the train station has been renamed, but the building is still signposted as Schönefeld. During my visit, all flights operated from T1 and the terminal outpost has been closed.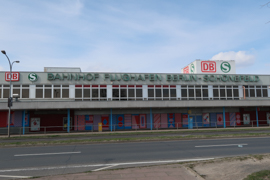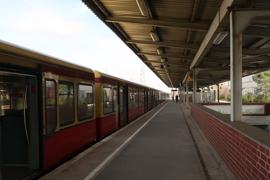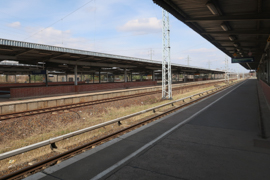 Berlin Brandenburg (BER) T1 – My View
Berlin Terminal 1 looks good, but it comes with some weird design decisions. It came with a long history of terrible mistakes – and I feel that the final product is not strong enough. The place looks nice, but it has some obvious weak points. Bad luck, as it comes with good connections and location and overall feels to be really modern. Finally, it will depend on the capacity the German capital and the region will demand from this air travel hub – with the closure of Berlin-Tegel (TXL), there is no other option for Berlin than this airport.
Travel in Berlin
Here are all travel postings related to Berlin:
Airport Hotels
Here are all hotels with a good airport connection: