The first day of our Iceland Ring Road trip brought my wife and I to the Air France / KLM Lounge at Frankfurt Airport (FRA). Three weeks later, I happened to be there again, on an Iberia ticket. Time to have a look behind the doors of this thought-to-be-luxurious waiting room in Terminal 2 of the Airport.
Air France / KLM Lounge FRA – Location & Access
The Air France / KLM lounge is located behind gate D26 at Terminal 2 of Frankfurt Airport (FRA) and thus rather at the end of the terminal.  During my recent visits, it has been the only lounge operating in the Schengen area of Terminal 2. However, there is an adjacent lounge, the Premium Traveller Lounge.
Due to that monopolist situation, the lounge is serving quite a lot of airlines. I visited the lounge already for flights with Finnair, Iberia and Icelandair. Of course, they majorly serve status customers and business class guests of Air France and KLM itself. Based on my information, the lounge is even accepting Priority Pass.
Air France / KLM Lounge FRA – Atmosphere
Even though there are some dividers, the lounge just cannot deny that it is in fact just one large room. Most of the lounge is featuring individual leather chairs. The front area also offers some other styles. There are power outlets in the floor – apart from that, the availability is rather limited. Especially when Air France or KLM are operating flights, the lounge may be really packed. This is definitely reducing the comfort and possibility to relax before a flight.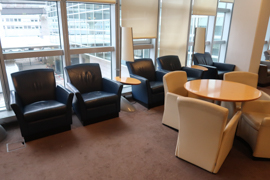 Air France / KLM Lounge FRA – Food & Drink
The buffet is located in the rear of the Air France/KLM Lounge. There were some basic cold and warm dishes, but you would definitely expect some nice(r) treats, especially from a French company. At some of my visits, they at least had Orangina (a French orange soda), which I feel to be a real treat. The onboard catering of the French-Dutch airline venture is definitely better.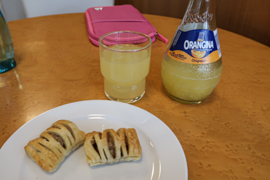 Air France / KLM Lounge FRA – Services
WiFi is provided by the airport itself. I had some connections issues, but that's likely due to using a Chromebook in the lounge. The service is provided by Telekom and is thus very reliable in regards of speed. The staff was attentive but not overwhelmingly friendly during my stays. One absolutely missing feature is a toilet, though. You have to leave the lounge and use the public facilities nearby. Even though the lounge hasn't been full at all, this lead to the situation that people had to show their boarding pass multiple times.
Air France / KLM Lounge FRA – My View
There are much better places at Frankfurt Airport (FRA). It is a place which provides you simple bites, and – in most cases – a place to relax or to work. That's it. Lacking alternatives, it is more a "Take it or leave it" thing.
Lounge Reviews (Germany)
Here are all my lounge reviews related to Germany:
Frankfurt a.M. Travel Postings
Here are all my travel postings related to Frankfurt a.M.: