Flying from Stockholm to Helsinki with Finnair in early August 2019 gave me the opportunity to visit a lounge I haven't seen yet: the Aurora Lounge is the only Business Lounge in Stockholm Arlanda Airport, Terminal 2. The site is driven by Menzies. I made use of the opportunity and visited the place after doing some sightseeing in Stockholm.
Aurora Lounge ARN T2 – Location and Admission
The location of the lounge just tends to give you a smile: it is on the upper level of gates in Terminal 2. In order to reach the lounge, you have to cross the O'Learys airside Irish Pub.
As it is the only lounge in Terminal 2, it is serving all major airlines departing from there, for example, Finnair, Aeroflot, United or British Airways. At least by pre-booking, you may also pay for entering the lounge. The Priority Pass grants access as well.
Aurora Lounge ARN T2  – Seating Areas & Ambience
The Aurora Lounge in Arlanda offered some different seating area, from barstool-like seating to cozy and relaxing quiet areas. I also liked the planted wall in the middle of the lounge, which gave some nice atmosphere. Some furniture felt a bit run down, though.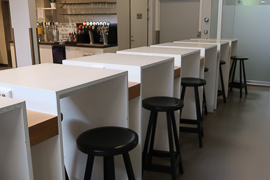 Aurora Lounge ARN T2 – Food & Drink
The food and drink area is quite wide. Especially before 18:00hrs, there was a nice variety of food with some finger food options, soup and even smoked salmon. Unfortunately, they reduced the buffet thereafter – but you could still have some soup, prepare yourself sandwiches or have some crisps. There was also beer and wine from the tap and some choices of spirits.
Aurora Lounge ARN T2 – Staff & Service
The welcoming at the lounge was very nice. It took me some time to log into the WiFi, which was then very stable thereafter and good to work with. The staff also cleaned the tables very quickly, which was very confortable. However, cleaning of the floor and facilities had some minor lacks.
Aurora Lounge ARN T2 – My View
The Aurora Lounge in Stockholm was a nice stay and a good place to work, relax and have a bite. It is neither overwhelming nor bad. What I definitely liked are the different areas, which give quite a nice atmosphere, and the variety on the buffet side. The location at the edge of an Irish airport pub is likely quite unique and memorable. I simply had a good time at the Aurora Lounge in Arlanda.
Lounge Reviews on Flyctory.com
Tired of waiting? Here are all Lounge Reviews on Flyctory.com:
Flyctory.com in Sweden
Here are all Flyctory.com postings about Sweden: