If you have a direct flight from continental Europe to Tenerife, you likely arrive at Tenerife South Airport (TFS) close to Playa de Las Americas. The smaller airport at the Northern part of the island, Tenerife North (TFN), which is very close to the capital Santa Cruz, is majorly serving flights to continental Spain and Inter-Canary Island flights. As I mostly traveled from Madrid to the island, TFN is my key entrance point to the island. Thus, it feels rather late to share this airport review with you.The Spanish name of the airport is Aeropuerto de Tenerife Norte, it has previously also been named Aeropuerto Internacional de los Rodeos, which you may also know from the 1977 Los Rodeos Plane Crash.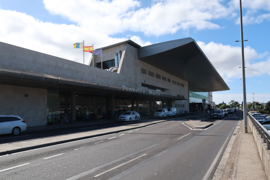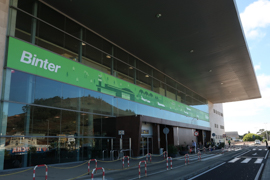 Tenerife North Airport (TFN) – Location and Transport
Tenerife North Airport is located right next to La Laguna. It is also very close to the TF-5 motorway and is thus quite well connected to the whole island. Driving to the heart of the capital Santa Cruz is less than 15 kilometers. Unfortunately, the airport is not connected to the Tenerife tram system. Driving to the large Tenerife Airport, Tenerife South Airport (TFS), is a some 66 kilometer drive.
Apart from taxis and local buses, the key transport to reach and travel from TFN Airport are rental cars. The rental car offices (see below) and parking lots are right at the airport. The airport also has some capacities to host tourist buses. There is no airport hotel, which is in walking distance or short shuttle distance. When I had early flights from TFN, I typically went for hotels in La Laguna, e.g. the Gran Hotel La Laguna.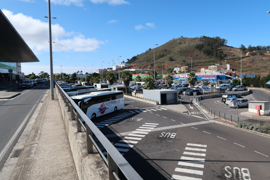 Tenerife North Airport (TFN) – Destinations
As said above, the key airlines operating from Tenerife North are Iberia Express and their even more budget sister Vueling, as well as Air Europa. Key destinations are the airports of Madrid, Barcelona, but also Valencia and other Spanish destinations. Binter Canarias and Canaryfly do inter-island flights. However, there are scattered international flights during peak season – the airport is prepared for that with corresponding facilities. My Iberia Express A321 Business Class review is based on flights between Madrid Barajas and Tenerife North.
Tenerife North Airport – Arriving at TFN
You see that TFN is not too large already right after touching down. There are just five luggage belts, one is equipped for non-Schengen arrivals (but in practice, not used for that too frequently). However, multiple flights of the same airline / group very frequently share the same belt. A very interesting fact is that the signage at the airport is tri-lingual and gives advice in Spanish, English and German. You can reach the rental car counters right from the luggage belt. In fact the offices have counters on both sides, facing to the luggage reclaim area as well as to the landside waiting lounge at arrivals.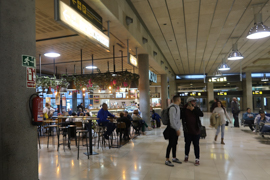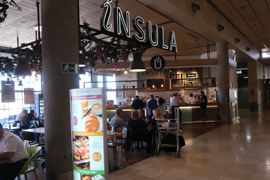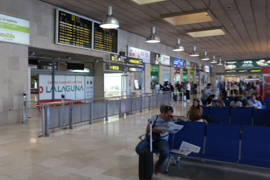 Tenerife North Airport – Departing from TFN
The departure are is quite classic (a.k.a. old-fashioned). Check-in typically starts two hours before departure – there may be some deviations at very early flights. Overall, the service is very efficient.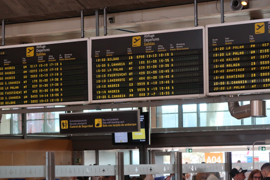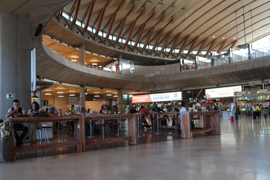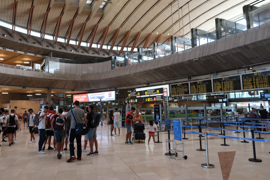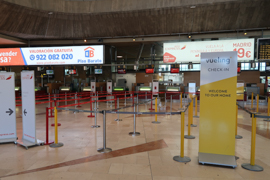 The airside departure area after security has two levels: the lower level features Binter Canarias and Canaryfly with their inter-island services. All other flights depart from the upper level.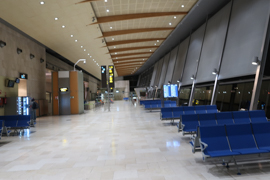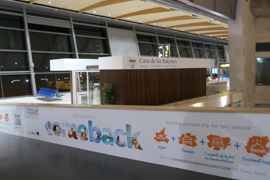 There are some services to grab a bite and loose some Euros, including a Burger King restaurant. Due to the special custom exceptions, it may be valuable to have a look into the Duty Free area – the pricing is however not that different to Madrid Airport, for example.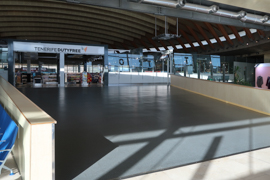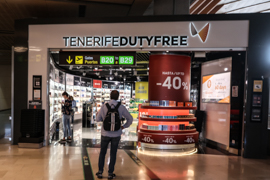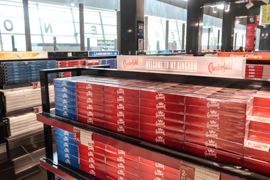 Tenerife North Airport – Nivaria Lounge
Between the two departure levels, there is he AENA VIP Lounge Nivaria, which is servicing more or less all airlines (who offer lounge services) and lounge passes. My wife and I used to name it Ant Lounge, as we had some crawling visitors during our first visit there (we never had it again, though). The lounge is quite nice and offers a nice view of the apron. Seating is quite cozy and there are sufficient power plugs. Drink situation is quite nice, food rather limited to some salads and sandwiches – a typical Spanish AENA Lounge.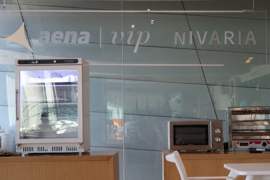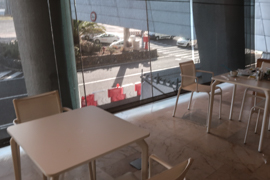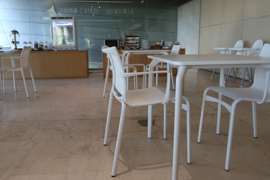 Tenerife North Airport – My View
As I like the North of the island more than the touristic South, I typically enjoy flying from Tenerife North Airport. The processing is quite efficient, the lounge is reasonable and other processes like renting / returning rental cars is quite efficient. If you go for Southern Tenerife destinations, you should likely go for Tenerife South Airport (TFS), but otherwise, TFN is a solid Spanish-style airport.
Flyctory.com about Tenerife
Here are all postings about the Canary Island of Tenerife:
Airports on Flyctory.com
Here are all other airport-related postings: