When I flew Finnair from Stockholm-Arlanda (ARN) to Helsinki (HEL) the last time in 2019, the Finnish airline has been operating from Terminal 2. Thus, I shared with you a review of the Aurora Lounge in that Terminal. When I recently had a flight on the same route again, Finnair departed from the same Terminal as SAS, Terminal 5. New flight, new lounge: the Menzies Norrsken Lounge at Arlanda Terminal 5 is in fact the third lounge review from Sweden's most important airport on Flyctory.com already.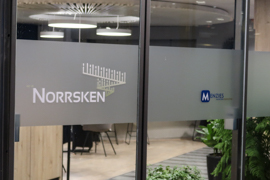 Menzies Norrsken Lounge – Location & Access
The Menzies Norrsken Lounge is located right next to the SAS Lounges (I already reviewed the SAS Business Lounge). This means you access it in the middle between the finger of the gates 1 to 10 and the finger 11 to 20. The lounges are located one level above the ordinary passenger area, so that you either have to take steps or one of three elevators up to the entrance areas.
At my visit (on 23rd February 2022), the lounge was opening daily from 10:00 to 20:15 hours, according to a screen next to the entrance. This surprisingly means that the lounge cannot be used for morning flights. Google shows an earlier opening time, though. The lounge is served my multiple airlines (roughly: all non-Star Alliance carriers who offer lounge access for some customers). In addition, they accept lounge access cards like Priority Pass or you can buy into the lounge – a three hour stay is charged at the reception with 300 SEK, roughly 28 Euro. You may also pre-book a seat.
Menzies Norrsken Lounge – Atmosphere
The lounge does not have too many thrills, but at least, there are some slightly different areas. I worked in the bistro-alike seating, but the Norrsken Lounge also offers significantly more cozy options. I unfortunately could not take pictures of the window seats, which offer a really nice view of the apron. I liked the "working boxes", which are just a bit of narrow to me. Power sockets are quite well available – at least if you sit near a wall or a similar fixed inventory.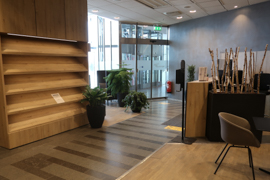 Menzies Norrsken Lounge – Eat & Drink
You are hungry? Arlanda Airport offers you some nice dining options and quick snacks. The Menzies Norrsken Lounge is fine for a snack, but not for a dinner. They did not serve any warm food apart from Asian noodles cups, but there were some salad (please be aware that there are mirrors behind the buffet) option, cold cuts, meatballs and bread. In addition, there were few salty snacks, fruit and cookies. The drink selection included beer and wine (both, from the tap). The SAS Lounge next door is also not a treat in that regard – so let's name in "Scandinavian reasonable selection".
Menzies Norrsken Lounge – Services
The lounge does not offer showers, but there is one toilet per sex plus a toilet for mobility impaired people. The picture on the right is taken at about 16:00 hrs – you see maybe that the toilet should have been served twice on that day already, but they did not do it. Unfortunately, this has also been reflected by the state of the loo. The staff overall was nice – you however recognized that they became more nervous and less organized with more people coming. The place was quite packed around 17:00 hrs.
My computer as well as my mobile phone both refused to connect to the WiFi as the server certificate has been invalid. Luckily, the SAS Lounge WiFi was strong enough to assist my needs.
Menzies Norrsken Lounge – My View
It is a place to work, you got a good seat, there if WiFi (from the neighboring lounge) and they offer some bites. I would say the Menzies Norrsken Lounge at Arlanda serves the basic needs. It is not a place you really remember. I have been thankful that I could stay there during my full five hour stopover. If you don't expect a too fancy place, you have a pretty solid time. Not having served the toilet at 16:00 under Covid-19 conditions is a no-go, though.
Lounge Reviews on Flyctory.com
Here are all Lounge Reviews on Flyctory.com:
Travel Postings About Sweden