For my trip to Canada on the day they re-opened their borders after Covid-19 restrictions I went for Condor. I haven't flown the German carrier, who is majorly in holiday business, for quite a while – but their tickets to Toronto were just that much cheaper compared to the peers (the flight prices for 7th September 2021 were simply ridiculous after the re-opening announcement with many options sold out). While my flight from Germany to Canada was in Condor's Premium Economy Class (an overall not that bad experience, which I won't review for now), the return was in their top product, the Business Class. Here is my review of the flight, operated on 11th September 2021 in a Boeing 767-300ER.
Condor – The Airline
The full name of Condor is Condor Flugdienst GmbH. The airline has been founded in December 1955. The founding members were two ocean carriers, the (West) German Rail, Deutsche Bundesbahn and the Lufthansa. Condor's home base since then is Frankfurt, their key business are holiday flights.Until 2019, Condor was part of the Thomas Cook Group. Nowadays, it belong to the Attestor investment company.
Condor – Fleet and Network
Condor majorly operates three families of aircraft: for their short-term operations, they have a dozen A320-200 and ten A321-200 aircrafts. These are Economy seating only with some 180 / 215 seats (slightly varying by configuration). The A321-200 are by far the youngest planes in their portfolio. For mid-range flights, there are thirteen 275 all-economy seated Boeing 757-300 aircrafts with an average age of about 22 years (mid 2021). Their long-range fleet consists of fifteen Boeing 767-300 ER planes. They are the only ones which feature a Premium / Premium Economy and a Business Class and roughly have 250 seats. From 2022 onwards, Condor is expected to add Airbus A330-900neo to their portfolio, which will replace the B767 fleet majorly.
Condor operates from several airports in Germany and Switzerland. Their key business on the short haul flights are flights to the Mediterranean and Canary Islands. The Caribbean are a key destination on the long haul side, but they also operate to North America, South Africa, the Maldives, Thailand and other destinations. Thereby, they have increased their offered tickets by having cooperations with local carriers. In North America, for example, you can connect with Alaska Airlines (see their Domestic First Class product review) or Westjet.
Condor – My Trip
The review is based on a four day trip from Frankfurt Airport to Toronto-Pearson (YYZ) in September 2021. Condor is using Terminal 1 in Frankfurt and Terminal 3 at Pearson Airport. As said, this review concentrates on the inbound flight from Canada back to Germany. This flight has been operated by a Boeing B767-300ER, D-ABUD, which had its first flight in December 1992 and thus had 28.5 years of age at the time of my flight. The partial ticket price for the flight to Frankfurt was roughly 750 Euro, which is of course a nice deal (and their lowest standard pricing).
| Date | Flight | from | to | |
| --- | --- | --- | --- | --- |
| 07.09.2021 | DE 2402 | Frankfurt (FRA) | Toronto T3 (YYZ) | Prem. Eco |
| 11.09.2021 | DE 2403 | Toronto T3 (YYZ) | Frankfurt | |
The business class ticket allows two suitcases of up to 32kg each and two pieces of cabin luggage with a total of 16kg. Condor is no longer linked to any major frequent traveler program.
Condor B767 Business Class – On The Ground
Service on the ground in Toronto Pearson, Terminal 3, was unfortunately a mess. The staff there needed about five minutes per passenger and more to do the check-in. Furthermore, they were obviously poorly trained. For example, they did not tell me to use the Priority Security Lane – and even though I explicitly asked for the Air France / KLM Lounge, they said that they feel that Condor Business Class guests do not have lounge access in Toronto (which is wrong – lounge review in the link).
In fact, the flight had a significant delay – and again, the communication was rather weak. The worst point was likely that the gate staff frequently named the Condor flight to Frankfurt Delta Airlines, due to the IATA Code DE. Additionally, unboarding the inbound flight (which was already delayed) also took longer than an average narrowbody plane turnaround and felt absolutely chaotic. I have to say that the weak service in Toronto does is not at all in line with my experience on the outbound flight in Frankfurt – the staff there was really good and did a very efficient check-in, despite the much more complex immigration requirements to Canada compared to the ones to Germany.
Condor B767 Business Class – The Cabin
Most Condor Boeing 767-300 ER aircrafts come with 18 Business Class seats, three seats in a 2-2-2 configuration. The two seats on the right side of the first row, 1H and 1K, can be used as a crew rest (for the pilots?) in long-haul flights. For the Toronto connection, the seats were used by passengers, flight attendants' crew rest seats are in the front of the Premium Economy cabin. The business class seats are quite cozy, Seatguru.com gives a seat width of 19 inch and a pitch of 60 inch. I had a first row middle seat (two seats), which was really cozy.
However, Condor Business Class seats are not lie-flat, but just have a roughly 170 degrees angle-flat seat. In the German frequent traveler forums, these seats are called Rutsche ("slide") – and it is really amazing how much of a difference in sleeping comfort it is. Finally, I slept better in a lounge-alike seating position. The entertainment screens are quite large. There is a power plug at each seat and USB ports. The flexible reading light felt rather bothersome to me.
Condor B767 Business Class – Eat & Drink
Also due to Covid-19, the majority of dishes were served from the tablet. During my flights, Condor served a warm dinner and a breakfast in Business Class. The order of serving was a bit of strange: Condor started with the three starters and bread, but also already gave the cheese to it. The main course (choice of three options, including the vegetarian option) and the desert (cheese cake) were served separately. The starters were raw tuna, chicken break with curried chickpeas and seasonal salad. My main dish selection miso style ling codfish with beurre blanc, carrots and Korean rice. I favored it over shortribs and vegetarian lasagna. Overall, I was really pleased with the friendly and attentive service in the C cabin. Funnily, Condor used Premium Economy packaged cutlery for the main dish.
The breakfast was quite nice, with fruit, cold cuts, scrambled eggs with tomato and bacon and a bread selection. Again, this was a really fine selection for breakfast, the taste was reasonable. I would have loved to have another bread roll, though (which has not been offered by the crew).
Condor B767 Business Class – Service
Good news is that in Business Class and Premium Economy Class, the in-flight entertainment is free – Economy passengers need to pay for the selection of music and movies. If I got that correctly, the fee for the flight is roughly ten Euro with a discount for groups and families. Regarding it is a paid service for the majority of the cabin, the selection of entertainment is ridiculously small. The only innovative thing are the short Condor Blog items you may read. Condor does not have in-flight WiFi. In business cabin, you get noise cancelling headphones. The amenity kits are actually quite cool – on my flight, you received a reusable coffee mug.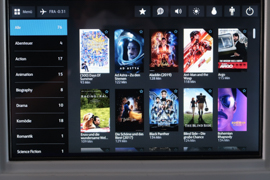 Condor B767 Business Class – My View
I have to say that I did not expect too much of Condor's best cabin product – but overall, I was rather pleased. Bad luck that the entertainment system is so thin and there is no WiFi. The ground performance by Condor's service providers in Toronto is an absolute shame for the whole brand. On the positive side, Condor can be a very good value for money. I would use Condor and their C class in case there are no other reasonable options. Overall, it is fine, but it is not a delight.
Flyctory.com in Frankfurt
Here are all postings related to Frankfurt:
Flyctory.com about Business Class & More
Here are all articles related to Business Class and First Class travel: