I remember having a flight from Lübeck / Lubeck Airport (LBC) in the very early 2000's. At this time, I flew with Ryanair from there to Glasgow Prestwick (PIK). The experience was really bad – a typical former military airfield which has been upgraded with as few as necessary facilities to serve flights, which are actually not better than the airports they are servicing. The more, I was curious when I heard a lot of positive things about this place some twenty years later. In July 2021, I gave Lübeck Airport a try.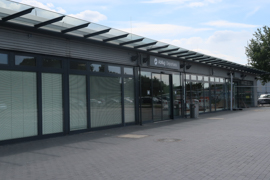 Lübeck Airport (LBC) – Location & Transport
Lübeack Airport is located South of the city of Lübeck in the borough of Blankensee. There is a restaurant across the street, but overall, there are no touristic facilities. The airport features a (reasonably priced) parking lot right in front of the terminal and a long-term parking area not too far away.
From Lübeck city center, there are two key options to reach the terminal by public transport: first of all, there is a bus connection twice per hour (bus line #6). The bus is stopping more or less in front of the terminal. A some 300m to 500m walk across the national route B207 is necessary if you arrive by local train (one train per hour). The train ride (excluding the walk) is less than ten minutes from Lübeck main station. The bus takes roughly 30 minutes. For both connections, the ticket (one-way) is 3.30 Euro.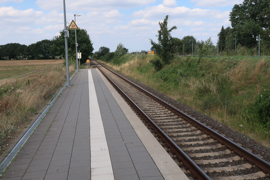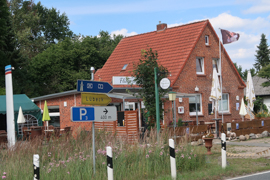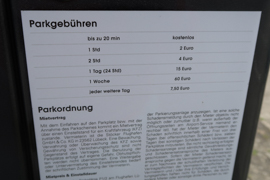 Lübeck Airport (LBC) – Connections
Part of the operational concept of Lübeck Airport is that the airport is also driving their own regional airline. Lübeck Air. Here is my review of the flight experience with them to Munich Airport (MUC) . In summer 2021, Lübeck Air is also connecting the Northern German city with Salzburg Airport (SZG) and Berne-Belp (BRN). However, there are also a few other connections to/from the airport, like a Sundair service to Palma de Mallora (PMI).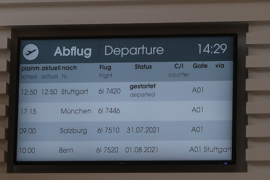 Landing at Lübeck Airport (LBC)
I just had a departing flight from Lübeck Airport, as I headed on from Munich to Bolzano and Bolzano Airport (BZO) in Northern Italy. However, the arrival facilities were in line with the good impression of the airport.
Departing from Lübeck Airport (LBC)
The airport feels very modern and very well maintained. There is a small check-in area and a two lane security area. All processes were very effective. I liked the design of the waiting lounge. There were plenty of tables which allowed you to work. All seats had power plugs and USB ports, which also shows that the management of the airport is aware of traveler's needs. Of course, the staff may fulfill several tasks in parallel.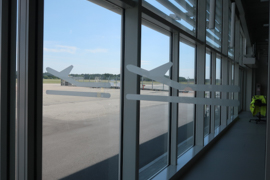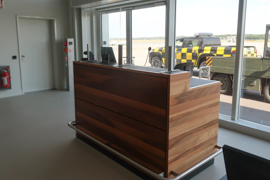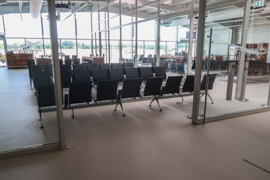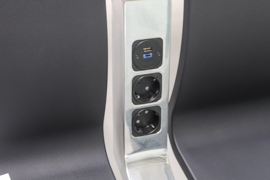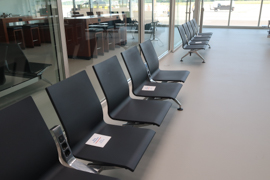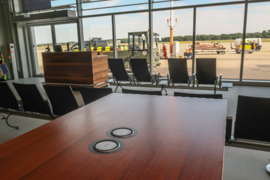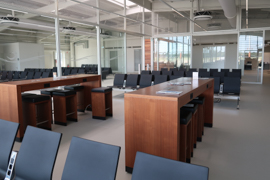 What I absolutely liked is that the airport has a small airside store, which operates as snack bar, but also as souvenir and duty free store (they even sell some standard size alcohol bottles). There is even Lübeck Airport merchandise and you may purchase a Lübeck air model plane. Another great service is that the airport offers umbrellas for the walk to the plane in case of rain. The service as such is a great thing already – but in the LBC Airport case, the umbrellas are even branded after the airport.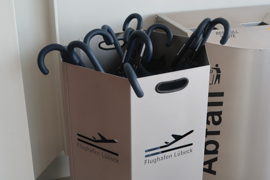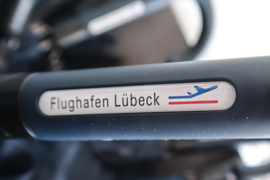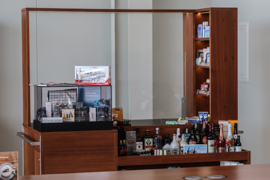 Lübeck Airport (LBC) – Services
The airport is extremely well organized. Even though it is hard to get lost, the signs are very clear and helpful. On the landside part, i.e. before security, there is a souvenir store and a self-service snack bar. I have to say that I have been impressed by the people of Lübeck Airport (LBC). I feel that I never have been to an airport, where the people expressed so much pride and attitude working for this place – their service was simply excellent. Some enhancements are planned, e.g. a major restaurant or a visitors' platform.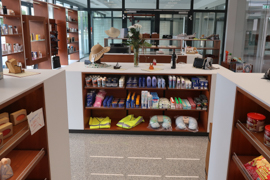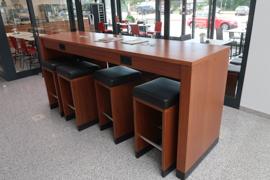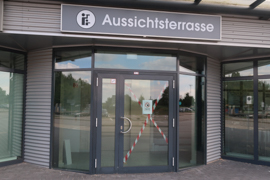 Lübeck Airport (LBC) – My View
Due to the Covid-19 restrictions, I decided very early in 2021 that I want to increase my focus on small German airports and regional connections. Flying from Lübeck Airport (LBC) was likely the best regional airport experience I ever had. The people are great – but you also see that this place has a vision and comes with a strong concept. Flying from Lübeck Airport was definitely a Top Pick! experience, no doubt about that.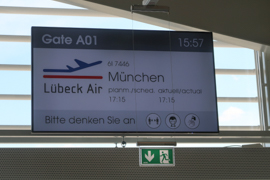 Aviation Top Pick! Experiences
Here are all my Airports & Airlines reviews, which I rated in the Top Pick! range:
Airport Hotels
Here are all hotels with a good airport connection: