"Flying Rouge" becomes quite a success story for Air Canada. Just having started five years ago in 2013, the Maple Leaves' low-cost subsidiary is steadily expanding their network, including connections to the Carribean, Europe and even Japan (Osaka from Vancouver). I had the opportunity to test their Premium Product, the so-called Premium Rouge Class, on route between Toronto, Canada, and Curacao (and back) in July 2018.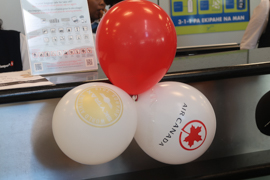 Premium Rouge – Airport Experience and Boarding
If you check-in at Toronto Pearson airport, you won't explore a difference between an Air Canada Rouge and an "ordinary" Air Canada flight: with Premium Rouge, you are allowed to use the priority check-in, just as AC Business Class guests. However, there is no access to the express lane at security – which has not been too bothering on a Thursday morning flight to Curacao, just as there are just very few other departing intercontinental flights at the same time. The way from security to the gate area is quite long, there are however conveyor belts to ease the way.
Premium Rouge does allow for lounge access in select airports. I have been told there is no access to the new and fancy Air Canada Signature Suite in Pearson Airport. However, there is no corresponding statement on their website. The empty Maple Leaf Lounge is very fine in the morning, though.
The priority services at Curacao were very limited. The priority check-in took ages as they were quite in trouble how to handle a passenger accompanied by a dog (without being a status customer at all) – the economy passengers have been given priority on the other check-in desks. For security, you should always allow some extra time. In contrast to the check-in staff information, we have not been granted lounge access in Curacao by the ticket, but had to pay for it.
For Boarding, Premium Rouge customers are assigned to Boarding Group 1 and board the aircraft first.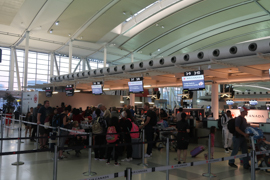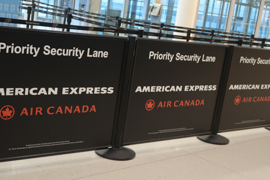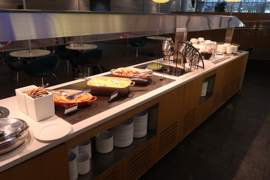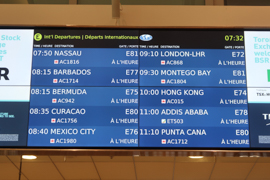 Premium Rouge – Cabin and Comfort
Air Canada Rouge's fleet includes three types of aircrafts: We had their smallest choice, the Airbus A319, which was not that far away from its maximum flight distance at the 3,700kms service from Toronto to Curacao. There are three rows, 2-2 of Premium Rouge seats followed by the Economy Class. The Airbus A321 configuration is very similar, just offering four Premium Rouge rows and also more Economy capacity. The by far largest plane of their fleet is the Boeing 767, in which there are four rows (2-2-2) of overall 24 Premium Rouge seats. The service in all three airplanes is quite similar, though.
The seats used are similar to US Domestic Business / First seats – quite wide and comfortable, but with a limited recline. Air Canada states a seat pitch of 36 inches (37 in A321 and B767) / 94cm and a width of 21 inches / 53cm. The B767 just offers 19inches here, which is definitely a significant difference. The tray tables are in the arm rest and each seat has an individual power plug. There is no in-flight entertainment at Air Canada Rouge: passengers are expected to bring their own device and stream movies and shows by the in-flight Wifi available. However, in Premium Rouge you are offered an iPad with extended coverage of entertainment selection. There are just movies, no music or games, available on the iPad – therefore there are straps in the seat in front of you to fasten the iPad during flight (and similar facilities on the bulkhead at row 1). Due to the wide armrest area in the middle, it is a challenge for the window passenger to get to the aisle when the seats in front are reclined – even if aisle passenger is standing up. Not as extreme as we saw it during our LOT Premium Ecomony flights, but definitely difficult. Thus, I would recommend to go for unblocked row 1, if possible.
Premium Rouge – Inflight Service
We were very happy with the Premium Rouge service: the flight attendant has been very kind and the service was accurate, with hot towels after take-off and before the arrival snack, a choice of two different hot meals and some warm nuts. I was surprised that Air Canada Rouge does not offer inflight shopping (at least not on the A319, maybe due to the limited storage space). Pillows and blankets are provided. There is no amenity kit, we only had a bottle of water and headphones at our seat when we boarded the plane. There has been no snack before landing on our way to Toronto. Nevertheless, the flight attendant has been exceptional. You find the enRoute magazine in your seat pocket.
Air Canada Rouge Economy
I cannot say too much about the Air Canada Rouge Economy class, just due to lack of experience. In the main cabin, there is the standard 3-3 seating with 18 inch seat width. The pitch is extremely narrow, 74cm / 29 inch, which is very often mentioned in Air Canada Rouge Economy Class reviews. I would definitely do not do a longer flight in that seat configuration. There are some additional legroom seats in the main cabin, mainly the ones right behind the Premium Rouge class. In the A321, these Preferred Seats are also located at the emergency exits, while in addition in B767 there are some rows in the front of the main cabin with than feature.
Premium Rouge – Miles and Status
As a Lufthansa Miles and More member, I earned miles according to the Business Class rules on the Premium Rouge flights, which is definitely a nice feature. The miles you receive in Economy Class as a Miles and More member are however very limited. Air Canada Rouge is however allowing to collect the so-called Executive Bonus. The Star Alliance Gold Status is also leading to Priority Bording in general (also for the main cabin) as well as an additional piece of hold luggage, which means that in Premium Rouge, you are granted three instead of two pieces of luggage, up to 32kg each.
Premium Rouge – My view
While the Air Canada Rouge Economy cabin might be a product which I could hardly recommend based on other reviews I read and heard from frequent traveller friends, the Premium Rouge service to Curacao was definitely a nice experience and a relaxed way of travelling, even in the limited size narrowbody A319 cabin. The service was nice and overall, you have at least a very good Premium Economy experience with some Business Class features.
Other Curacao Trip Postings
As part of my July travel to Curacao, I so far have additionally posted the following reviews:
In addition, as part of this travel I have done a daytrip:
I flew Air Canada Rouge on this trip:
Flying Air Canada Premium Rouge (Airline Review)
The following galleries have been published on this trip: