The city of Dortmund in the Northeast Ruhrgebiet region is maintaining its own airport. Dortmund Airport, which is officially called Dortmund Airport 21, is a regional hub, which has been the tenth busiest airport in Germany before the corona crisis. I just had a few flights from there, but felt to share my experience with you.
Dortmund Airport – Location
Dortmund Airport is located on the very East of Dortmund. It is politically indeed located within the Dortmund city limits, but you will access the airport from the city of Holzwickede, next to Dortmund. The airport is quite conveniently located with to the B1 / A44 route and A1 motorway. Kreuz Dortmund / Unna / Dortmund/Unna motorway junction is just a few kilometers away.
Dortmund Airport – Transport / Parking
Local transport connection is available by Holzwickede train station. The train station is about a 1.5km walk away from the airport – so you can walk it in case you just have hand luggage – but it is not that convenient. Much more conveniently, there is an Airport Shuttle bus, which is departing every 30 minutes and may thus not exactly fit timewise to your train connection. There is also an Airport Express Bus connecting to Dortmund Main Station.
Of course, the airport also offers several parking options. As for all major airports, I recommend to reserve a parking spot in order to avoid ridiculous parking fees. The parking garage you see on the pictures above, for example, is 29 Euro for one day and 105 Euro for one week. It is the closest one to the terminal.
Dortmund Airport – Destinations
During the current pandemic situation, there are, of course, very rare flight connections. The most active airline in Dortmund is likely WizzAir, who is especially offering some interestng connections to East / Southeast European locations. There used to be some Ryanair and easyjet connections as well. I took the pictures while flying from Dortmund to Munich, which is operated by Eurowings. Even during normal service days, there are rarely more than twenty flights per day from Dortmund.
Arriving at Dortmund Airport
Dortmund Airport does have a few air jetties, but very often, you just exist via stairs and walk to the terminal – which is of course quite convenient. The baggage claim area is not overwhelmingly large, but definitely suits all needs regarding the typical traffic at the airport. What I do like are the short walking routes from the arrivals area either to the rental car or the central parking garages – you reach your car or the taxi really quick and also quickly connect to the motorway – which is of course a big advantage of a minor airport.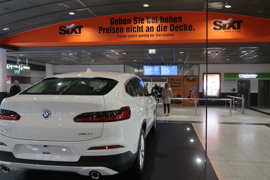 Departing from Dortmund Airport
The terminal has a classic design with the arrivals on the lower floor and the departures on ground level. There are some travel agencies and similar services on the top floor. If there are a bunch of WizzAir flights in parallel, the terminal may feel a bit of crowded, but overall, checking in at Dortmund is really relaxed.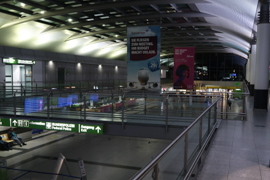 One thing I have to say (and what I also heard from other frequent travellers) is that the security at Dortmund Airport is comparably rude. In general, I did not like the way they are organized during my flight experiences. Even at the Eurowings service to Munich, where there were just a few passengers boarding the flight in the early morning, the staff felt to be very stressed. Nowadays, they even sell fast lane tickets (6.50 EUR) to pass the queues at security – the service there is just quite slow.
The airside part of the airport features some basic services you need. You will easily find a quiet spot to work – power plugs may be a bit of scattered. There is no lounge at Dortmund Airport.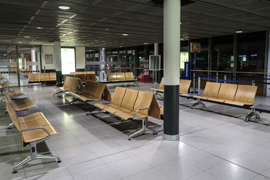 Dortmund Airport – My View
Dortmund Airport is regional, fast and efficient. I don't understand why the security staff is spoiling the good impression of the airport. I felt that parking is quite high (it is in fact comparable to major German airports). Some work desks would help a lot – it is likely absolutely unrealistic to think that a business lounge might work out economically. With Cologne/Bonn and Dusseldorf, there are two major airports in not too far distance – however, the terrible Ruhrgebiet traffic and the low cost carrier destinations might turn Dortmund into an interesting airport to you.
Airports on Flyctory.com
Here are all other airport-related postings:
Airport Hotels
Here are all hotels with a good airport connection: