In late August 2021, I flew back from Salzburg Airport (SZG) to Dusseldorf Airport (DUS) with Eurowings. My BizClass ticket gave me the opportunity to relax at the Salzburg Business Lounge before the flight. Here are my thoughts.
Salzburg Airport Business Lounge – Location & Access
The Salzburg Business Lounge is located in the edge of the airside part (i.e. after security) of Salzburg Airport, close to gate 10. There are signs to the lounge, but when you finally stand in front of the white door in a short aisle and a door bell at the side, this may feel a bit of wrong – but, actually, this also leads to some nice additional privacy. Behind the door, there is the lounge door itself and the toilets across the floor.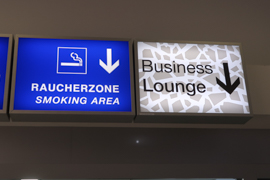 Salzburg lounge is open to status and business class guests of Lufthansa, Eurowings, Turkish Airlines and FlyDubai. You may also enter by using your Prority Pass or pay an entrance fee of 42 Euro. Lounge opening times differ with the respective flight schedules on that day.
Salzburg Airport Business Lounge – Atmosphere
The website states the size of the Salzburg Airport Business Lounge with 80 sqm, 25 seats. That already shows: the lounge is small and cute. Even though they also opened a VIP room next to the lounge on the Sunday I visited it with my wife, it felt far too small and overbooked, especially under Covid-19 conditions. This is really a shame, as even in that limited space, the lounge is offering various kinds of seats, from work desks to relaxing sofa-style seats. The overall design of the lounge feels very nice. You have a nice runway view through the window. They did try to guarantee a bit of social distancing by placing pillows on some seats – but finally the overchallenged staff did not really care what happened to them.
Salzburg Airport Business Lounge – Eat & Drink
The food buffet of the lounge was actually really nice. The escalope was surprisingly tasty and there was a nice selection of drinks and other sweet and savory delights. The staff did struggle to manage the refill more and more during our stay, though.
Salzburg Airport Business Lounge – Services
The welcoming in the lounge was rather limited. Multiple people complained about that the lounge still allowed people in even though it was obviously overbooked. It did not really feel like the staff would be able to manage the situation. They even allowed paid customers in.
Salzburg Airport Business Lounge – My View
Bad luck – our visit at the Salzburg Airport Business Lounge was disappointing. The capacity is simply not sufficient for a Sunday evening – even under limited Covid-19 flight volumes. It might be much better during less crowded times – the lounge is indeed a cute beauty by itself.
Flyctory in Salzburg & Berchtesgadener Land
All my postings related to the German – Austrian region of Salzburg & Berchtesgadener Land:
Lounge Reviews on Flyctory.com
Here are all Lounge Reviews on Flyctory.com: