Old lounge, new lounge: after Lufthansa decided to terminally close down some of their lounges, the company Global Lounge Network (GLN) decided to purchase two of them, the lounge at Bremen Airport (BRE) and Cologne/Bonn (CGN). As CGN is my home airport, I was of course curious about how that will affect the service in the lounge. An early morning Eurowings flight gave me the chance to be in the lounge almost on my own – good time for a review.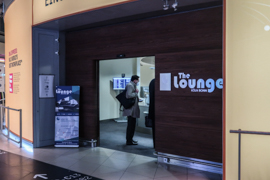 The Lounge Cologne/Bonn (CGN) – Location & Access
The original Lufthansa lounge at Cologne/Bonn Airport (CGN) had two levels: the lower gate level served as Lufthansa Business Lounge, while upstairs, Germany's flag carrier operated a Senator Lounge. GLN is only using the smaller Senator Lounge area upstairs. It is located at the C concourse. However, all gates are connected in Cologne.
If you fly Lufthansa or Austrian on a Business Class ticket or have a Senator or HON Circle status, you have access to The Lounge. The same applies to Eurowings BizClass ticket holders or SMART ticket flyers with Senator or HON Circle status. The hotel is also accessible with Turkish Airlines tickets and respective status levels. The hotel is also contracted to Prority Pass. You may also buy access. Admission is 26 Euro.
The Lounge Cologne/Bonn (CGN) – Atmosphere
If you knew the Cologne Lufthansa Senator Lounge, you know The Lounge by GLN as well. The company uses the good, old Lufthansa furniture, even the buffet area is the same. This means that you have a nice range of different seats, from cozy sofa seating to bistro-style place and work desks. The place is not super-fancy, but I feel it gets its job done.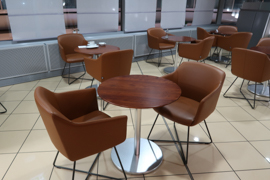 The Lounge Cologne/Bonn (CGN) – Eat & Drink
I had a couple of visits to The Lounge already. The pictures feature the lounge's breakfast service only, though. It felt to me that the food situation slightly improved compared to the Lufthansa Senator Lounge service. The breakfast was actually quite nice with some individually sealed dishes (which is likely also due to Covid-19 restrictions). Still, of course, the lounge is not competitive to really posh airport lounge offers.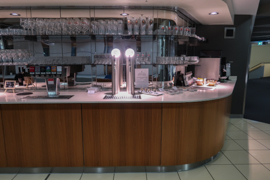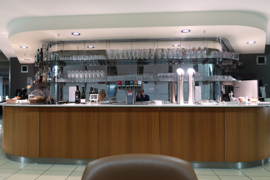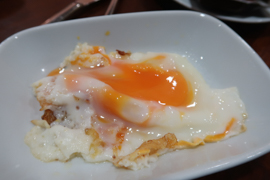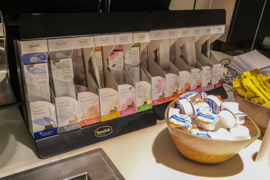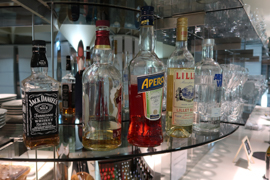 The Lounge Cologne/Bonn (CGN) – Services
The reception and lounge staff felt friendly and relaxed. One of the most obvious changes to the lounge is that GLN now works with another (local) WiFi provider. This did not result in any really significant difference compared to the traditional Lufthansa partner. Unfortunately and unavoidably, they also took over the small number of toilets in the lounge.
The Lounge Cologne/Bonn (CGN) – My View
The Lounge by GLN at Cologne/Bonn Airport (CGN) has definitely not turned into a temple and shrine of airport lounges. It is a solid place with solid service. I feel most people are happy about that there is a place to work and relax before the flight at all. The Lounge definitely gets that part of the job done very well.
Travel Postings about the Cologne Region
Here are all Flyctory.com travel postings of the region around Cologne:
Lounge Reviews on Flyctory.com
Here are all Lounge Reviews on Flyctory.com: