Due to the pandemic travel limitations, I felt 2021 might be a good idea to check out some exotic travel options and connections within Germany. For example, I will have a certain focus on the North Sea island flights. Additionally, I will have a look at rather exotic domestic flights. One of them is definitely the connection from Saarbruecken to Hamburg. The flight reduces the seven to eight hours traveling time by train to about an hour flight time, plus the time necessary to manage the flight itself.
It is used to be part of a flight operated by Luxair, who did a stopover on their route between Luxembourg Airport (LUX) and the Northern German metropole. The Covid-19 situation forced the airport to look for a replacement. The route is today operated by DAT (spoken D-A-T, not in one word), Danish Air Transport. In mid June 2021, I flew from Saarbruecken Airport to Hamburg.
Danish Air Transport – Fleet and Network
Danish Air Transport is located in Esbjerg in Denmark. From their home airport, they just connect Aberdeen and Stavanger. One of the key airports of their network is Bornholm. DAT connects the Danish island with Copenhagen, Aarhus, Billund and Aalborg and Midyllant via Copenhagen (CPH). They also connect Stord and Oslo in Norway as well as Helsinki and Kajaani in Finland. Bornholm is also connected with Berlin (BER). In Germany, there are the two flights from Berlin (BER) and Hamburg (HAM) connecting to Saarbruecken (SCN). They also connect a bunch of Southern Italian airports, including Lampedusa, Pantelleria, Olbia and Catania.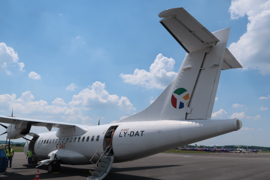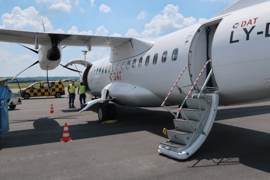 The DAT fleet is quite diverse as well. Most flights are operated by ATR turboprop planes. They have six ATR 42 (capacity: 46 or 48 pax) and six active ATR 72 planes (between 66 and 72 pax). There are also Airbus A320 and A321 oplanes as well as a MD-83. Wikipedia gives an average fleet age of roughly 25 yeas.
Danish Air Transport – Tariffs and Services
DAT offer three ticket types, which they (at least, in English…) call Good, Better and Full Flex. Good includes free seating and a carry on luggage item – no checked luggage. The ticket is non-refundable. Better adds one piece of hold luggage (23 kg) to your ticket,  Furthermore, rebooking fees are significantly lower and there is a possibility for a name change. In all rebooking and name change cases, there is an administrative fee to pay and the booking change is subject to price difference. Full Flex ticket holders can do these things free of charge and can also refund the ticket completely.
In order to give you an idea about the financial impact: when I wrote this section, I was looking for the prices of a random Saarbruecken to Hamburg flight in some four weeks. Funnily, the tickets were called Smart, Classic and Flex in the booking process, but the prices were 109, 119 and 429 Euro in that case.
Danish Air Transport – The Flight
My flights took place on 11th June 2021
The flight was served by LY-DAT, an ATR 42-500, which had its first flight in 1994. You might recognize that this also means that the plane is in fact registered in Lithuania, not in Denmark or a Scandinavian country. The flight departed in time, and arrived in Hamburg significantly too early. There was a service issues with a reduced mobility passenger – Hamburg Airport has not been prepared to service the elder lady. Hard to decide from a passenger perspective if that's the airline's or the airport's / ground handling mistake. The handling of the passenger in Saarbruecken (SCN) went well.
Danish Air Transport – Ground Services
The check-in for the DAT flight opened some 90 minutes before departure. The handling on ground was very friendly. DAT operates their German office at Saarbruecken and had two people in the office. The boarding procedure was very well communicated and went well, too. The online check-in does an automatic seat assignment. I was able to move my seat due to medical restrictions at the check-in counter.
Danish Air Transport – The ATR 42-500 Cabin
Like all ATR planes, you enter the plane from the rear. This also means that the best seats are thought to be the very rear ones – most airlines who do have a business class in an ATR have it in the last rows. A key characteristic on the cabin is that the first row's seat are facing backwards. Many aviation fans appreciate this opportunity. DAT equipped the seats with a really nice seat pitch. I felt much more comfortable in the turboprop than I expected.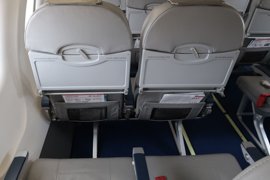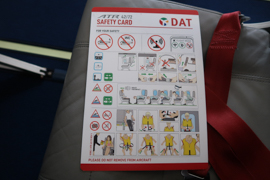 Danish Air Transport – The Flight
The ATR 42-500 was operated with one flight attendant, who was obviously Danish. He was very friendly and spoke limited German. Overall, the communication was done in English. There was no onboard magazine, but a Saarbruecken business magazine on board. The catering was quite Scandinavian with a German accent: for drinks, you could choose between water, tea and coffee. There was also a snack, which has been a really delicious pretzel. As the flight just had some ten
The flight was a beautiful summer day flight. I enjoyed the views of Saarbruecken Airport (SCN) at departure and onwards when we were heading North. Later, there were too many clouds to enjoy views of the ground. We approached Hamburg Airport from the North with some nice views. Overall, the flight was a very enjoyable flight experience.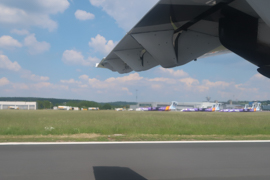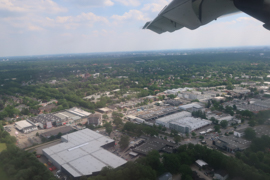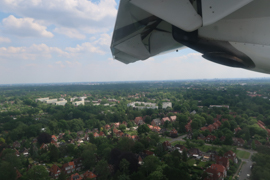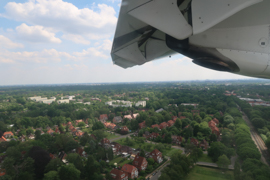 Danish Air Transport – My View
Connection Saarbruecken and Hamburg by air is one of these connections that you can hardly argue that any other transport is currently compettive. Danish Air Transport did a good job during my flight on that route. The plane is a bit of old, but comfortable, all processes were friendly and effective. Having a small snack during the flight is very nice – especially due to the limited food options at the Saarland air travel hub. Good regional flight with the Danes, for sure!
Aviation in Germany
Here are all my aviation postings related to Germany:
Flyctory.com Sports Reports
Here are the all Flyctory.com sports coverages: