Flying from Reykjavik Domestic Airport (RKV) was thought to be one of the highlights of my trip to Iceland in August 2021. I finally had an Air Iceland Connect / Icelandair Domestic service from there to Egilsstadir (EGS) in the very East of Iceland. Based on that and on exploring the other parts of the airport, I give you some insights – and my thoughts – about this travel hub. It includes both terminals – the Icelandair flights typically depart from another place than flights operated by Icelandic peers.
Reykjavik Domestic (RKV) – Location & Transport
Reykjavik Domestic Airport is located South of the city center. You may rather easily walk to the the Northern tip of the area from central locations like the famous church Hallgrimskirkja. It is a bit of a walk to the two terminals, though. The Icelandair terminal, which is located at the West part of the airport, is quite well connected by the capital's bus transport. The Eastern part of the operations for Eagle Air and helicopter flights is a bit more challenging with local transport. Both locations offer free parking, though.
Reykjavik Domestic (RKV) – Connections
There used to be more connections from the Icelandair terminal at Reykjavik Domestic, but it is still rather active. The airport connection Air Iceland Connect flights to various destinations on the island. The key connection is likely Akureyri (AEY), but there are also frequent connections to Egilsstadir (EGS), to the West Fjords and other destinations. There are also some flights a week to Greenland. For that reason, the terminal is equipped with international departures and arrivals facilities.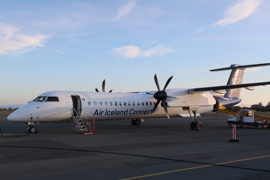 During my stay in Iceland, there were also frequent Circle Air services. The charter airline majorly offers touristic round trips. In fall 2021, the key trip was to explore the active volcano, which sold out almost any trip. On the East terminal, Eagle Air is connecting Reykjavik Domestic with Höfn (HFN) and Husavik (HZK). In general, the options o flights are limited, as the runway 13/31 in key wind direction has been practically shortened due to new housing at the East end of the runway. Thus, RKV is also not suitable to serve as an emergency replacement for Keflavik International (KEF).
Arriving at Reykjavik Domestic (RKV) – Icelandair Terminal
Overall, regarding that RKV is the key domestic airport for Icelandair, the services there are rather poor. If you arrive, there is more or less the luggage belt and car rental services, that's it (see also sections below). There is really not a single reason to stay longer as necessary. The key driver for that is that the future of the airport is somehow uncertain after they already reduced the runway length in one direction. Some politicians favor a new domestic airport South of Reykjavik – that would, however, also mean a significant worsening of the whole island's medical support – the current RKV is very close to the key Icelandic hospital, so that medical flight services can be very effectively arranged.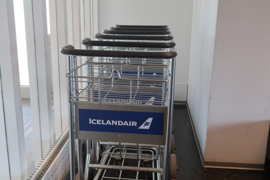 Departing from Reykjavik Domestic (RKV) – Icelandair Terminal
Same picture on the departure side: if you arrive too early for your flight, you are either a tourist or a German travel blogger. For my flight, check-in did not start earlier than 60 minutes before flight. There is one domestic boarding "gate" for the parking slots 1 to 5, which is servicing all flights – you just go through the correct (open) gate to your aircraft.
Reykjavik Domestic (RKV) – Icelandair Terminal – Services
At my time of visit, the snack bar at the Icelandair Terminal was closed for refurbishment. However, they wanted to re-open. The only way to grab a drink or a snack were vending machines and a free coffee machine which Icelandair obviously installed there. The domestic flights to not come with hand luggage liquid regulations.
The arrivals area also come with car rental service desks of several companies (which are of course only serviced in case of arriving flights).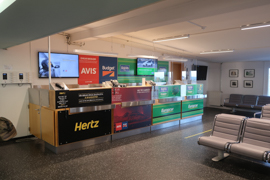 Reykjavik Domestic (RKV) – Eagle Air Terminal
And then, there is the Eagle Air Terminal. Instead of having their facilities at the Western edge of the runways, Eagle Air is having their small terminal on the East side. This may be very confusing. Right next to Eagle Air are the facilities for helicopter flights. The Eagle Air waiting area came with some basic facilities. I might try out their services at a later trip one day.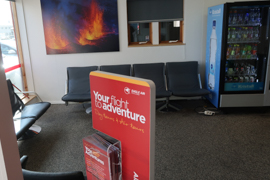 There are no special services at this side of the airport. Free parking is available at Eagle Air as well. The Icelandair Hotel Natura and its bar and restaurant is right at the terminal, so that you may have a drink before a flight there as well.
Reykjavik Domestic (RKV) – My View
Especially for emergency services, Reykjavik Domestic airport is such a key travel hub for the country, it is really a shame in which poor condition it is. Distances in the country are huge and there is no potential for faster speed public services like rail, so flights are necessary. The flight to Egilsstadir itself was great – but the capital's airport is no part of that positive experience.
(Greater) Reykjavik
Here are all my postings related to (Greater) Reykjavik:
Airports on Flyctory.com
Here are all other airport-related postings: