If you want to travel from Stockholm's major airport Arlanda to city center, you have multiple options. Undoubtedly, the strongest appearance in the travel hub regarding advertisements is up to the Arlanda Express, a non-stop high speed train service on the some 40kms distance. During a limited time stopover in Arlanda, I tested the Arlanda Express on one route from the airport to the city.
Arlanda Express – Route and Rolling Stock
Each Arlanda Express trains starts at Terminal 5 (also called Arlanda Norra or Arlanda North), which is the Northernmost terminal of all four Stockholm Arlanda terminals (there is no Terminal 1). Terminals 2 to 4 and the shopping and recreation area Sky City, which links Terminal 4 and 5, are served by Arlanda Södra / Arlanda South. After this short ride, the train is heading directly to Stockholm Main Station / Centralstation. The travel time is nowadays given with 18 minutes, which is realistic most of the time. Arlanda Express runs on separate tracks so that it is not affected by any disturbances caused by the Swedish Railways. Most of the day, Monday to Sunday, the train is leaving every 15 minutes.
The train used is the Alstrom Coradia X3, which is exclusively used by the Arlanda Express. One train originally held190 passengers. After a renovation in 2011, all seven existing trains have now a slightly higher capacity of 228. The train's maximum speed is 205 km/h. Under the Coradia label, Alstrom however produces quite a variety of other train models. The Coradia Juniper 460, for example, was also known as the Gatwick Express, but is now used in Wales.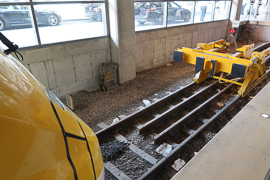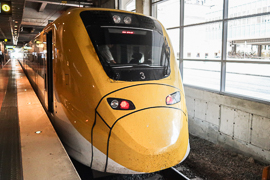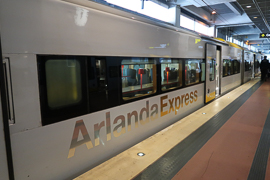 Arlanda Express – Tickets
The standard adult one-way is 295 SEK, some 28 EUR, the return leads to a minor discount with 570 SEK in total. Accompanied kids travel for free. People may approach you when you are buying a ticket at a vendor machine – it is significantly cheaper to buy a ticket for several persons. Four people travelling togehter are 550 SEK – less than the individual price for two. If you book online in advance, there is also a reduction to 195 SEK one-way. Multi-ride and season tickets are available. None of these tickets include an onward ride with Stockholms local transport. Paying for the ticket in the train leads to an additional fee of 100 SEK. The transfer between the two airport stations is generally free.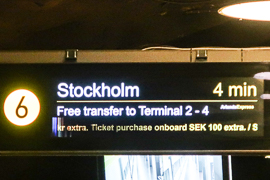 Arlanda Express – Inside the Train
Regarding the short ride, the inside of the trains (which may differ slightly between the different vehicles) is designed in a sensible way. The seats are absolutely fine, there is stable Wifi and power outlets at every seat. There is neither an onboard magazine nor any kinds of refreshments, though. The idea for that may rather be motivated by the price than by the duration of the trip. There are toilets onboard and at least one train I had a look into had some seats, which you could nicely use as work desks. There are also luggage racks in the train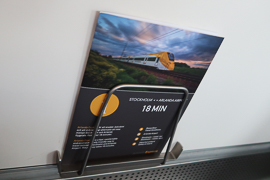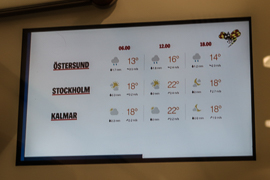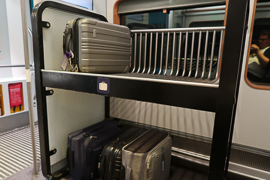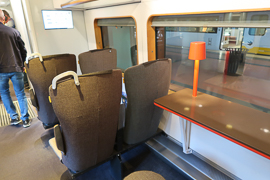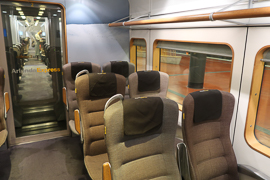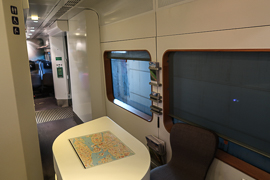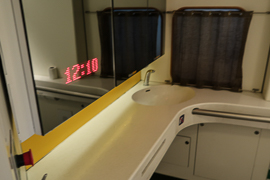 Arlanda Express – Stations
The two airport stations are pretty much the same: they are both underground with one platform, two rails. A quite long escalator or elevators bring the passenger to rail level. There are no special services – I saw info counter, but there was no staff around. There are information and ticket sale desks on airport level, though.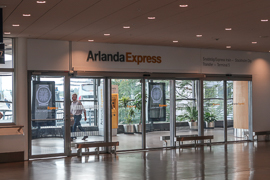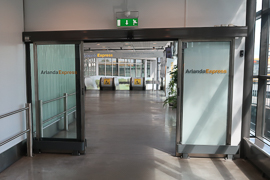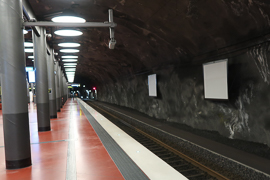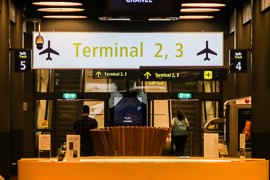 Arlanda Express has separate platforms in Stockholm Central Station. There is a bit of a waiting room as well and two counters to buy tickets and for requests. There are already check-in machines for flights in that area. At Central Station and in the airport, displays tell you the next train departures and the currently estimate travel time.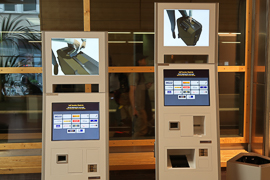 Arlanda Express – Alternatives
There are several options how to travel from Arlanda Airport to Stockholm Center. Another rail service ´calling roughly any 30 minutes is driven by the Swedish rail. It is operated from Arlanda Central, which is located below Sky City. This rail takes some 30 minutes and would be significantly cheaper than Arlanda Express if there wasn't a 100 SEK fee if you board or unboard that normal local train at Arlanda. There are also scattered longer distance services from the airport.
The "traditional" way to get into Stockholm is by bus. For quite a while, the Swedish Flygbusserna were the only major player offering very frequent (every ten minutes) and reliable service. The one-way fee for adults is 99 SEK. They also serve other destinations in Greater Stockholm. Noawadays, there is also Flixbus, which offer the route at early booking for about 40 SEK. However, their service is not that frequent. Both matters of transport are of course exposed to the risk of traffic jams. The typical travel time is about 50 minutes. If you want to travel by road, taxi companies offer fixed prices to and from the airport, which are likely about 500 to 600 SEK.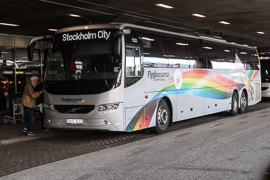 If you have a Stockholm tourist ticket anyway, there is also the free way to commute to the city. Of course, this option takes the most time. From the airport, you take the 583 buses to Märsta, where  you enter the Pendeltag (commuter train). The train starts there, so that a seat is almost guaranteed. This option is fully included in your Stockholm SL network ticket, but takes you about 75 minutes. Märsta is also a rail station for other destinations (the pictures illustrate the vice versa travel from Stockholm to Arlanda).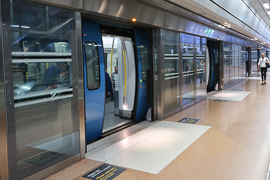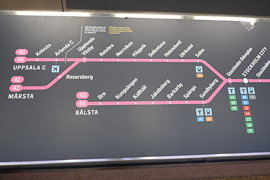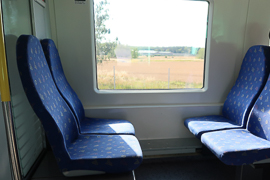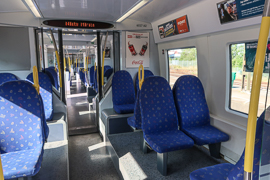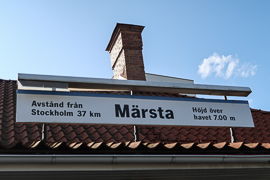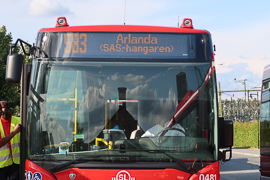 Arlanda Express – My View
The Arlanda Express is the quickest way to get into Stockholm – and you cannot neglect the argument that it is environmental-friendly as well (as the local trains are). It is comfortable and easy to use – on the other hand, it is quite expansive. You will likely go for it if you are under time pressure. If you have some more days in Sweden's capital and just want to hang out as a tourist, you may rather go for one of the other options I mentioned.
Flyctory.com in Sweden
Here are all Flyctory.com postings about Sweden:
"Rides on Rail" Postings
Here is everything about trains, trams and other rail vehicles: