I have to admit that I did not become too much of a friend of Malta during our four night stay on the Southern European island in April 2022. However, I was really looking forward to see Malta Airport (MLA) and especially their only lounge, the La Valette Club (sometimes also named Lavalette Club, which may be a bit of confusing). I read some really good reviews about the place on different platforms, so that I looked forward to check it out before an Air Malta Business Class flight. Here are my thoughts.
La Valette Club Malta (MLA) – Location & Access
La Valette Club is located above the (airside) gate area. You just cannot miss it, as the elevator up to the lounge is right behind the exit from the duty free store. In addition, the airport is not too large anyway. The service times are 8:00 to 22:00 hrs. The lounge seemed to have 24 hour access in the past, though. There is no access to a staircase, to that especially getting down in the elevator for boarding may lead to some delays.
Apart from a very posh option, the lounge is the only business lounge at Malta Airport (MLA). Thus, it is used by several airlines. The two main ways to access La Valette Club is, of course, a business class ticket or status at Air Malta. You may also buy a dedicated lounge pass for seasonal lounge access. Some airlines like Turkish Airlines, Aegean, British Airways or Qatar Airways also offer access for their passengers. Interestingly, while Lufthansa is honoring Air Malta tickets for their status customers for lounge access in Germany, they do not feel to receive lounge access as such in Malta. I loved the old-fashioned way to receive a written invitation for each customer.
La Valette Club Malta (MLA) – Atmosphere
While the ordinary waiting area of Malta Airport is rather packed, La Valette Club feels to be really spacious. Nonetheless, I could imagine that the third floor lounge is getting quite full on summer peak days. There are Apple workstations and a mix of rather relaxing seating and bistro-style tables and chairs. Unfortunately, these places, which might be ideal for working, typically lack a proximity to power outlets. However, other parts of La Valette Club offer plenty opportunities to charge your batteries.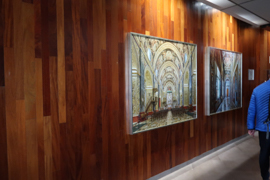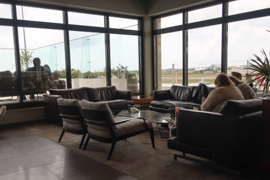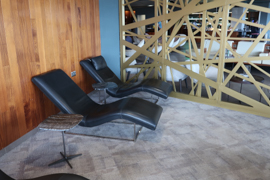 One of the signature places of the lounge is definitely the opportunity to sit outside on the terrace and enjoy the views on the runway. Of course, La Valette Club is not as posh as the Los Angeles place, but the opportunity to sit outside reminded me of the Star Alliance Lounge at LAX's Tom Bradley International Terminal.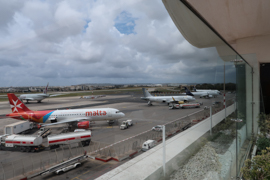 La Valette Club Malta (MLA) – Eat & Drink
Opposite of the reception desk, La Valette Club is offering snacks and drinks. Interestingly, you could help yourself at the buffet, while the Hilton Malta we stayed in had serviced food buffet. The range of drinks was actually quite nice – I would have liked to have some more local options (e.g. spirits) on top of the famous Kinnie herbal soft drink. The food was a selection of some hot pies and mac&cheese as well as some sandwiches, salads, fruit salad and snacks. Does not sound too overwhelming – but as the only longer flight is an Emirates service to Dubai via Larnaca (LCA), the catering is absolutely fine. They also offered vegetarian and vegan options.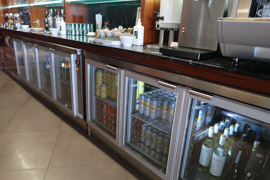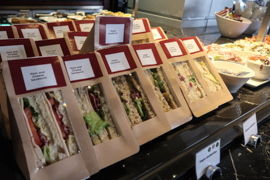 La Valette Club Malta (MLA) – Services
The lounge offers toilets, but does not feature any showers. There was an in-lounge WiFi – however, I did not spot the password for it in the whole lounge. The free airport WiFi was fine, however. The service in the lounge was good. We arrived at a time when several planes departed within a short time interval, so that the staff had some trouble cleaning the tables.
La Valette Club Malta (MLA) – My View
The scenery and view from the lounge is amazing. I loved the different options for sitting, especially the outdoor section. There were some service issues and the WiFi is weird – but overall, the lounge is a great place to relax before a flight.
Flyctory.com about Business Class & More
Here are all articles related to Business Class and First Class travel:
London Top Pick! Reviews
Here are all my postings about London, which lead to a Top Pick! review: