Singapore Changi Airport regularly tops international airport rankings like Skytrax. Nevertheless, they seem to be constantantly working on making the airport experience in the city state even better. The latest upgrade is Jewel Changi Airport, which is a very unique interpretation of an airport shopping mall. I was lucky to visit Jewel on 5th May 2019, while transferring from Kuala Lumpur to Frankfurt on my Singapore / Malaysia trip, just 18 days after the mall has opened. Here are my impressed impressions.
I decided to add a gallery with over 100 major size pictures to this posting.
I selected Singapore Airport as my Best (new) Airport in 2019.
Jewel Changi – Location & Access
Changi Airport is located at the East end of Singapore. Jewel Changi is thereby adjacent to Terminal 1, right next to the control tower of the airport. If you are interested in Singapore aviation history, by the way, I also visited the very first Singapore civil airport, Kallang.
There is no curfew. Jewel is a 24 hour facility. However, store hours are 10:00 to 22:00 hrs. As it is intended that it also intensively visited by the locals and non-flying guests, it is a landside facility, i.e. it is outside the security zone of the airport.
If you are on a transfer, you thus have to immigrate to Singapore to visit the attraction and emigrate after your visit. The airport suggests a minimum connection time of five hours for this. It took me some 90 minutes just to take all the pictures for this posting – knowing that I will be fed by Singapore Airlines in their First Class Lounge thereafter. Thus, I feel that this estimate is reasonable. The mall is directly connected with Terminal 1, Arrivals Level. There are air-conditioned sky link bridges from Terminals 2 and 3. For Terminal 4, you need to additionally use the bus connection to these airport. The skytrain is an alternative transport.
Jewel Changi – Architecture & Nature
As you could see in the pictures above, the Jewel Changi Airport looks a bit like a glass UFO in the middle of the three terminals. Thereby, the mall features ten floors, from B5 to L5. Inside, it is amazingly green. There are a lot of trees, flowers or floral figures which make you smile or relax. There is even some sort of waterfall with a walking path which you may head down from the very top level.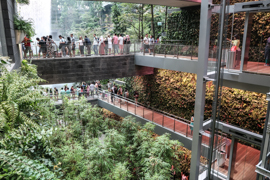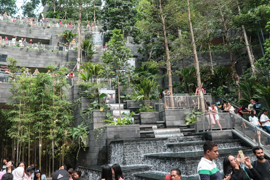 The HSBC Rain Vortex
The icon of Jewel Changi Airport, however, is definitely the waterfall – or HSBC Vortex, as it is precisely called (vortex may also be the better wording for how the water is flowing. Even with the pictures, it is not too easy to explain: from the top of the building, water is flowing through a hole through all floors, similar to the drain of a sink. Thereby, until ground level, water is falling freely, before it is caught by some sort of transparent funnel. This makes the center of the mall a bit warmer and more humid compared to walking around in the shops. Despite of all the trees and flowers, the Vortex is the key attraction for the visitors. Apart from that, it is the world largest indoor waterfall.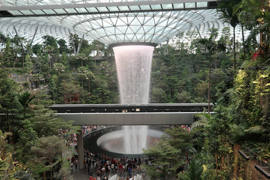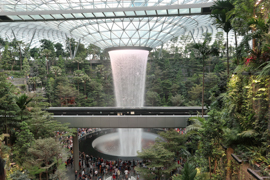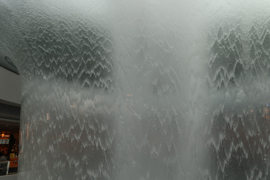 Jewel Changi – Shopping & Dining
This place is of course designed to some some Singapore Dollars from any traveler around. Thus, there are a lot of shops and restaurants. Some brands like A&W have their only Singapore outlet in the Jewel mall. The number of shops is not that impressive – there are currently "just" some 280 food and shopping outlets.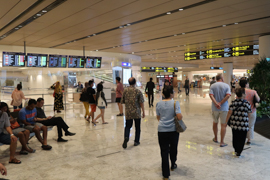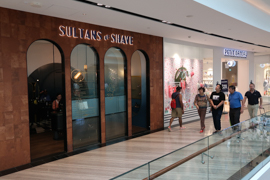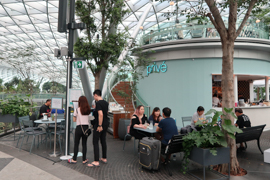 Jewel Changi – Services for Passengers
Does Jewel Changi Airport also have an impact on the airport? Yes, it does – especially to Terminal 1. Due to the sub-terrestrial connection to Terminal 1, its Arrival facilities enlarged by some 70 per cent. There are also some dedicated services for travelers in Jeweil Singapore. For example, Yotel opened its first YotelAir outlet in Asia in here. You may also leave luggage or have an early check-in, up to 24 hours in advance (depending on the airline). There is even a pay-to-stay airport-alike lounge. Right next to it, you may to your GST return on the corresponding machines.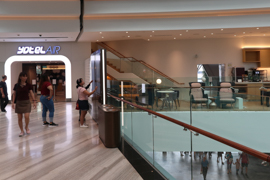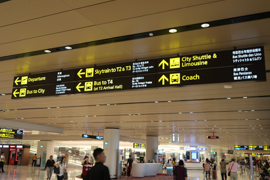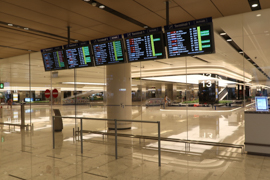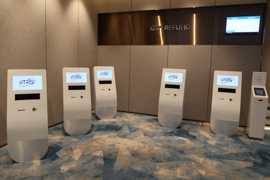 Jewel Changi – Enhancements
Jewel has not yet been completed when handed over to the public on 17th April 2019. First of all, some shops are still under construction. However, there are also some attractions which are planned to be added in the following months:
Bouncing and walking nets
Two mazes, a hedge and a mirror one
A topiary walk with shape-cutted plants
Slides
A glass bridge
The Changi Experience Studio, which shall illustrate the users the history and processes of Changi Airport.
Jewel Changi – My View
Congrats, Singapore Airport. Jewel is just amazing. It feels so unique and will definitely be a major attraction for transfer passengers, not just in the first weeks after opening. The architecture with the vortex waterfall in the middle is just breathtaking and memorable. Hard to guess of people even chose Singapore for a transfer to see this icon in real. It is definitely a new Singapore top attraction now. I cannot do different than naming Jewel Changi Airport a Top Pick.
However, on the negative side (and maybe just having a too bad impression by visiting the place the third Sunday after opening), it is just too crowded. Getting to top level by elevator may be a struggle, taking a picture of your beloved one and the vortex may require some tries, just because it is too full. You simply cannot wait in some situations until a picture is taken. Jewel Changi is currently too attractive, even though some key attractions are still missing. If the people keep on loving it, it simply may end up being that attractive – that it becomes frustrating and unattractive. However, Singaporeans are relaxed people. Maybe this one is just more like a tourist thought…
Jewel Changi – The Gallery
I felt that this magical place definitely deserves a gallery. You may find 111 pictures in here:
Aviation on Flyctory.com
Here are all postings about Airports & Airlines:
Postings about Shopping
Here are all postings related to Shopping: