While I had Lufthansa First Class services from Frankfurt to Hong Kong and from Singapore back to Frankfurt on my trip to Singapore and Malaysia in April/May 2019, I especially looked forward to travel Singapore Airlines First Class from Hong Kong to Singapore on the outbound flight. It has been a long time since I traveled the well-reputed airline at all – of course, this flight was my First Class debut on their machines. The flight I took was SQ 865 on the 30th April 2019, served by a Boeing B777-300ER with a Four Class configuration.
Flying Singapore Airlines First Class was my Best (new) Inflight Experience 2019.
Singapore Airlines B 777 First – The Cabin
My flight was served by 9V-SWF, a four class B777-300ER. There is just one row of First Class open suites on this plane (1-2-1), followed by 48 Business Class seats (1-2-1). In addition, there are 28 Premium Economy Class seats (2-4-2) and 184 Economy Class ones (3-3-3). I had seat 1D, on the right hand side of the window.
The first thing which you recognize when boarding the B777-300ER First Class is the immense seat width provided. Seatguru.com gives amazing 35 inches here. Lufthansa, for example, feature 31 inches in the First Cabin. The pitch / bed length is 81 inches. There are numerous smaller and larger places to store items. In front of the passenger, there is a small cabinet, which also features the headphones. Next to the screen, you may fold out a mirror. There is a small drawer on each side of the seat as well.
There are also a lot of small goodies in this seat. For example, the remote of the entertainment system shows the remaining flight distance and time. There are headphone plugs on either side of the chair to make it more comfortable for you. The seat is just incredible. There is one surprising feature, though: the are does not have overhead bins, so that you have to put your luggage underneath the entertainment system area – it does not lead to a decrease in comfort, though.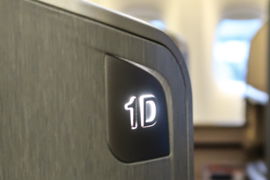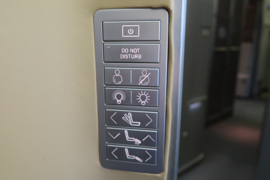 The inflight entertainment system features a huge screen. The selection of movies and audio is awesome.
Singapore Airlines B 777 First – Food & Service
Of course, I was looking forward to the dinner service on that flight as well. There were more Western options available, but I went for the Chinese nine course menu. The menu started with three appetizers in parallel, Osmathus Dried Dates, Mei Cai Chicken and spiced flavor pork. Soup was a double boiled pork rib soup with papaya and Chinese almond. There were even four main dishes, garlic stir fried beef, braised sea cucumber, mushrooms in tomato cup and pan fried vegetable prown roe dumplings. The dinner concluded with a mango, gorgon fruit and snow lotus seeds soup. I was not too fond of that sweet delight at the end, but overall, food was simply amazing.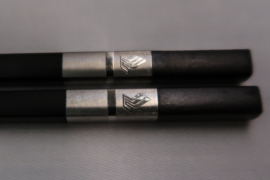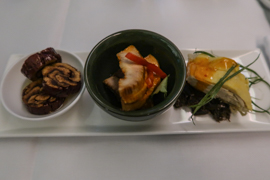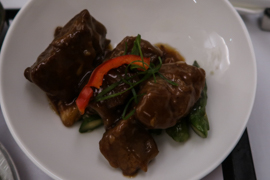 The onboard service was fantastic as well. There was champagne and towels before take-off, another set of hot towels and an aperitif before the dinner and plenty of drinks during food. A bottle of water was also provided. The flight attendants were just brilliant and very friendly. There is no amenity kit at Singapore Airlines. However, the amenities are provided in the lavatories.
Singapore Airlines B 777 First – On The Ground
As I transferred from Lufthansa, they provided me with a personal assistant right after arrival, who guided me to the lounge in Hong Kong. Unfortunately, due to renovation, the Singapore Airlines First Class Lounge was closed during my trip, so that I went for the Plaza Premium Lounge. The location was quite convenient, there service was limited, but overall, it was a nice play to stay and refresh.
Of course, there was priority boarding for the passengers in First and Business Class.
Singapore Airlines B 777 First – My View
Damn! Flying Singapore Airlines in the B777 First Class was definitely too short. The airline has a great reputation – now I felt the reason for it. The seat is incredible – the Lufthansa equivalent feels like a wooden chair against it. The foot was awesome, the friendliness of the crew outstanding. The only reason why I felt sad on this flight really was that it has been too short. Great performance, Singapore Airlines! If you guys have the chance to get the feeling for a reasonable fare, do it… and enjoy!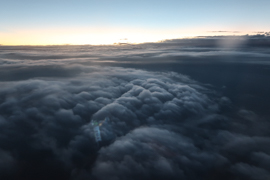 Flyctory.com about Business Class & More
Here are all articles related to Business Class and First Class travel:
Singapore – More Postings
Here are all postings which deal with Singapore: