During my trip to Singapore and Malaysia, I chose Malysia Airlines for my return from Kuala Lumpur International to Singapore Changi Airport. I was really curious how they would compare to their direct peer, Malindo Air, which I checked out on the outbound flight from Singapore. The flight material was comparable, as this flight was serviced by a Boeing 737-800 (Next Generation) as well, registration 9M-MLV, aged five years. I flew on MH 623, leaving Kuala Lumpur at 13:25 hrs on 5th May 2019.
Malysia Airlines – About the Company
Malaysia Airlines is a very strong carrier in the Asian market. They also service some Australian destinations and Auckland. In Europe, however, the only destination is London-Heathrow. A lot of additional destinations are done by codeshare agreements, majorly with Emirates Airlines.
Quite surprisingly, they have a quite significant fleet of long-haul planes, though. Currently, there are 24 Airbus 330, and six Airbus 350 and 380 each. There are 48 B737 planes, all Next Generation / NG series. Thus, Malaysia Airlines has a pretty young fleet with an average age of just 6.7 years (at time of writing, taken from airfleets.net)
Malaysia Business Class – Ticket & Check-In
Outbound flights from Kuala Lumpur seem to be very competitive in pricing. The Business Class Ticket I bought was 529 Malayan Ringgit, some 115 Euro. This includes two pieces of hand luggage as well as 40 kg of checked luggage. Due to my British Airways Gold / Onewold Emerald status, I had an additional luggage allowance of 20 kg. Some Malaysia Airlines planes offer Business Suite Class, which allows to have 50 kg of luggage. International economy class luggage allowance ranges between 20 and 35 kg, depending on the fare you book. There is a domestic Economy Lite fare, which does not allow for checked luggage.
The check-in area for Business Suite and Business Class passengers at Kuala Lumpur International Airport (KLIA) are very nicely designed. There were even some seats. The check-in is done by two persons, one who is doing the computer work and communication and one who is caring for your luggage. The check-in process was very friendly and efficient. The only negative thing was that they not just removed old luggage tag labels, but also my Malindo Air Business Class sticker from the outbound flight 🙂
Malaysia Business Class – At The Airport
KLIA Terminal 1 (where all major airlines are serviced) offers all services you need, but not too much of a thrill. Similar to Singapore Changi, the final security check is done at the gate. Before that, you first have a boarding pass and passport check, the emigration and a quick bag scan before you can relax in the airport. The safety procedures were efficient and friendly. Business Class passengers have a fast lane at the emigration counters.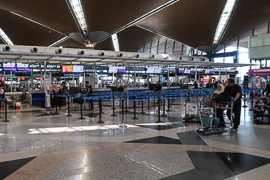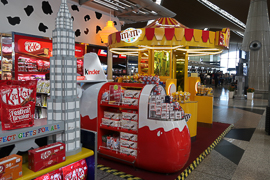 For quite some of the flights (i.e. all departing from the C-Gates), you may have to take a tram to reach the satellite terminal. MH 623 was departing from one of the G-Gates, so I could directly go to the Malysia Airlines Golden Lounge to relax.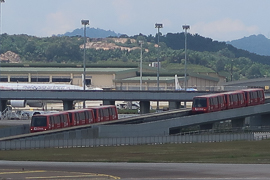 I was quite amazed of the place. The large glass front offers an excellent view of the airport. There are plenty of places to relax. The workspaces are on elevated tables, which was okay to me. There is also a nice bar area. There was a nice sleection of food and drinks, including services like a noodle bar. Overall, I had a very nice time there and was really looking forward to the flight.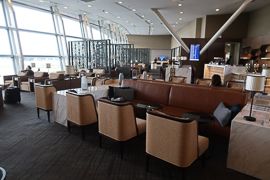 Malaysia Business Class – Cabin
The Malaysia Airlines Boeing 737-800NG cabin looks quite similar to the Malindo Air one at first sight. The most significant difference is likely that there are four rows of proper Business Class seats, two on each side / 2-2.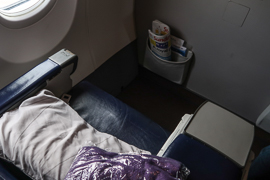 Overall, I felt that the Malindo cabin was better, though. The seat was more comfy and had more options to adjust. The inflight entertainment looked also worse at Malaysia Airline. The damper of my seat did not work properly, so that the seat reclined slowly again and again. Parts of the crew seemed to have known of that defect. I am definitely a bit too strong in body volume, but the Malaysia Airlines table for the inflight food also gave me quite a challenge when I had to fold it out.
Malaysia Business Class – Inflight Service & Arrival
While I had a quite nice impression of Malaysia Airlines so farm the inflight experience was rather on the poor side. The flight attendants were quite distanced with a touch of rude, especially during the flight. The Malindo crew was much more friendly and also more present. Before take off, there were cold towels and a welcome drink. The travel prayer is only displayed, not played from tape or similar. The food once airborne was a chicken sandwich again, which was just a soft roll with a somewhat chicken filling. Apart from the tableware presentation, this one was lower economy class standard. Not pleasing.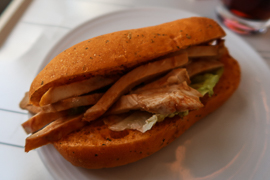 There was no designated arrival service, There is also no fast lane or similar for priority passengers at Singapore Changi Airport.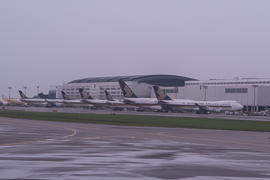 Malaysia Business Class – My View
Malaysia Airlines, I expected more from that flight. The experience on the ground was really positive, but the inflight experience, especially the crew and inflight food, destroyed that. So I would finally come to a mixed review, clearly stating that depending on the crew and maybe on the route (i.e. on the catering on that route), you may have a significantly better experience. The ground staff is good, the hardware is fine (still much better as most European regional products), other factors are easy to adjust.
Aviation on Flyctory.com
Here are all postings about Airports & Airlines:
Malaysia Postings
Here are all postings about Malaysia: