2018, Aegean Airlines has been voted by Skytrax as the best European regional airline. This alone might be worth mentioning when you review the Greek. More than that, this has been the eighth consecutive time they won this award. I never flew with them so far, so I was really flattered to check their service between Dusseldorf and Thessaloniki Airport, doing the Main Cabin outbound and Business Class inbound. Both flights were serviced by Aegean's Airbus A320 aircraft.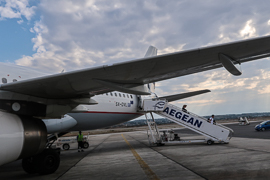 Aegean Airlines & Olympic Airways
It might be a quite strange way to start an airline review with another airlines. However, Olympic Airways is the domestic carrier of the Aegean Airlines Group. The airline is supported by the state (as it plays an important role in the inter-island travel) and no member of Star Alliance. If you for example fly with Aegean from Germany via Thessaloniki to a Greek destination, you do not have any privileges like additional baggage or lounge access on the domestic routes. Of course, Lufthansa does similar things with Eurowings, but there is much more potential to have codeshare flights or similar mechanisms to reduce the potential disadvantage.
Aegean Airlines – Fleet & Network
Aegean only serves European, Northern African and Middle East destinations. You may book Aegean tickets to some more distant destinations like Canada or Australia, but these all base on codeshare agreements. As mentioned above, the Greek domestic travel is more or less solely operated by Olympic Airways.
Aegean operates all their flights with the A320 family. The Airbus A320 is thereby the most frequently used aircraft – Aegean owns 37 of them. There are eleven A321 and a single A319. Olympic Airways is running on Turboprop machines. The tiny Dash 8-100 with a capacity of 37 passengers is the only somehow exotic aircraft.
Aegean Airlines – At Check-In
I was quite surprised that check-in at Dusseldorf strictly opened two hours before the flight's departure. This may not be too bothering for a not-fully-booked A320, but at the first day of local school holidays, there were some queues at the security. The process itself has been very efficient and friendly, so I could proceed to Lufthansa Senator Lounge quickly. Alternatively, Aegean is contracted with the Hugo Junkers Lounge in Dusseldorf, which is closer to the departure gate in area B – I just prefer the Lufthansa place.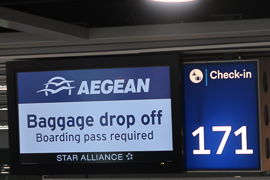 Departing from Thessaloniki at 10:15am, I went to the Gold / Business Class check-in at about 8a.m. The lady rudely told me I should queue in the main line, which will be opening in some ten minutes. After I stated that I am Star Alliance Gold member and asked why I should use the normal queue, I could check in immediately. Judging people just by the way they look like or whatever criteria the lady tried to use is absolutely inappropriate in my point of view. I personally felt she was just to lazy to provide the correct service. After check-in, you will receive back your luggage, as you have to bring it to an x-ray on your own. Interestingly, you just leave your luggage there and do not have to wait for the result of the scan.
Aegean Airlines – Economy Class Experience
On the way from Dusseldorf to Thessaloniki, I sat on seat 12D in the emergency exit row, which lead to a small additional reservation charge. The standard economy seats looked comparably comfy, the exit row gave it a nice add-on in comfort. The flight was nice and quiet, the crew very friendly. They served the hot meal comparably late due to turbulence during the flight over the Alps. The dish was pasta with minced meat, which was quite delicious. They served it in a box with some crackers and cookies. For a close-to-three hour flight, I might have favored a second round of drinks, but overall, it has been a really nice economy class experience.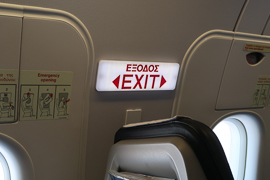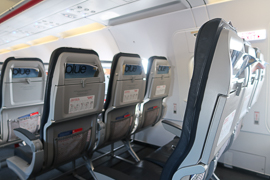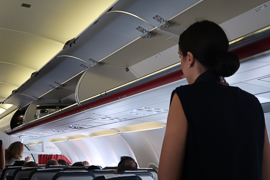 Aegean Airlines – Business Class Experience
After the check-in mess, I tried to explore the airport of Thessaloniki a bit. I very quickly came to the conclusion that I will not fall in too deep love with the place, so that I headed quite straight to the Aegean Lounge. There will be a review of the lounge as part of an airport review soon.
A really nice feature of the Aegean Lounge is that you can board Aegean and Olympic flights directly from there and do not need to go back to the gate area. The apron bus just catched two of us to the plane, which has already started boarding (first bus completed). There was a friendly welcome by the crew (I had one flight attendant on the outbound flight already) and a pre-flight drink. The seats are amazing. They are just the typical economy ones, but the pitch is great. Aegean states a seat pitch of 33 inches, which is even more than in Eurowings Best Class (my European flight favourite). Airborne, there were hot towels followed by a warm breakfast. At Aegean, you can view the choice online already and pre-order. I went for the white egg omelette with minced meat, which was delicious. The crew was really kind all over the flight and there were hot towels again before landing. I absolutely liked this flight and deeply thanked the crew for the great cabin while leaving the A320 in Dusseldorf.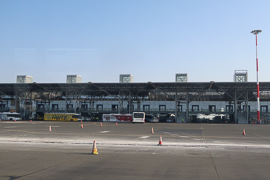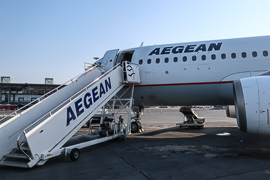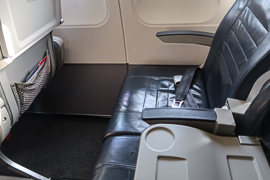 Aegean Airlines – Miles + Bonus
A review of flying Aegean might not be complete without at least mentioning their frequent flyer program, Miles + Bonus. Frequent travellers regard it to be one of the easiest options to gain Star Alliance Gold Status. It solely requires to collect 24,000 miles p.a. for that target with a minimum four Aegean or Olympic Airways legs. Compared to that, the Lufthansa Senator status requires you to collect 100,000 miles within one year. The Senator status is valid for two years, though. The mileage crediting tables are comparable to Lufthansa or other Star Alliance Airlines – however, Aegean does not credit the very cheap booking classes (esp. discounted economy tickets), which makes the target slightly more difficult. Olympic Airways is also the only non-Star Alliance carrier which you may credit on Miles + Bonus.
Aegean Airlines – My View
Travelling with Aegean was a really nice experience – I absolutely enjoyed the trip with them. Unfortunately, the rude and in my view absolutely inacceptable behavior of the Thessaloniki check-in staff prevented a clear five star rating. You should always treat your clients with respect. Of course (and nevertheless), I look forward to board the Greek Star Alliance carrier the next time. The nice cabin, the nice lounge and the comfy lounge boarding lead to a very good flight experience.
Network map: Aegean website. I collected Miles & More Miles on that flight and profited of my Star Alliance Gold privileges.
Airline Postings
Here are all postings related to specific airlines and their flights:
Flyctory.com in Greece
Here are all Flyctory.com postings dealing with Greece: