On my Easter trip with Sarah, we had the opportunity to test Polish LOT's Premium Class, their interpretation of Premium Economy flying. All their intercontinental operations are done by Boeing's 787 Dreamliner, which is also used in my favorite flight by LATAM. The cabin setup is quite unusual with three rows of Business Class (2-2-2 seat setup), followed by three rows of Premium Class (2-3-2) – which means that if you are seated in row 7, you are already one of (at most) 213 fellows who do the Economy way. On our trip, we had the flights LO 26 from Warsaw WAW to New York JFK and LO 12 from Newark EWR back to Warsaw.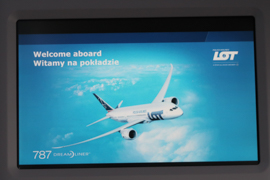 LOT Premium Class – Booking and Airport Services
LOT grants Premium passengers two pieces of luggage (23kgs each) and Priority Boarding. If you connect into Warsaw with a LOT flight (we unfortunately had Lufthansa, though I love their Economy service), you will also have a Premium Class within Europe and sit in front of the plane, right behind business, with comparable service. Premium passengers generally have Fast Lane access in Warsaw and Priority Boarding, togehter with the Business and Star Alliance Gold passengers. There is no lounge access, though. You may buy-in at the beautiful LOT Lounge in Warsaw (I heard the price is some 35 EUR, but I  cannot confirm that…).
LOT Premium Class – Seating
The seat itself is really fine. I loved the wide 19.5 inches, the pitch is also competetive with other premium products (38 inches). One signature feature of the seat is the large armrest between two seats, which hosts the tray table on one side of the seat and your screen (as well as power plugs and an USB to load your devices) on the other.
Unfortunately, the armrests and the foldable screen lead to the major problem of LOT's seat configuration: Even if you sit in the aisle, it will be challenging to leave your seat once the person in fornt of you used the significant potential to recline – if you are sitting at the window or the middle seat, you might have to use your acrobatic skill to stand the challenge to go to the loo or have a short in-cabin walk. We fortunately were able to move to row 4 in our inbound / overnight leg from Newark to Warsaw – otherwise, it would have been really hard for me to stand the eight-hour flight. Bad luck, as I really love the seat and its cushioning – I had one of the best Transatlatic Premium Economy naps of my life in LOT's 787. If any possible, I would highly recommend you to go for row 4, which is a bulkhead and thus not  blocked by any seat in front.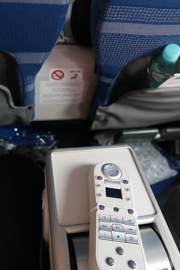 LOT Premium Class – Food & Service
Food and service has been a mixed experience to us. In both directions, there have been two meal services, a hot meal accompanied by two starters and a dessert each right after departure (which means some 60 to 90 minutes after departure) and a cold snack, which has been served some two hours before New York and 90 minutes before Warsaw. On the way to New York, our main course selection has no longer been available, but the Pork Sirloin offered was really excellent for Economny services. The dishes are served on proper tableware with metal cutlery. The cold platter before landing has also been fine.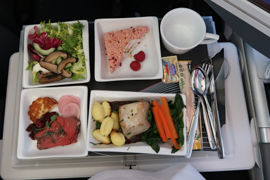 The experience on the return flight was worse here. Sarah went for a grilled salmon, while I went for Sesame Chicken Teriyaki. Both main dishes could not please us. The salmon was quite dry and the chicken has been quite strange as well. Furthermore, cups and spoons have been missing on the tablet and were only handed out on demand. In addition, the drink service has been quite… innovative: the flight started with a pre-departure welcome (water, orange juice or sparkling wine), followed by a drink served with peanuts after departure. There have been no drinks to the main meal, the flight attendant served coffee and tea after I was finished with everything (using the main dish fork for the cheesecake as well) already, followed by another round of soft drinks. Also the breakfast service has been much more limited and less professional, we enjoyed the service by the LO 26 much more – though in both cases, the frequency of drink (and snack) services during the flight was too limited or not existing – if you needed something, you had to bother the flight attendents in the gallery.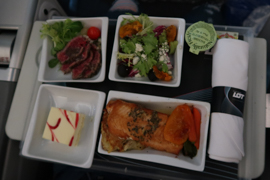 No real plus on the other services on board: you get a (quite good) blanket and cushion combo and a tiny amenity kit with the classic basics: sleeping masks, socks, toothbrush, earplugs. You will also find quite basic in-ear headphones at your seat – at least they are noise-reducing.
Finally, the plane itself was fine. I love to fly the Dreamliner, not just due to LA 705. However, despite their low age, both machines looked quite run-down. There have been some minor breaks in the seat on the outbound flight, though the plane used has just been some months old – and there were also some strange things about the inbound service driven by LOT's very first 787, as you can see in the picture below. It is a minor thing, but having two foodrest buttons (and no seat recline) is just ridiculous to me.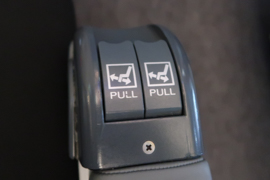 LOT Premium Class – My View
Overall, I would recommend LOT if you are able to get row 4 seats. Especially on routes from Europe to Asia, they are really competetive. One thing I did like about the service from Newark to Warsaw is that it takes longer than the services to Germany – it simply adds potential time for sleeping on your trip. Compared to top-notch Premium Economy products like Lufthansa or Air Canada, you have to clearly state that LOT is not competetive, though.
Airline Postings
Here are all postings related to specific airlines and their flights:
Flyctory.com on Social Media
Flyctory.com is active on the following social media platforms:
Furthermore, you can follow the weekly updated Country Music Playlists on