KLM Crown Lounge Amsterdam (AMS #25) Schengen
Flyctory.com Pros
Nice design with different areas
Rather centrally located
Flyctory.com Cons
One lounge for all Schengen flights
Unpractical layout of the lounge (long walks within the lounge)
Major maintenance and cleaning issues during my stay
Great staff, but just too few people
In July 2023, I did a try-out flight with Air France and KLM, exploring whether they could replace German carrier Lufthansa in my portfolio of frequent flyer program status levels. One of the checks were of course the services on the ground. Overall, I visited four lounges on that trip. After I had already introduced you to the airport-driven Krakow Business Lounge and Air France's option at Paris (CDG) Terminal 2G, I today take you to the key business lounge of the Netherlands' proudest airline, KLM. Here is my review of KLM Crown Lounge at Amsterdam Airport (AMS), Schengen Area (Lounge #25).
KLM Schengen Crown Lounge AMS – Location & Access
The lounge is located on the upper level of Schiphol Airport, close to the higher-numbered D Gates. The lounges do have numbers, but not all numbers are used (this also means that there are not 25 – or more – lounge at the Dutch airport). You can take the escalator or stairs to the lounge. Also to A and B-Gate flights, the location is somehow convenient. However, you might need ten to fifteen minutes to more distant gates. The passport control at Amsterdam (AMS) may cause major delays. Thus, I would not recommend at all to use this Crown Lounge before a Non-Schengen flight (there is a Non-Schengen KLM Lounge as well). Adjacent lounges are the Aspire Lounge and the Star Alliance Lounge.
The lounge is only available by a suitable ticket or frequent flyer status. Vice versa, this means you cannot use a Priority Pass or Dragonpass to enter the lounge. KLM does not have a First Class cabin, so that any FlyingBlue member with Gold or Platinum status (and some other additional, specific ones) as well as passengers traveling on a SkyTeam business or first class ticket have access to the lounge. I was a bit amused that the banner at the entrance still listen Virgin Atlantic separately – they are a full SkyTeam member nowadays. Maybe, there will be a new one once SAS is integrated into SkyTeam.
KLM Schengen Crown Lounge AMS – Atmosphere
The KLM Crown Lounge is large. By that, it offers a nice range of different seating options. Around the buffet, there is predominantly a bistro-alike seating. However, there are also long tables with barstool-alike seats and more cozy options. If you head to the rear left of the lounge after passing the reception desk, there are also some work desks. The layout feels unfortunate and requires quite a lot of walking, e.g. to grab food or an alcoholic drink. In a large lounge like that, this is also a matter of safety in regards of potential theft of your luggage. As this place is the only KLM Lounge for Schengen flights, it is typically rather packed. Some areas have a quite good density of power outlets, while this is rather poor in the bistro area.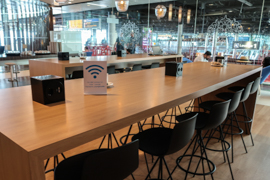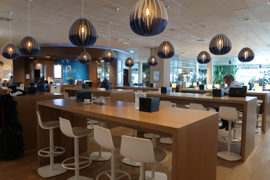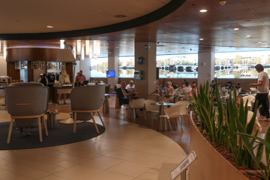 KLM Schengen Crown Lounge AMS – Food & Drink
There is a central food buffet in the KLM Schengen Crown Lounge at Amsterdam Airport (AMS). However, "central" thereby means that a single place provides the service – not necessarily that it is located in the middle of the lounge. I visited the lounge twice, in the morning and in the afternoon. The food options are not even average. There are a few hot dishes and some salads and cold dishes. The cold dishes were definitely wider and better. There are just a few places where you get cutlery and dishes (and these are rather small, so that the process of getting food is bothering. On the drinks side, the bar offering alcoholic beverages is located in the very rear right corner of the lounge. Let's call it family friendly or that you need to work for your drink. Some sodas are also provided from another spot in the lounge.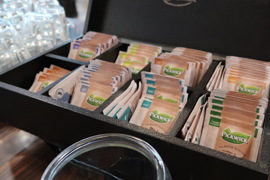 KLM Schengen Crown Lounge AMS – Services
If the staff were not that great, the KLM Crown Lounge would likely end up being a very chaotic place. During both visits, the service members worked really hard to somehow keep the lounge going – which did only work out partially. The WiFi connection provided worked quite well, though. One of the areas where the staff could not keep up with, though, were the bathrooms. They were smelly and felt rather dirty during both visits. Instead of paper towels, there was toilet paper during one of the two visits at the washing basins.
KLM Schengen Crown Lounge AMS – My View
If you wanted to have a positive way of describing the KLM Schengen Crown Lounge, I am tempted to say that the Dutch government anyway does a lot to make flying with KLM and from / via Amsterdam Airport (AMS) unattractive. In that regard, the Crown Lounge is perfectily fitting the strategy – which by the way does not really work out. The people just take their cars and fly from other airports, majorly Dusseldorf (DUS). Together with the Non-Schengen area crown lounge, this place should be a signature place for KLM. If flying with KLM would be like staying in that lounge, aviation with KLM and using the largest Dutch airport would already be massively reduced. It does look quite nice, but this lounge is simply too weak for a global airline.
Air France & KLM on Flyctory.com
Here are postings related to the AIr France & KLM Group on Flyctory.com:
Dutch Hotel Reviews
Here are all my hotel reviews related to the Netherlands: