There are a lot of discussions in Germany whether domestic flights are really necessary – and the argues against them are likely stronger than the advantages. However, there are some remote places in the country, for which air travel is definitely a massive cut of time. Also due to the fact that you cannot drive to the island (you can only take a car train or a ferry via Denmark), the travel times to Sylt are massive. The trip from Sylt to Dusseldorf Airport is some seven to eight hours by train, similar by car – and one hour by plane, plus luggage and security stuff. Even rather small airports like Paderborn/Lippstadt try to connect to Westerland for that reason, as you could see in my recent PAD Aviation E300 posting. Thus, I have some flights to Westerland, the capital of Germany's Northernmost island. Here is my airport review.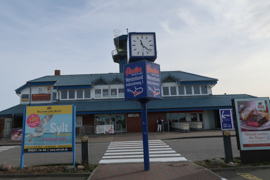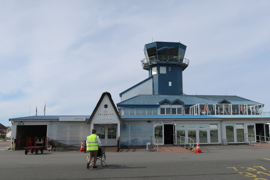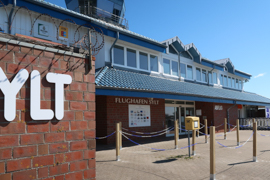 Sylt / Westerland Airport – Location & Transport
Westerland Airport is located on the Northeast edge of the Sylt main city. If you are a really brave person, you might even walk from city center – the trip from Westerland train station, for example, is some 2.5kms. The airport is Germany's northernmost one.
There is also a public bus connection, but it still leaves some walking. Thus, if you are travelling with luggage or are just too lazy, grabbing one of the yellow ones is likely. If you are staying on the island, many hosts will also somehow offer a transfer service. There is a parking lot in front of the airport of course as well.There are surprisingly many rental car desks available as well – they typically only open on demand, though.
Sylt / Westerland Airport – Destinations
The list of destinations serviced from Sylt Airport is surprisingly large: there are Lufthansa and Eurowings flights to Frankfurt, Munich and Dusseldorf Airport. There used to be connections to Cologne / Bonn Airport as well. EasyJet connects to Berlin / Brandenburg Airport. There are, however, also some minor domestic carriers. Sylt Air is having scheduled services between Hamburg Airport and Sylt. Rhein-Neckar Air is connecting Sylt with Mannheim City Airport and Kassel-Calden currently. Another German virtual airline, Green Airlines, connects Paderborn/Lippstadt Airport with GWT in 2021. The only non-German scheduled destination is Zurich, which used to be serviced by Swiss only, but the connection might be offered by Green Airlines as well.
Arriving at Sylt / Westerland Airport
Westerland is a tiny airport, so the arrivals area is hardly separated from the rest of the terminal. After the luggage belt, there are a couple car rental booths as well. There is a luggage transfer service to hotels on the island (for a charge).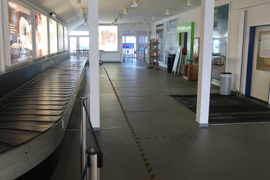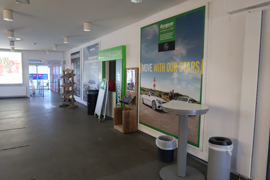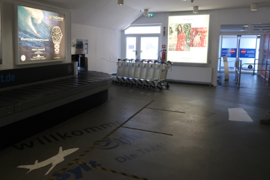 Departing from Sylt / Westerland Airport
As compact as the arrivals facilities are, the compact are the departure ones. Six check-in counters already feel quite massive – there are some more connections on weekend days. Eurowings flights can be checked in the evening before the flight. Due to the increased social distancing measures, Sylt Airport installed a tent in front of the airport to ease the check-in process. In April 2021, the tent was taken aside due to the low travel volume.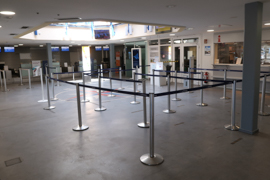 There is more or less just one security lane point, so it may be sensible to be a bit strategic when you change The waiting lounge is quite packed, especially if there are several flights the same day. Thus, if you do not have lounge access (see below), it is likely much better to enjoy the nice airport restaurant or have a walk before the flight (if weather is allowing). The airside services are also quite limited – I did not miss anything on the pictures. During my recent visit, they removed the cafe place in favor of more waiting area, which I feel is a good move in pandemic times.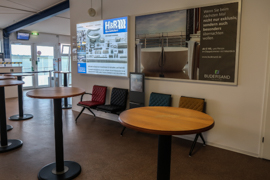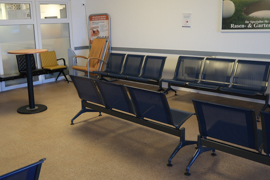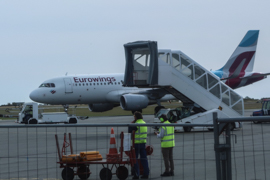 Sylt Lounge at Sylt / Westerland Airport
After you know already know the check-in area, the arrivals and the waiting room, you likely won't expect too much about Westerland Airport Lounge – or Sylt Lounge, how it is officially called. In fact, the lounge is really spacious and felt like a palace. I visited the lounge in summer 2020 before a flight to Dusseldorf Airport, so that their offers regarding food and drinks were a bit on the limited side (and there was no self service on drinks). Still, my stay there was really relaxing – the lounge also features a nice runway view.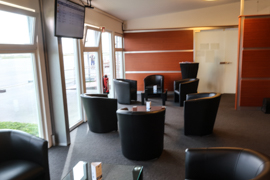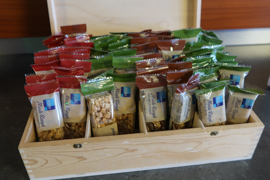 Sylt / Westerland Airport – Terminal 2 / GAT
I typically do not feature the GAT Terminals for general aviation. If you, however, have a flight with the regional flight operator Sylt Air (scheduled flights to Hamburg and charter), be aware that they depart from General Aviations, which is named Terminal 2 as well.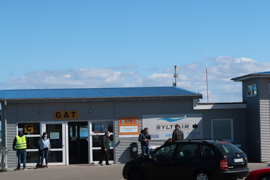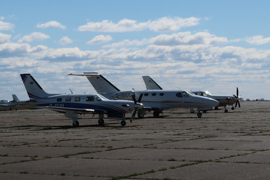 Sylt / Westerland Airport – My View
Westerland is a cute little airport, which in fact is very efficient. Yes, the building is undoubtedly too small – at least between Friday and Sunday and especially in summer. On a Wednesday in winter, the terminal is maybe one of the most useless ones in Germany. The services are efficient, the restaurant is nice. Traffic connection could definitely be better, though. The (for many people: hidden) gem of the airport is definitely the Sylt Lounge.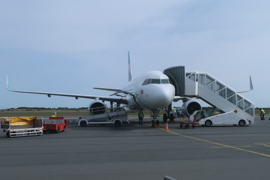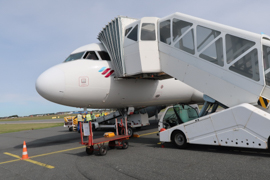 Airports on Flyctory.com
Here are all other airport-related postings:
German Hotels
Here are all Flyctory.com postings dealing with hotels located in Germany: