What is happening if you are running and airport and you just don't fine an airline which is motivated to do some connection to and from your place? Bolzano Airport (BZO), which feels to be branded to Bolzano / Dolomiti or Bolzano / Dolomites nowadays, went for the same option as Lübeck Airport (LBC) did with Lübeck Air: drive an airline on your own. The result of that decision of the Northern Italians (or South Tyrolean) is SkyAlps, the alpha flyer from the airport South of the picturesque city. Here are my thoughts about flying SkyAlps, based on a trip from Bolzano (BZO) to Berlin / Brandenburg (BER) in August 2021.
SkyAlps – Network
Bolzano is the home airport of SkyAlps. They are the first company since six year which is running scheduled commercial services from that location. From there, the airline operates direct services to Rome Fiumincino (FCO), Olbia (OLB), Berlin (BER) and Dusseldorf (DUS). Rome is the key destination with six flights weekly- There is a service to Ibiza (IBZ), for which the plane does a stop-over (if necessary) at Parma Airport (PMF) in both directions.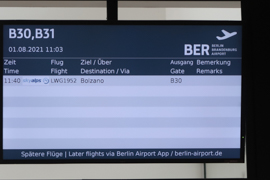 SkyAlps had some schedule issues during their first weeks of operation. Landing at Bolzano Airport may be difficult depending on the weather conditions, so that there have been some diversions to Verona (VRN). In at least one case, a Berlin and Dusseldorf service was combined to a triangular flight, i.e. flying from Bolzano to Dusseldorf to Berlin and back to Italy. Not too rarely the airline plans with turnaround times of 30 minutes, which can only be met under very ideal conditions. Thus, you could explore flight delays, especially at the end of the daily rotation.
SkyAlps – Fleet
SkyAlps is not owning planes as such. They have two Dash 8 airplanes, operated by Luxwing Ltd. The Maltese company is typically very active in the private aviation sector. The two planes, 9H-EVA (with which I flew with) and 9H-BEL, can not be found on the quite impressive fleet overview of the company. Due to that wetlease, SkyAlps typically uses LWG as an IATA airline code.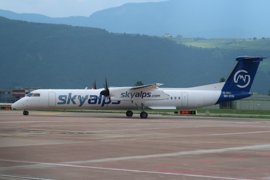 SkyAlps – The Flight / Tariff
Due to multiple re-bookings and flight cancellation, I quite short-termed decided to go for the flight from Bolzano / Dolomites (BZO) to Berlin / Brandenburg (BER). I booked the trip some ten days before the in-fact departure on 1st August 2021. Thereby, I profited that the company has fixed ticket prices for the routes to Germany.
The cheapest option for this connection is the 165.04 EUR Sky Basic, which includes one piece of carry-on luggage, one piece of luggage on hold and the full service on board, but no rebooking or cancellation. The second level tariff, Sky Go (189.95 EUR BZO to BER) gives you the option to be able to void the ticket for a fee. I opted for Sky Plus for 215.90 EUR. The key rationale about that was that the ticket is fully refundable and I was not sure if my trip planning will work out. Another rationale was the weird luggage policy: Sky Plus includes two pieces of on hold luggage. However, the maximum weight per item is just 15kg at SkyAlps – if you think about that a normal suitcase weights between three and five kilograms, that's not too much. Thus, the Sky Plus gave me some options.
SkyAlps – Ground Services
The flight was quite popular (some 40 to 50 pax) – thus, I have been quite surprised that there were some queues already when I wanted to check in some 80 minutes before the flights. The check-in was very friendly. I don't like that you are asked to fill out a contact tracing form which finally nobody is caring about (I still have it). Check-in was easy for me as the major local language in Bolzano is German (not Italian).
SkyAlps – The Cabin
The SkyAlps / Luxwing Dash-8 comes with a capacity of 78 seats (row count until 21, row 13 missing no 1 C/D). I was really happy with the cabin and the seating. Web check-in did not work for my flight, but I could get two adjacent seats on my own in the very rear of the cabin, which was quite nice to take some snaps. The seat pitch was rather comfortable – they, however, did not recline (what I generally prefer in Eco seating). The plane has got one bathroom at the front of the cabin. There are two flight attendants on each flight.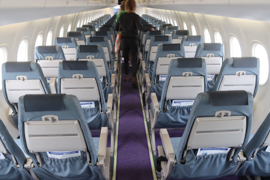 SkyAlps – The Flight
The main cabin language in the cabin was Italian with additional announcements in English. The crew did not speak German (which is fine to me, but maybe worth mentioning due to the South Tyrol home base). There were some turbulences, but even after the captain switched off the seat belt light, the service felt to be very lame and almost took until the descent to Berlin (flight was in time). I really enjoyed the selection of snacks (Loacker, South Tyrol style Schüttelbrot and a wide range of joghurts) and drinks (quite some soft drinks). I also enjoyed that SkyAlps is having an onboard magazine. Unfortunately, it is majorly full of ads for the Bolzano region – you neither learn too much about SkyAlps nor about their other destinations or fleet.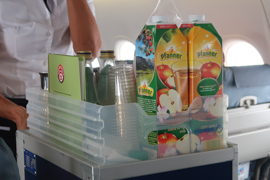 The plane was taking off in Southern direction before it made a wide U turn over the mountains after quite a while. Unfortunately, it was a bit of cloud – nonetheless, I felt it was quite enjoyable to fly over the Alps mountains. There was limited visibility for most of the flight due to clouds. Reaching the Southern areas of Brandenburg state, you could enjoy life below the airplane again through the window. The landing in Berlin was surprisingly bumpy.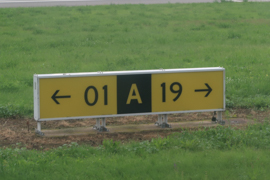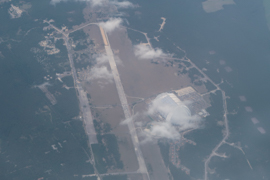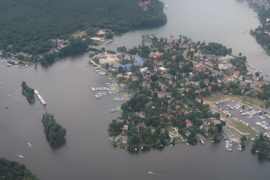 SkyAlps – My View
SkyAlps does have a potential for a successful operational future. They have to adjust some operational things and maybe also adjust the schedule (flights on Wednesday and Fridays from Dusseldorf only, for example, do not allow weekend trips). The South Tyrol area is love and definitely worth a trip. The service at SkyAlps is absolutely fine. Key factors for success will be good marketing and reducing the operational issues in my point of view.
Airline Postings
Here are all postings related to specific airlines and their flights:
Flyctory.com about Italy
Here are all postings related to Italy: