Majorly in order to check out the DAT (Danish Air Transport) connection from there to Hamburg, I happened to fly from Saarbruecken (Saarbrücken) Airport (SCN) in June 2021. Apart from some rare connections, the airport is interesting for two reasons: first of all, due to the low amount of air travel currently, the airport hosts quite a proportion of the flybe fleet currently (for technical maintenance by Contact Air). More than that, the airport is part of a test project of the German Air Navigation Service (Deutsche Flugsicherung). The air traffic controller are in fact located some 450 km away in Leipzig, from which they are operating using cameras at that airport since December 2018.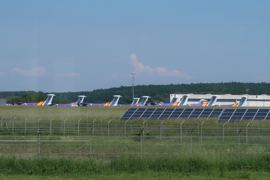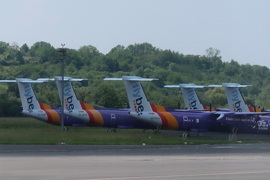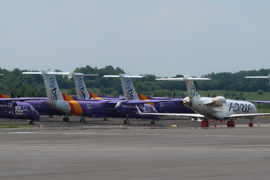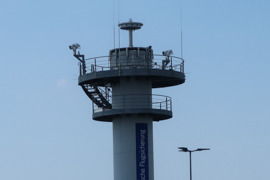 Saarbruecken Airport (SCN) – Location & Transport
Saarbruecken Airport (SCN) is located in Ensheim, East of Saarbrücken. Due to the proximity of the German-French border, it is also interesting for French people living in that region. The closes other remarkable airports are Strassburg (SXB), Luxembourg (LUX) and Frankfurt-Hahn (HHN).
The airport is quite reasonably connected if you arrive by car. The A6 motorway is some 6 kilometers away, there are direct connection roads from two exits. Public transport connection is done by bus. The bus R10 is connecting Saarbruecken Main Station and the village of Blieskastel and stopping in front of the airport in both directions. During main operation, there is one bus per hour in each direction (which is of course also not in line with flight schedules). The airport is part of the Grosswabe (Greater city region), so that my IntercityHotel Saarbruecken public transport ticket worked for the bus. Otherwise, the ticket is extremely low 2.60 EUR. The trip takes some 30 minutes.
You thus might end up taking a taxi, which I read is about 35 Euro from Saarbruecken city. There are also some 2,000 parking lots right at the airport, half of them in a parking garage and the other half open space.
Saarbruecken Airport (SCN) – Destinations
I feel it is reasonable to say that SCN connections are limited. There used to be connections from Luxembourg to Hamburg (HAM) and Berlin (BER) via Saarbruecken. Danish Air Transport (DAT) took over these routes from Saarbruecken. Eurowings is having rather frequent services to Palma de Mallorca (PMI). Especially in summer, there are some other flights to holiday destinations in Spain, Greece and Turkey.
Departing from Saarbruecken Airport (SCN)
The landside part of the terminal is rather nice, regarding it is a very regional aviation hub. There is a restaurant and some other facilities. I liked that a German holiday airline put a "summer lounge" into the airport, featuring some deck chairs. Checking in for a flight, which was the only one at that time – and, on top of that, running on a limited capacity, was of course easy and efficient.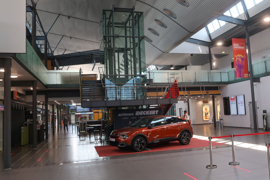 The airside part of the airport did not give me a that good impression, though. There is a bar, which is also selling snacks and feels to be quite nice. Hard to imagine that the airport security area can handle multiple flights in parallel. There is a duty-free / travel value store. The store had a person at the cashier, but she somehow felt to clean the store instead of opening it – strange attitude. Nowadays, the SCN Business Lounge feels to be open again. However, it was closed during my trip. The whole waiting area has been lacking power plugs, which I feel to be really unfortunate nowadays. The free WiFi (which funnily is called schlau = smart) worked really well, though.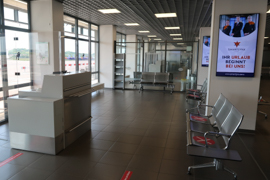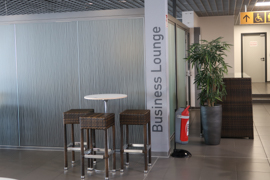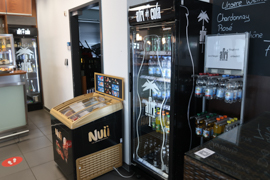 There are no jet bridges at Saarbruecken Airport. You walk to the plane, which I generally enjoy, not just due to the better photo opportunities. There was one passenger with limited mobility, which was brought to the DAT ATR 42-500. As the main service track is running right in front of the terminal building, they have to put out warning signs during the boarding process – would have loved to get one of them as a souvenir 🙂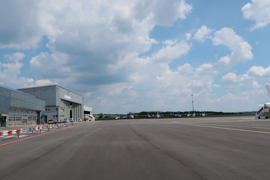 Arriving at Saarbruecken Airport (SCN)
I just had a one-way flight, so that I could not check out the arrivals' facilities in Saarbruecken.
Saarbruecken Airport (SCN) – My View
I had a couple of regional hubs (like Paderborn / Lippstadt – PAD) in the recent past. I have to admit that I felt that Saarbruecken was less charming. The facilities and traffic connections around the airport are really good – but especially the airside services were simply too poor.
Airports on Flyctory.com
Here are all other airport-related postings:
Flyctory.com in Munich
Here are all other Flyctory.com postings related to Greater Munich: