I already introduced you to the lovely regional airport of Lübeck (LBC), a city some one hour Northeast of Hamburg in Germany. Somehow, this review is the second part of my coverage – the same person who is managing and driving the airport is also driving Lübeck Air, the local regional airlines. The airline has a really good reputation in the frequent flyer scene. Thus, I was really curious about my very first flight experience with them in late July 2021.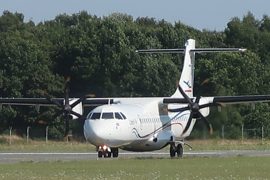 Lübeck Air – Network
The key connection serviced by Lübeck Air is the connection between Lübeck Airport (LBC) and Munich Airport (MUC). They used to run this connection twice daily (apart from Saturday and a single flight on Sunday), currently, there is one flight per day in each direction. In addition, Lübeck Air connects their hub with Stuttgart (STR) daily. Twice a week, this connection is prolonged to Bern (BRN). During summer 2021, there were also flights to Salzburg (SZG).
Lübeck Air – Fleet
As a virtual airline, Lübeck Air is not owning airplanes on their own. Their operating partner is the Danish airline Air Alsie. However, the planes are fully branded in Lübeck Air design, they however use the Air Alsie code 6I for their flights. The key aircraft used by Lübeck Air is an ATR 72-500 Turboprop plane, D-ALBC, which is operated in a sixty seat configuration. In addition, they sometimes use a 16-seated Dassault Falcon 7X, D-ACFL, which is in a jet airplane in contrast to the ATR.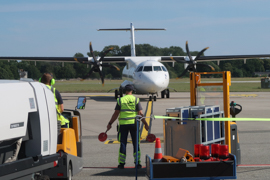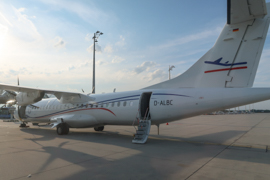 Lübeck Air – The Flight
I originally planned to have a daytrip from Munich (MUC) on 30th July 2021. However, Covid-19 flight schedule changes lead to a series of rebookings for my trip. Finally, I just had a flight from Lübeck Air's hub to Bavaria:
| Flight | Dep. | Arr. | from | to |
| --- | --- | --- | --- | --- |
| 6I 7446 | 1715 | 1855 | Lübeck (LBC) | Munich (MUC) |
The flight was serviced by the ATR 72 plane, D-ALBC.
Lübeck Air – Ground Services
Checking in at Lübeck Airport was very friendly and efficient. I had a short chat with their staff when I arrived (way too early) at the airport – I have really be impressed by the kindness and dedication of the people there. The processes in Lübeck work fine and efficient so that you really have a relaxed time. There feels to be (or have been, pre-Covid) a business lounge for Lübeck Air passengers – but I could not validate that.
Lübeck Air – The Cabin
As said above, Lübeck Air and Air Alsie configured the turboprop plane with 60 seats in a 2-2 configuration. However, Lübeck Air blocked one seat per block (at least if you are not in one party). The comparably low seat configuration (for comparison: Iberia / Air Nostrum put twelve more seats into the same plane) leads to a very comfortable seat pitch. The plane is having a nice branding and looks very well maintained, so that I really enjoyed flying with this virtual airline.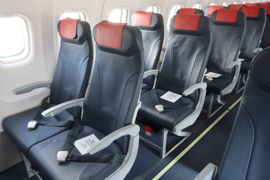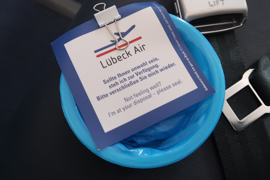 Lübeck Air – Onboard Service
Lübeck Air typically does full catering during their flights. At the time of booking, you could even choose between vegetarian and non-vegetarian meals. Due to Covid-19, there was just a small snack onboard. However, the crew served drinks as well and there was no problem to have a second drink if you liked. In order to level the missed dinner service, you received a small lunch box with quite food while leaving the train. Unfortunately, the items mixed up a bit too much due to the transport. The flight attendants were very attentive and friendly.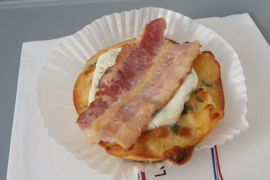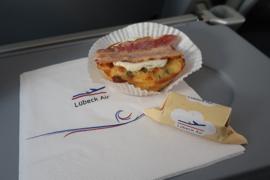 Lübeck Air – Flight Experience
The take off and descent period of the flights were really nice. Unfortunately, the middle part of the flight was rather cloudy, so that the pictures below majorly show pictures of and around Lübeck as well as the area around Munich Airport (MUC). In Lübeck, you walk from the terminal to the plane, while in Munich, you are brought with buses to Terminal 1.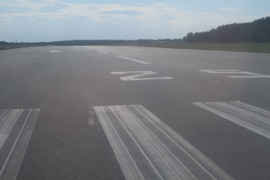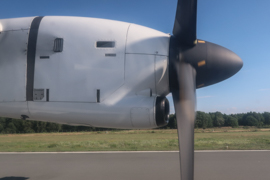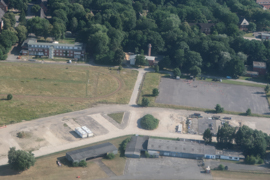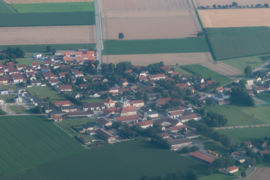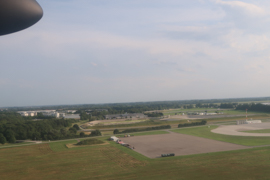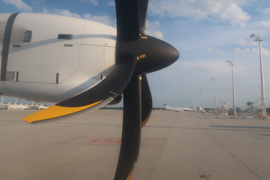 Lübeck Air – My View
That's the way I feel regional airlines do have a chance to survive and even grow their market share in the future: concentrating on valuable routes, offering good service and being efficient. Lübeck Air is not expansive, but they may not compete by the price of their tickets. Therefor, they offer really good service on board and on the ground. I really loved to fly with them.
Airline Postings
Here are all postings related to specific airlines and their flights:
German Hotels
Here are all Flyctory.com postings dealing with hotels located in Germany: