On my way back from the 2022 Lillehammer Tennis Davis Cup tie of Norway hosting India, I went back home to Dusseldorf Airport (DUS) by SAS Scandinavian Airlines from Oslo's main airport, Gardermoen (OSL). I did have a couple of flights to and from there in the past, but it was a nice opportunity to have a look into one of their lounges, the Gold Lounge. This one is located in the international flight area, as well as as the SAS Business Lounge. In addition, there is the SAS Domestic Lounge for Scandinavian flights, Here is my lounge review.
SAS Gold Lounge Oslo (OSL) Int. – Location & Access
International flights from Oslo Airport (OSL) depart from gates E and F. The Gold Lounge and the Business Lounge are in fact sharing the main entrance, you head up an elevator or stairs to a level above the ordinary shopping area. You use a boarding pass scanner to access the Business Lounge. In the corner of the SAS Business Lounge, there is another scanner to check you against the stricter Gold Lounge entry requirements.
The lounge is limited to Star Alliance Gold members. This explicitly includes SAS EuroBonus Diamond members.
SAS Gold Lounge Oslo (OSL) Int. – Atmosphere
I am typically not the biggest fan of SAS Lounges. The international Gold Lounge in Oslo (OSL) is quite nice, though. There is a nice variety of different kids of seating, from cozy places to relax to bistro-alike seats for a bite or desks set up for working. The lounge also has large windows. One part of the lounge is facing the gate area. The other one was pointing towards upgrade works during my visit.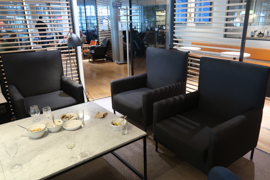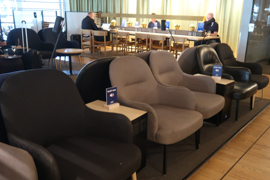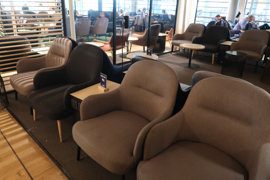 SAS Gold Lounge Oslo (OSL) Int. – Food & Drink
The Gold lounge had some nice options for food. SAS is typically stronger in salads and cold items, while the selection of warm dishes is limited. During my visit, there was a soup and meatballs, at least. The selection of bread and salad is really good, though. Overall, SAS Gold Lounge Oslo (OSL) is not a place for lounge food lovers, but it is a solid place to grab a bite before a flight.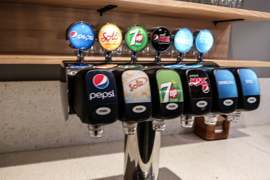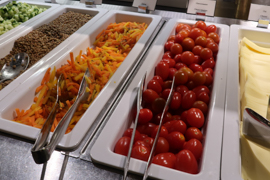 SAS Gold Lounge Oslo (OSL) Int. – Services
You don't get too much into contact with the staff. The reception is located at the entrance to the Business Lounge already. There were some issues with the access gates to the Gold Lounge, so that it took me a while to get into the area. WiFi is working well at SAS. There are no showers, but typical Scandinavian style toilets with an additional sink in the toilet cabin.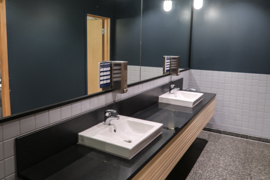 SAS Gold Lounge Oslo (OSL) Int. – My View
SAS is simply not the right operator for a posh lounge experience, but they do a solid job. The lounge has a nice design, it is clean, there are rather healthy food options. Thus, their Gold Lounge in Oslo is more than just the average to me. But it is also not sufficient to go for the very top of the rating scale.
Lounge Reviews on Flyctory.com
Here are all Lounge Reviews on Flyctory.com:
Rail Station Hotel Reviews
Here are hotel reviews of places which are close to a main long-distance rail station: