Flights directly from city to city – needless to say that one key driver of success of Billy Bishop – or Toronto City – Airport (YTZ) is the comparably poor public transport system in Canada (in addition to the large distances). Nonetheless, I was really excited when I had the chance to fly from the very special place during my recent trip to Canada. It was even more exciting when I found out that my flight to Ottawa (YOW) operated on 8th September 2021, the first day of re-opening Billy Bishop after an 18 months closing period. Thus, you may not spot that many badges and balloons, when you have a flight from there. You might also not have to give a TV interview as I did – but I guess, the general experience is very similar.
Billy Bishop Airport (YTZ) – Location
In fact, Billy Bishop Toronto City Airport (which is the full name) is located on the very Northwest of the Toronto Islands. That does also mean that the airport does not have a ground connection to Toronto City Center, even though it is just a few blocks away from Union Station or CN Tower. Depending on your transportation, you may either need to take a tunnel or a ferry, see below.
If you don't use the free shuttle bus (see below), you may either go for a taxi or take the streetcar – tram 501 is having a designated stop a doable walk away from the pre-terminal building.
Free Shuttle Bus
The airport is also operating a free shuttle bus, which is running every 15 minutes. It connects the mainland terminal (or "pre-terminal", as I called it in here) with a parking lot on the West side of the Fairmont Royal York Hotel, right opposite Union Station.
Billy Bishop Airport (YTZ) – Transport / Getting To The Airport
If you come by car, you can drive to the the handling terminal on the Toronto city shore, right opposite of the in fact terminal building. If you for whatever reason need to take a car over to the airport, the return trip is 14 CAD. The ferrs leaves every 15 minutes, the crossing is just 121 meters and thus one of the shortest ferry cruises in the world. Alternatively, you just drop off your passengers. Pedestrians used to be able to use the ferry for free, but they have to go for the tunnel now.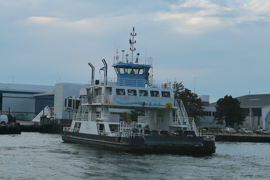 The pedestrian tunnel connects the airport with mainland. With conveyor belts, elevators and escalators, it is a very convenient trip from mainland to the airport and vice versa. You can also have some views of the ferry and the terminal before you head into the tunnel.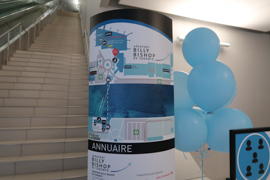 Billy Bishop Airport (YTZ) – Airlines / Destinations
At the time of writing – and also as far as I remember the recent years, there are two operators at Billy Bishop Airport: by far the largest and main operates is Porter Airlines. They service some Canadian routes, including some rather rare places like Thunder Bay (YQT), Mont Tremblant (YTM) or Muskoka (YQA), but also US-American destinations like Washington (DCA), Boston (BOS) or Myrtle Beach (MYR). In collaboration with Jet Blue, you may also connection in New York (JFK) to destinations like Cancun or Aruba. The other operator is Air Canada. With Air Canada Express, they have connections to Montreal (YUL), which is also served by Porter Airlines.
Arriving at Billy Bishop Airport (YTZ)
I just had a departing flight in September 2021, so that I cannot give you information about the arrivals experience.
Departing from Billy Bishop Airport (YTZ)
The check-in was very efficient (especially as I just had to grab my boarding passes anyway). This review is about a domestic flight from Billy Bishop Airport (YTZ), the handling of cross-border flights to the US is handled in a different part of the terminal. After check-in, there is a security for Canadian flights and one for US ones.
Security was super-friendly and efficient, before I headed downstair to the in-fact departure lounge. I was really amazed by this beautiful place. The airport features different zones with different kinds of seats. There are work desks as well as seats to relax. You can even inform yourself about the history of the airport. There is a lot of glass, but due to the architecture of the building, your views of the apron and the action on the airport is limited.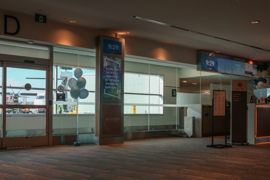 There are also some shops, from simple restaurants to a coffee shop and a general newspaper and sweets store. This newsagent featured quite a lot of Toronto souvenirs – the more, I have been disappointed that they did not feature any Billy Bishop Airport merchandise. I would have really loved to buy some stuff reminding me of the first flight from this place. At least, there was a mascot around for a photo shoot.
Billy Bishop Airport (YTZ) – Services
There are also snack facilities on the landside part of Billy Bishop Airport. Again, I was rather disappointed that there is no YTZ merchandise (you can buy multiple Pearson Airport / YYZ in the city). The people in the airport were so friendly and proud of their city airport, I feel it would definitely be worth it. There is also a car rental station. The cars are provided in front of the terminal, so that you have to take the ferry crossing after getting your car.
Billy Bishop Airport (YTZ) – My View
Pearson is quite well connected by the Pearson Union Express – so do you really need an airport like Billy Bishop (which is always limited due to the runway length etc.)? I feel you do need in Canada. I took the return route with VIARail (review to follow) and it is just not the experience you have in Central Europe. If you need a good connection from Toronto to Ottawa or Montreal, that's a handy way to do. The airport as such is a beauty and provides lovely views of the city – as well as a great service. I absolutely loved flying from Billy Bishop Toronto City Airport (YTZ) and meet its amazing staff there.
Airports on Flyctory.com
Here are all other airport-related postings:
Flyctory.com in Toronto
Here are all postings related to Toronto: