Being the hub for Iberia and also used by my favorite flight provider LATAM, I am very often making use of the modern Terminal 4 at Madrid Barajas Airport. Being a bit remote from the other terminals, T4 is split into two parts and having quite up-to-date facilities. Thus, the review explicitly just covers this Terminal and not 1 to 3, where, for example, Skyteam and Star Alliance Airlines are departing from.
Madrid T4 – Connections
The key airline at Madrid Terminal 4 is, of course, Iberia, with their regional and low cost brands Iberia Express and Air Nostrum as well as Vueling. To to the legal structures, this implies that the airport is also used by British Airways. Other oneworld airlines and LATAM, American Airlines, Cathay Pacific, Qatar Airways, Finnair and Royal Jordanian. The future oneworld partner Royal Air Maroc also uses Terminal 4. There are some additional airlines like Air Algerie, Avianca, Boliviana, Evelop, Emirates or Ukraine International.
Thus, Madrid Airport Terminal 4 is quite widely connected to Europe on the one side, but also offers a variety of intercontinental connections. Iberia is thereby, of course, one of the key European players for South American flights, but there are also quite some connections to North America, Africa and Asia. From time to time, I also have intercontinental connections to or from the Spanish capital, like my Airbus A350 Business Class experience from New York to Barajas.
Madrid T4 – Location & Transfer
Barajas, the district where Madrid Airport is located, is on the North-Western part of the Spanish Capital. Terminal T4 and Satellite T4S are marked in the map below as well as Terminal 2 (small icon), which is linked to 1 and 3.
Terminal 4 is therby the Barajas terminal with the best connections: all terminals are connected with the Madrid metro and the Express bus, which is connecting Madrid Airport with the city center. The bus is a 5 EUR charge per trip, while you have to pay a supplement if you enter or exit at one of the two airport metro stations (additional control). The most economic way to city center is the Renfe commuter train, which is connected to Terminal 4 only. Hotel shuttle buses (see below) typically bring passengers to Terminal 4 at last, which vice versa means that you are entering an empty bus when you arrive – this may be very advantageous (also depending on the hotel) in peak times.
So far, I reviewed the following Madrid airport hotels:
Arriving at Madrid Terminal 4
If you do not happen to have a bus transfer, you typically disembark the plane via gates and are directly at airside positions. This is very handy for transfering. The luggage belts are on arrival level at the bottom. The baggage claim area is huge (and is used for Terminal 4 and 4S, see below). Waiting times for luggage at Madrid Terminal 4 may be a quite unpredictable, but bothersome experience. For my favorite LATAM flight, I had any waiting time between ten and 60 minutes after arriving at the belt. From the luggage claim area, it is just a short walk to the taxis, metro and the hotel shuttle buses.
Departing from Madrid Terminal 4
Regardless whether you depart from Terminal 4 or Terminal 4S (see below), you will check-in and pass security at Terminal 4. The landside departure area is very spacious and comfortable with a couple of landside shops like McDonald's. Thus, typically, the check-in works quite efficient. If you travel with Iberia to Barcelona, you profit of the Puente Aero program, which intends to have very quick times between check-in and boarding – these flights have own security and a small work area.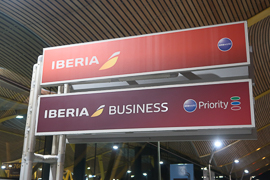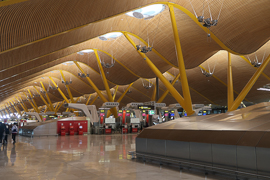 After passing security, you need to know the airport a bit to avoid being directed directly to the duty-free shop. Madrid duty free is quite good, though. Especially for alcohol, it is one of the cheapest airports in Western European Union. Apart from the duty-free, there are a lot of other shopping opportunities. There is for example Victoria's Secret, Zara or a Real Madrid store.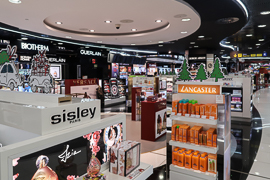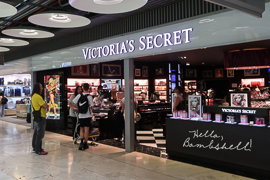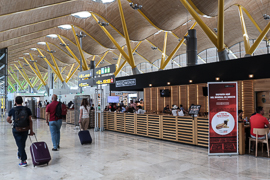 The shopping area is quite central in T4, The gates are towards both ends of the terminal building. Thereby, the walking distance between two gates or between security and the gate may be quite long and bothering. From the end of the K gates, where Iberia's Air Nostrum regional airline is departing, to the opposite end is ten minutes easily.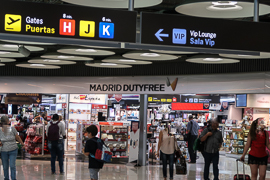 Terminal 4S – The Satellite Terminal
As Terminal 4 became too small and as it is also a Schengen terminal almost completely, Madrid Terminal 4 has additional gates in its satellite. For that reason, there is an underground tram between both terminals. More or less most of the day, the train departs any five minutes.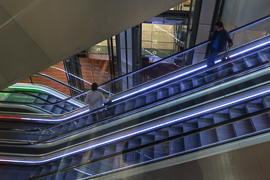 T4S has two levels. The M gates on the lower floor are intended to offer additional Schengen flight capacity. However, the M gates are very rarely used and most of the shops have closed down. It feels a bit spooky to be practically alone in this large area – but you just have to take the escalator upstairs and are back to civilization.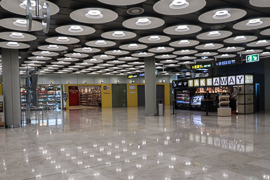 The S Gates are much more crowded, indeed (though there are some low and peak times as well). The duty free and shopping area is quite close to what Terminal 4 is offering – so it is really a nice deal. The satellite is more compact, thus you may have shorter walking routes.
Madrid T4 – Iberia Lounges
Iberia recently refurbished both of their lounges in the Terminal 4 area. Especially the Dali Lounge in Terminal 4 has profited massively from that maintenance.
Terminal 4 – Dali Lounge
Dali Lounge in Terminal 4 is really lovely. There are different areas, but overall, they are all relaxing. I do not have the opportunity to use the T4 lounge that often, but I really like it every time I do. Only the working area is a bit narrow, being located in between two major seating areas.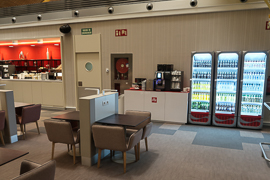 Terminal 4S – Velazquez Lounge
Not just because it serves my LATAM favorite service, Velazquez Lounge is definitely one of the top Business Class Lounge to me. The view is amazing and there are a lot of lounge seats and lunch tables. There are also special zones like a nice bar area or playing zones. You may also lay down and relax or have a shower. The lounge is really spacious as well. You will love it!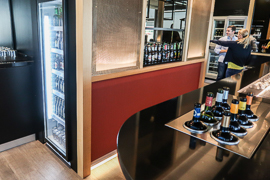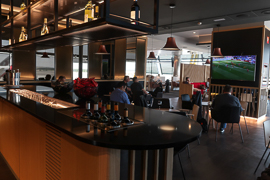 Madrid T4 – My View
While most Spanish airports are either slightly above average (like Malaga) or rather below average (like Sevilla), Madrid Terminal 4 is definitely a posh place. The comparably remote location may lead to problems to transfer – on the other hand, you enter at the terminal station of the metro and to empty hotel buses, which may be quite advantageous in peak times. The shopping opportunities are a bit too much on the posh side, but the duty-free offers some really nice bargains. The new Iberia Lounges are lovely. Thus, Madrid Terminal 4 is one of my favourite airport places. Top Pick!