Millions of tourists just cannot be too wrong: after Madrid Barajas (read my review of Terminal 4) and Barcelona El Prat, Palma de Mallorca runs the third-most used airport in Spain. I am not that frequently on Mallorca, so that this review reflects the main air travel hub of the Balearic during very different times: at late April 2021, I had an arrival and a departure from the airport during Covid-19 times. Here is my review.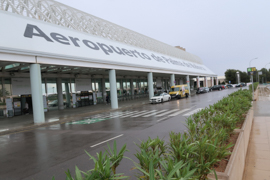 Palma de Mallorca Airport (PMI) – Location
PMI Airport is locted East of Palma, between the capital and the very famous beach party locations like El Arenal.
Palma de Mallorca Airport (PMI) – Transport & Parking
If you bought holiday packages, the transport you will typically face from Palma Airport are touristic buses. Right after leaving the arrival area, there will be numerous agents in small booths or with signs who will assign you to different mass transports. Another typical way to get away from Palma are rental cars. In late April 2021, we used Record Go, which was overall a nice experience, even though there was some trouble. There is also an express bus connection to Palma and other places on the islands. For my stay at the INNSIDE by Melia Palma City in early April 2021, I used a taxi, which was less than 20 Euro.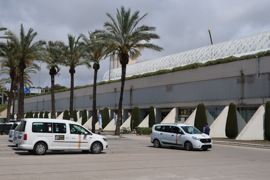 Palma de Mallorca Airport (PMI) – Destinations
It is weird to see so few connections on the boards as you see on the pictures below. If there does not happen to be a pandemic, Palma is typically connected to all over Europe. The three key destinations are of course Germany and the United Kingdom for touristic reasons as well as Spanish destinations. However, I would guess that during the summer season, there is hardly any airport in Europe which is having connections to more airport than the Balearic capital one. Even very minor German airports like Paderborn / Lippstadt (PAD) are having multiple connections during school holidays.
Arriving at Palma de Mallorca Airport (PMI)
At the time of Covid-19, all international flights were handled at the C Gates. The key reason are the mandatory usage of the Spanish Travel Help app or an alternative reporting of your location as well as immigration travel checks. This also means that once you entered the C Gates (there is no barrier), you might end up in these immigration controls. During our flights, the immigration was really efficiently organized. I was in general surprised how many people had to fill out the passenger locator form at Palma Airport – the airports I flew from checked them at check-in already and denied boarding. A couple of days after we arrived back in Germany, there were massive queues, at least for a short time, at these points.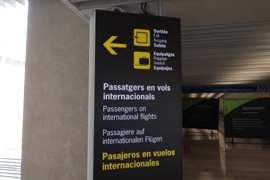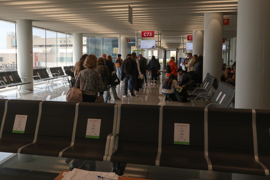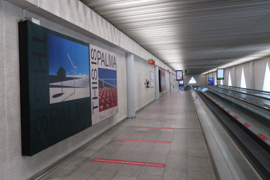 Walking routes in Palma are quite long – it is simply in fact a large airport. Luggage reclaim was really quick and efficient (again, though, the airport was running way below its capacity). The signposting is good, even though it is not as straightforward as for example in Madrid.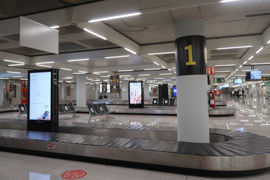 Departing from Palma de Mallorca Airport (PMI)
The majority of the pictures you see below have been taken from my first flight from Palma. The airport felt so empty – even many vending machines have been shut down. You have to say that some four weeks late, the airport did not feel packed, but you saw a huge difference. Also due to check-in priority, I had two very smooth check-in experiences. The security at the airport is very well organized. It is, however, a holiday destination. You simply run into more people who felt to have forgotten the key messages of aviation safety regulations, even though these are unchanged like almost two decades now.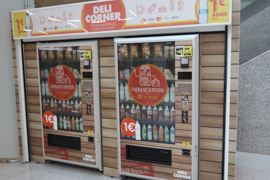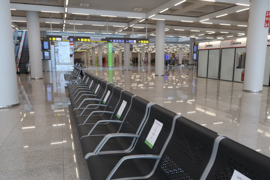 Palma Airport (PMI) was also not running on full capacity regarding its potential to take some of your last travel budget at the stores. The duty free / travel value store is amazing though. It is also a perfect reflection of how many people can be transferred during normal operations. If you are looking for the standard airport shopping items, you will find some stuff. At the C Gates, there are even some not-that-standard shops around. Unfortunately, some of the major restaurants at the gates were still closed, so that the food court as well as the fast food burger chain (the "M" one) were packed with people.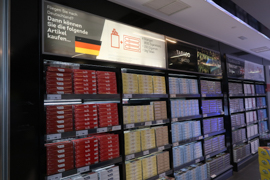 Most of the airport lounges were closed as well (see below), so that it is not that straightforward to find a place to sit down and work. Some gates feature these blue tables you see on the first picture. The one I chose had terrible internet connection, though – much worse than in the majority of the major airport. Mallorca Airport experts head to the very end of the gate area, where there are also very cosy relax facilities for all customers.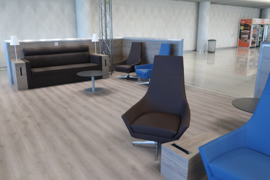 Palma de Mallorca Airport (PMI) – Services
The WiFi at Palma Airport was rather an up and down. While working at the airport, I also used tethering here and there with my mobile. The internet connection of the airport was also the cause for the major rental car delay I had (see my RecordGo review). There are numerous lounges – but most of them were closed during my visit and Brussels Airlines was one of the few airlines, who were contracted with the AENA to grant access to the open one (typically the Valdemossa one, which is located before passengers are split into domestic and international travel).
Palma de Mallorca Airport (PMI) – My View
Even though you feel that the Spanish Airport company AENA is investing into it, Mallorca is not really a charming place. The (by far) most impressive place is the massive duty free shop. The organization is working really nicely. I do not get that they had internet issues multiple times during my flights – even on the return flight at the end of April, the airport was simply running on low passenger numbers.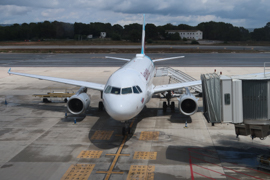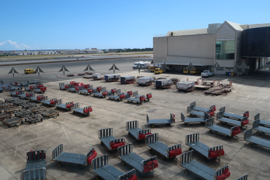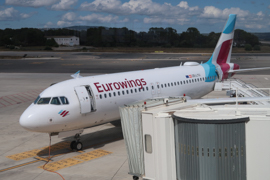 Flyctory.com on Mallorca
Here are all my postings related to Mallorca:
Good Airport Experiences on Flyctory.com
Here are all reviews related to airports (without lounge reviews), which have been rated 4.0 and better: