Many of you will likely travel into Seville by car, bus or train as part of a trip through Andalusia. The Alcazar or the Flamenco are just two reasons to visit the beautiful city. The Flyctory.com way of visiting Seville is, of course, the airborne one. I had an Iberia Express connection from Madrid Barajas Airport, Terminal 4. Here are my views on Seville Airport.
Seville Airport – Connections
Seville is a lovely city – and not that surprisingly, there are quite many connections to other Spanish and European destinations. The airport, which is roughly serving five million passengers per year, is listing 74 destinations on its website. There are flights to Morocco and the Canary Islands – all other intercontinental connections are done via Madrid (Iberia) or the transport hubs of other major airlines. If you want to have a look at the destinations from Seville, you can do it here.
Seville Airport – Location & Transfer
The airport is located Northwest of city. It is quite central, just 10 kilometers away from Seville's main train station, Santa Justa.
Transfer is rather poor. After I arrived, there was an EA bus, which is an express connecting to the city. It leaves every 30 minutes and costs 4 Euro, 6 Euro same day return. However, the bus could not service all passengers waiting – roughly 20 people needed to wait for the next bus. There is no public transport alternative. The airport website states an estimate taxi fare between 23 and 32 Euro, depending on the time of travelling. I went for an Uber, which catches you at the VTC parking lot. The Alcazar ride was roughly 20 Euro on a Friday morning. Please be careful that you pick the right car – one major Uber company is having a fleet of equivalent cars with very similar registration plates.
Arriving at Seville Airport
In contrast to most Spanish airports, you are guided directly to the luggage area after arrival. This also means that there is no airside transfer available. The tunnel route to the luggage belts is not too romantic, but it does what it should do. There are some stores around in the arrivals area, together with rental car stuff.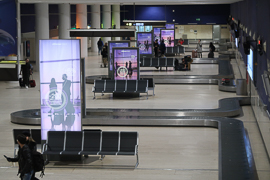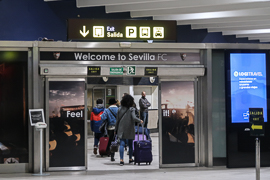 Departing from Seville Airport
While the terminal does not look to special at all, I liked the check-in area at Seville quite much. There are some 40 check-in gates. During my December flights to/from Madrid, the area looked everything but crowded. I guess in peak season between spring and fall, there is significantly more traffic around this area.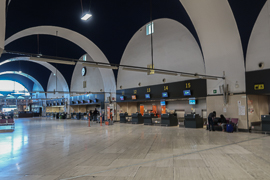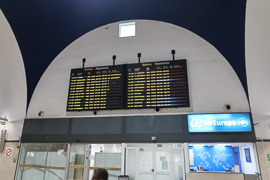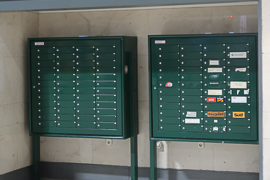 Security was fast and friendly, though there seemed to be a lack of speaking English. A very nice (but old-fashioned) feature of the airport is that you do not need to pass endless routes through a posh duty-free opportunities to reach your gates. First of all, the duty free is not posh, but tiny – and secondly, it is adjacent to some sort of plaza with some more stores and restaurants. A long aisle is leading you to the gates, which are on one side. Some of them offer you reasonable views of the apron. This tunnel-alike aisle also adds some shopping opportunities and a Burger King.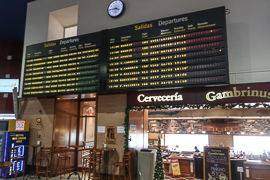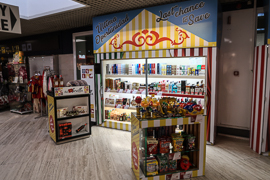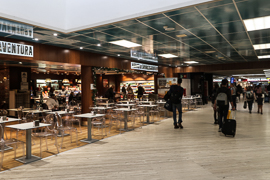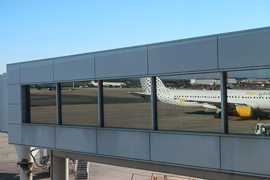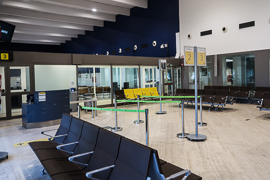 Seville Airport – Azahar Lounge
The lounge, which is named to hold 35 to 40 people (quite cozy atmosphere then, I guess) is quite nice. Like in most minor Spanish airports, it is driven by the Spanish Airport Management AENA and more or less open to any status and business customer as well as for Lounge Pass holders. These AENA lounges are never mouthwatering, but at least a solid, quiet oasis in airport life with some convenience sandwiches or salads and drinks. The design is quite nice, though.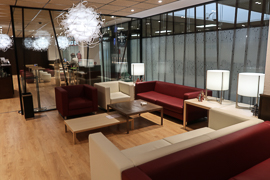 Seville Airport – My View
It is hard to find anything which makes Seville airport special. In winter, the services and security were very quick – but it is hard to assume whether this will stand in high season. I liked the architecture of the check-in area and the lounge was quite cozy (but not too crowded during my visit). There is not too much shopping, no too special restaurants (if you do not love Burger King…). The bus connection seems to be a mess. Travelling to the area, I would always recommend to go for Malaga Airport. You won't love Seville Airport, but at least, it will also not kill you.
Airports on Flyctory.com
Here are all other airport-related postings:
Spain on Flyctory.com
Here are all postings about Spain: