Though Kinmen airport only connects to other airports in Taiwan, there is quite a lot of traffic in this regional one, which may also be due to its quite siginficant distance from Taiwan's main island.
Most of the planes connect to Taipei-Songshan or Kaohsiung, a major city in Taiwan's Southern parts. I chose Far Eastern Air Transport for my trip from Songshan and went back by EVA Air's low-coster Uni Air.
Arriving at Kinmen Airport
The airport gives arriving passengers a friendly welcome. There are just two luggage belts, but before you leave landside, you are welcomed by the colourful Chinese lantern figures: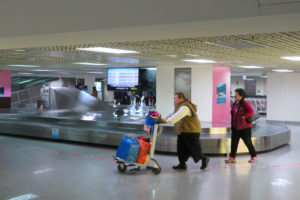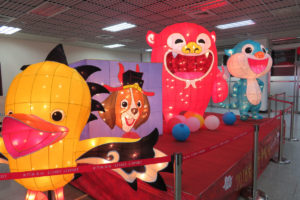 From outside, the terminal building is reasonable and modern – which is not too surprising, as the bulding has been introduced in the 1990s as part of a Kinmen modernisation and improvement plan: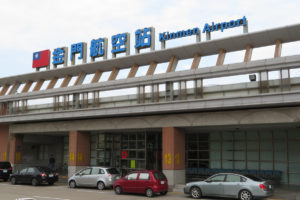 If you walk around the airport premises, by the way, you happen to find this guy… He seems to like the airport somehow 🙂
Departing from Kinmen Airport
Landside (i.e. before security control), there are some souvenir stores (i.e. in order to buy the famous Kinmen knives and Kinmen liqueur) and two restaurants. I had a delicious noodle soup – one of the best airport food I in fact had in my life so far. Apart from that, there is nothing too special about that part of the terminal building. Checking in with Uni Air has been very efficient and the staff has been very helpful and reasonable in English.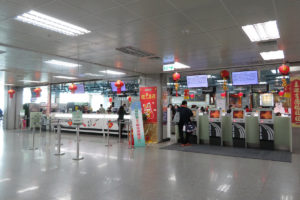 The most dominant facility after you passed security is the quite major duty free store (Kinmen is duty free, so it is your last chance to profit from it). There is also a smaller food store and a restaurant (which has at least been signposted, though I did not spot it).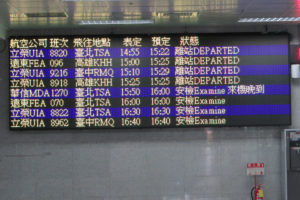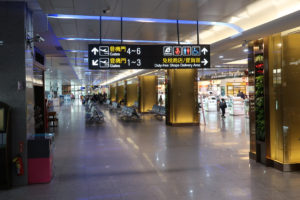 There are separate airline counters. I spent most of the time looking through the last windows and waiting for my flight. Here is the ATR which flew me back to Songshan: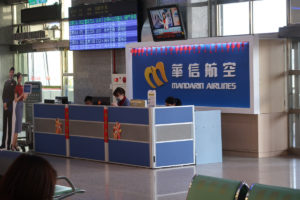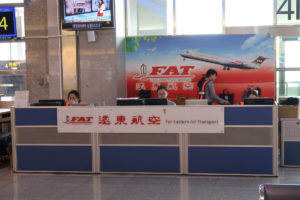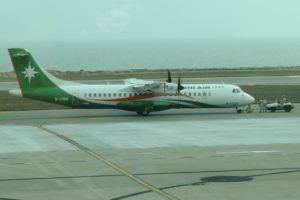 Kinmen Airport – My View
Overall, Kinmen has been a nice airport experience, absolutely fine to travel with. The service was absolutely friendly and everything was really efficient. I was amazed that I got around very well with English, while my scooter rental struggled quite much without knowing the language. Liked it!
Flyctory.com on Taiwan
All other articles about Taiwan:
Airports on Flyctory.com
Here are all other airport-related postings: