After reviewing four Christmas markets in Cologne recently, I did not expect to get in touch with any additional ones before reaching Pittsburgh to see my Pittsburgh Penguins. However, right when I stepped out of Hilton Munich Airport to grab a bite, I ran into the Christmas and Winter Market by Munich Airport. I just loved the scenery and thus wanted to share it with you.
Munich Airport Christmas Market – Location
Munich Airport Christmas Market (and Winter Market, how it is officially called) is located in the so-called MAC Forum, a huge open air, but roofed space between Munich Terminal 1 and Terminal 2, which is also used for other events.
The market opened on 18th November 2019. It will close on 30th December 2019. The daily opening times are 11:00 to 21:00 hrs. The food providers close one hour later. On Christmas Eve, which is the key Christmas holiday in Germany, the market closes at 17:00 hrs. Entry is of course free – if you buy something, most vendor give you a voucher for five hours of free parking in one of the airport's garages (P20)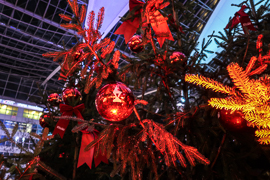 Munich Airport Christmas Market – Atmosphere
I like the atmosphere of the MAC Forum in general, especially when it is dark outside. In that winter wonderland outfit, the space between the terminals becomes a really magical place. It is a cool setting of lights from above – and if you are down on the ground, you tend to forget that you are in fact at an airport. It is a very modern atmosphere, not like traditional German Christmas markets, but a really nice place to hang out. The booths are comparably large – overall there are some 40 of them.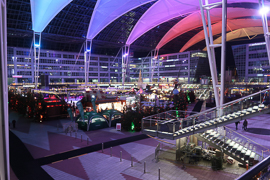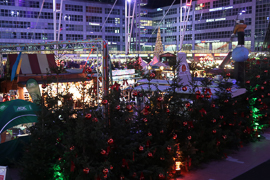 Munich Airport Christmas Market – Food
Apart from the restaurants which are around anyway, the Christmas markets offers quite some food and drinks. Some are quite classic like sausage or Hungarian Langos (fried bread), but there are also some more Bavarian-influenced dishes like wild boar burgers.
Munich Airport Christmas Market – Products
Regarding that the Christmas market is not too huge, you can buy quite some stuff there. Some booths sell crafts, but there are also nice festive items. However, there is no surprising or real special vendor, which may be especially eye-catching.
Munich Airport Christmas Market – Attractions
The most eye-catching attraction and icon of the market is definitely the ice rink, which also features disco on ice from time to time. On one side of the rink, you may play Bavarian Curling (Eisstockschiessen). There is also a carousel for kids and a stage, which regularly features live music.
Munich Airport Christmas Market – My View
Munich Airport Christmas Market may not be as beautiful as the Cologne Old Town one – but, hey, we are talking about an airport. The people I watched all loved to distract themselves between the terminal, having some season-alike food or just watching the people ice skating or play Bavarian Curling. It adds a lot of seasonal atmosphere regarding that you in fact just want to travel somewhere. Definitely like it!
Flyctory.com about Christmas
Here are all Flyctory.com postings which deal with Christmas in any way:
Airports on Flyctory.com
Here are all other airport-related postings: