For our trip in late summer 2021 to Gdansk in Poland , my wife and I arrived in the city by air. It was not the first time I connected to Gdansk Airport (GDN), but the first time after the founding of Flyctory.com. A good opportunity to have a closer look to the airport, which is named after the political leader and former Polish president Lech Walesa.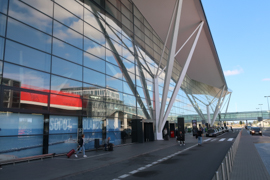 Gdansk Airport (GDN) – Location & Transport
Lech Walesa Airport is located West of Gdansk. The S6 motorway is not too far away. The distance to the center of the Northernmost of the tri-cities, Gdynia, is some 22 km. The flight handling is nowadays only handled by the terminal which is officially named Terminal 2 and has been renovated for the 2012 Soccer European Championships.
Apart from car rental and individual travel, the airport is very well connected to the city of Gdansk. There are two train lines, which use the airport terminal station, operated by regional carriers. Unfortunately, I don't have too much information about them. There is also a bus service, which is less than 4 PLN / under one Euro to Gdansk. We took a taxi to Hilton Gdansk, which is a about 60 PLN / 15 EUR.
Gdansk Airport (GDN) – Connections
Even though the domestic connects are limited (also due to improving rail connections), Gdansk (GDN) has suprisingly good connections to destinations all over Europe. The most remote connections include airports like Keflavik (KEF) in Iceland, Paphos (PFO) on Cyprus. Gdansk has especially good connections to Scandinavia and Great Britain. We had an Eurowings flight from / to Dusseldorf (DUS).
Arriving at Gdansk Airport (GDN)
There were some renovation works in the arrivals hall, which lead to a very posh luggage belt area, once completed. However, this part of the airport felt a bit of narrow. In addition, we had to pass Covid controls, so that the normal procedures at this Polish airport might be even better than we experienced. Overall, the service was well organized and went quite smoothly. The Covid measures implied that there was a bus transfer to the arrival area, which felt a bit of bothering. One thing I really liked were colored signs and ground markings, which lead you to key services like taxis or the train station.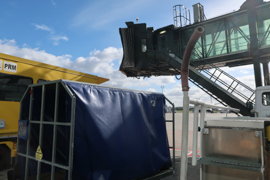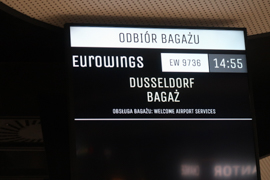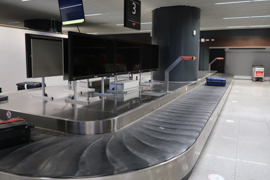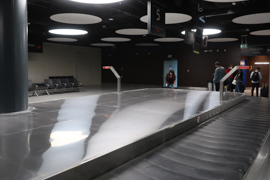 Departing from Gdansk Airport (GDN)
Gdansk Airport (GDN) Terminal 2 is not overwhelmingly large, but actually has some 40 check-in counters and a very modern styling. I like the large glass fronts, which allow a lot of daylight in the terminal building. A very interesting feature for aviation nerds is to use the toilets right behind the check-in counters. You can see the automated luggage handling system in action through the glass windows on the way there. The landside part of the terminal (i.e. before security control) also features some shops and cafes.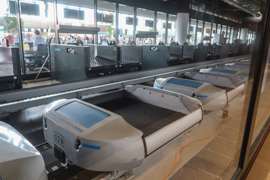 The area at the gates could be a bit more spacious, but overall the airside part of the terminal is really nice. There are a lot of stores and some restaurants, allowing you to enjoy yourself very well before your flight. The first place you visit is of course the large duty free / travel value store. It actually features a nice collection of items, local products including. I even found a store selling Cobi Polish interlockable building bricks.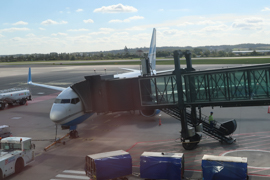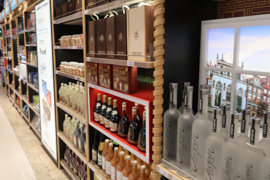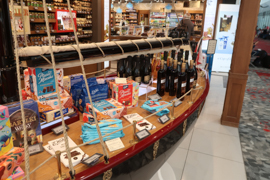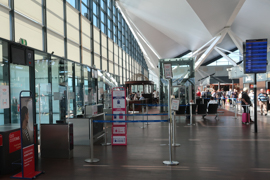 As said, Terminal 1 is not actively used for ground handling any more. Below, there is also one picture of the empty departure hall. However, during our flights, the terminal was used to handle non-Schengen flights, majorly operated by low-cost carriers.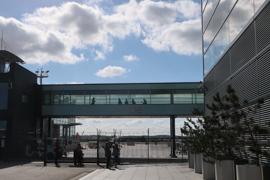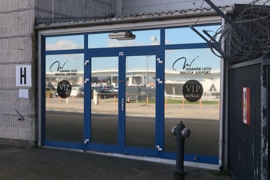 Gdansk Airport (GDN) – Services
Security times were okay and there is free WiFi in the airport. Overall, I have been very pleased with the services at Gdansk Airport. The airport also runs a lounge, which I did not visit due to a lack of time.
Gdansk Airport (GDN) – My View
Gdansk Airport (GDN) is a nice, very efficient airport. I like the way they upgraded it during the last years. The traffic connection is very good, even if you are not heading for Gdansk, but to another tri-state city. Overall, it is really a good place to fly.
Airports on Flyctory.com
Here are all other airport-related postings:
Flyctory.com in Poland
Here are all my postings related to Poland: