While Lufthansa operated their flights from the Emirates Terminal 3 during the Covid-19 flight reductions, I was quite happy to be back at their ordinary "home" at Dubai International Airport (DXB), when we flew back home after our Expo and relax vacation in October / November 2021. Finally, this has also been the opportunity to give you some insights about the lounge there, driven by Lufthansa themselves. There is also a Business Lounge, which is formally separated, but you could in fact commute between the lounge behind the reception desk.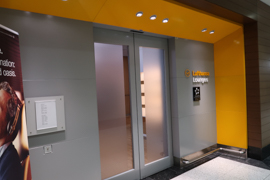 Lufthansa Senator Lounge Dubai (DXB) – Location & Access
In order to get to the Lufthansa Lounges, you take an escalator right after you passed the major duty-free shop in the terminal 1 gate area (i.e. after you have taken the train ride from the check-in). In contrast to the British Airways Lounge and the Marhaba Lounge, which are more or less right behind the escalator (after a short turn to the left), the Lufthansa Lounges are a bit more hidden at an aisle behind these two lounges.
The Senator Lounge section is – in theory (due to the open doors between the lounges) only open for Senators and other Star Alliance Gold customers on a Star Alliance flight or Lufthansa First Class passengers. The Business Lounge is also open to Lufthansa / Miles & More Frequent Flyers and ordinary Business Class passengers. If you enter the lounge, the ordinary Business Lounge is to your left, while you turn right for the Senator Lounge. At the time of writing, Lufthansa Group flights serviced by the lounge were the night services with Lufthansa and Swiss only. The opening times differ with the flights covered. The lounge is mostly opening on afternoon/evening hours with scattered morning operations.
Lufthansa Senator Lounge Dubai (DXB) – Atmosphere
I would call the Lufthansa Senator Lounge at Dubai Airport (DXB) Terminal 1 a "Lufthansa Lounge in a nutshell". The architecture is typical Lufthansa style and the lounge features all typical areas like bistro-alike seating, bar-alike high tables or wide chairs. The number is just rather limited – there are for example just two work desks in a small cabin and four relax lounger seats, which allow you to lie down and even have a short nap. Even if Lufthansa flights are not fully booked, you should not arrive too late to get a seat in there.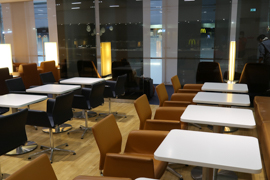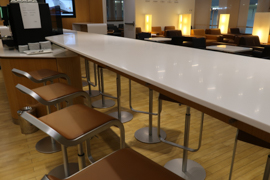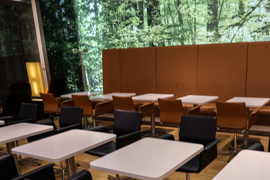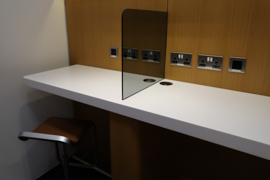 Lufthansa Senator Lounge Dubai (DXB) – Eat & Drink
One wall of the lounge is dedicated to refresh yourself. The selection of non-alcoholic drinks is quite nice, on beers, wine and spirits at most on the average side. The selection of food is like in a better Lufthansa Senator lounge. At our last visit, there were filled flatbread, a curry, rice, vegetables, a soup and a quite nice variety of salad, fruit and sweet and savory snacks – so that you finally end up in a quite nice range of items.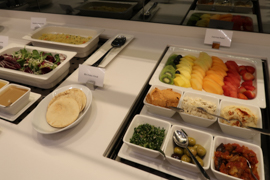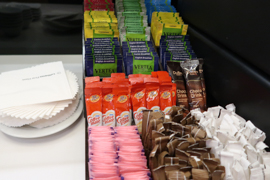 Lufthansa Senator Lounge Dubai (DXB) – Service
The staff is really nice and very motivated and helpful. The WiFi is provided by Lufthansa's typical partner and is thus very reliable. The lounge features own toilets and showers, which are shared with the Business Class Lounge.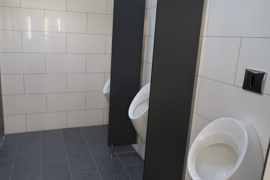 Lufthansa Senator Lounge Dubai (DXB) – My View
The key issue of Dubai's Senator is: it is just there to serve a few flights a day – which means, it is too large (or even closed) during some of the time, while it is too small in the key period, which is the early night. This especially means that having a nap is a challenge. The lounge itself is pretty solid, which slightly above average food. Still a good place to relax before a flight.
Lounge Reviews on Flyctory.com
Here are all Lounge Reviews on Flyctory.com:
Lufthansa Group
Here are all my postings related to the Lufthansa Group: