If you collect and something, you likely also have one or more several favourite pieces in your collection. What do you collect as a frequent traveller? Airlines, planes, airports, lounges, special connections, hotels, cities… My favorite flight compares quite a lot of these travel nerd items: Chile's LATAM flight 705 from Frankfurt to Madrid is just a highlight of my travel log – and I always look forward to the next time I am able to take that one. This is an article why I simply like this connection, which I wrote during my trip visiting the Parque Warner Amusement Park near Madrid.
What is LA 705?
In fact, connection LA 705 is the connection service from Frankfurt to LATAM's home, Santiago de Chile. It is serviced by the Dreamliner, Boeing 787. Unfortunately, I never made it to South America (so far…), as the flight is refueling in Madrid Terminal 4, where you might also transfer to other LATAM connections like Sao Paolo. You can also just book this segment from Frankfurt to Madrid.
LA 705 (and the return flight LA 704, see below) is the only connections which I on the hand did comparably frequently – ten times – and never did in Economy Class. I always took the Business Class option. First of all, because it is amazing – I will tell you about it in this article. Secondly, because it has been very low priced and is still offering a quite reasonable fare. The first time I used the flight, it costed some 220 EUR return. You could also connect it nicely with connections to other Iberian airports (which is then serviced by Iberia or the regional airlines). Nowadays, these connections are very rare and the price for a return ticket is about 300 Euro. You will receive 40 Tier Points at British Airways for each leg.
LA 705 before Departure
In fact, connection LA 705 is the connection service from Frankfurt to LATAM's home, Santiago de Chile. The LATAM check-in counters are located in Terminal 1, at its very end in Terminal C, next to Air Astana and Condor. Check-in counters typically open some three hours before flight, which means around 16:30hrs. The check-in is relatively efficient and you will receive the invitation to the Air Canada Lounge at the B Gates, which is very nice due to two reasons: first of all, it will just be a short walk from there to the gate. Secondly, many Frankfurt flyers would agree to me that this is maybe the best Terminal 1 lounge apart from the First Class ones. The view is beautiful, the staff is nice and there is a nice variety of food and places to relax, work or have a nap.
If you wonder that LATAM is partnering with Air Canada for lounge access: that due to the final destination of LA 705, Santiago de Chile, the flight is operated from the B-Gates, Non-Schengen gates. This especially eases the handling in Madrid, where you do not need to have a passport control if you head on to Latin America.
LA 705 In-flight Experience
LATAM's flight LA 705 is operated by a 787 Dreamliner plane. In the Business Class Cabin, there is a 2-2-2 configuration (which means that there are three blocks of two seats in each row). The main cabin is configured as 3-3-3 – some of the newer models have some sort of More Space seating in the economy's front rows.
The Business Class seats are very comfy and stretchy. Between Frankfurt and Madrid, you will not have all services of a longer Business Class flight, which you may first of all recognize as there is no amenity kit. Blankets and Pillows are available though. The Inflight Entertainment used to be absolutely excellent – but even after a downgrade in volume of music, movies, TV shows and games offered, it is still very, very good. You find the VAMOS magazine in the literature pocket. I reviewed it at the end of 2018.
Before departure, you will be offered a welcome drink and some nuts. I prefer to start a LATAM flight with the local cocktail Pisco Sour – but "more classic" sparkling wine is also available as other alternatives. During flight you will be offered a cold dish. There are some varieties of these dishes, but after being a LATAM-nerd, I more and more feel I know them all 🙂 The food quality is lovely – and while there is no full meal, you will enjoy a nice selection of drinks and wine to it. In general, I always felt the service onboard is professional and very charming – it might be even better if I could speak some more Spanish. The level of English is always more than sufficient, though.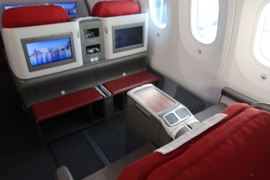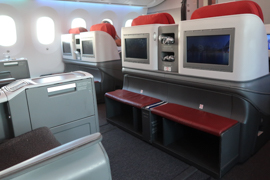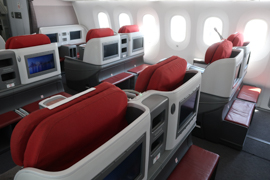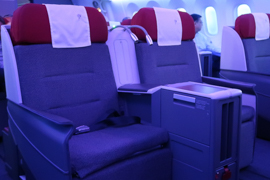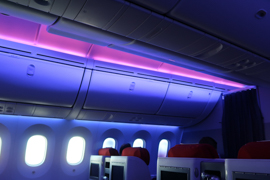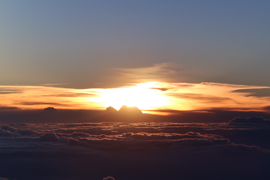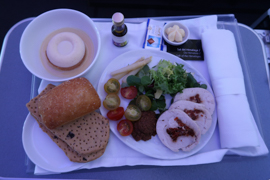 Arriving in Madrid
I like Madrid airport, but the arrival procedure tend to be slightly time-consuming. LATAM operated from Terminal 4S of Madrid-Barajas airport. The "S" stands for Satellite, the gates are quite far away from Main Terminal 4. However, the satellite is well connected by an automated underground tram ride. Including passport control and tram ride, you should make it within 20 minutes from exiting the plane to the luggage belt (which is again located in the non-Schengen area). Typically, you have to wait some time for your luggage before you transfer on to the city. The terminals are either connected by metro or by an express city bus to city centre. There is also a taxi flat fee (30 EUR) of all destinations within the Madrid circular motorway.
LA 704 – Back Home to Germany
Outbound LA 705 would be just half as nice without its inbound LA 704 – the on-board experience is of course very similar, but of course, you are profiting of the services  of Madrid airport. The two key features of Madrid airport on this flight are definitely the vast shopping facilities in Terminal 4 and the Satellite terminal as well as the beautiful Iberia Velazquez Lounge. The Non-Schengen relaxation oasis has just been recently refurbished and is just amazing: lovely food and a great view over the apron. Love it!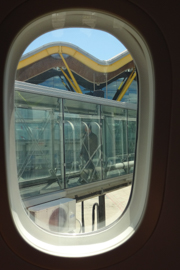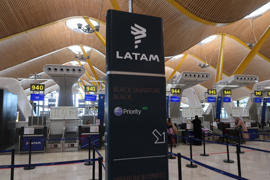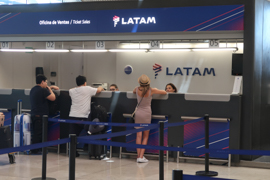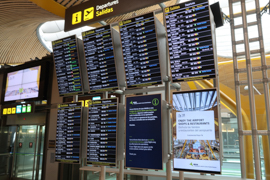 I paid all tickets for the LATAM flights 704/705 on my own. However, I do profit from earning Avois and Tier Points at British Airways Executive Club for flying LATAM.