If you travel to the Azores, you very likely do your first steps on the archipelago in Ponta Delgada airport. I have been gifted to be there at the end of May 2018 and give you some insights of the Azores travel hub named "Joao Paulo II Airport" officially (the name of Pope John Paul II in Portuguese). I visited the airport as part of a trip surrounding the Azores' major island by scooter.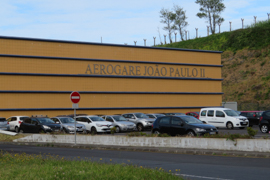 Ponta Delgada Airport PDL – Location
Ponta Delgada is the "capital" of the Azores and the airport is conveniently located right next to the city on its Western side and close to the Atlantic ocean. A lot of tourist likely grab a rental car to drive around the island and do hikes from there – the alternative to connect to the city or to any other place on the main island, Sao Miguel, is taxi – there is no airport shuttle bus or similar. The taxis have fixed fares, only depending on the route and some parameters like number of luggage. I had an individual drive from the airport to my Ponta Delgada center hotel for 10 Euro (in the nighttime).
Ponta Delgada Airport PDL – Connections
I would group the flights to and from Ponta Delgada airport into three groups: first of all, there are the inter-island flights within the Azores, which are all operated by SATA Air Acores. Examples are Horta or Terceira. The second important group of connections is to Portuguese mainland. SATA's mid- and long-distance sister Azores Airlines (very confusing having two companies which are in fact the same ownership) service Porto and Lisbon, but are in competition with TAP and Ryanair on these routes. There are also several holiday connections to PDL, either by one of these three peers or holiday charter flyers. Azores Airlines is for example also offering direct flights to and from Frankfurt. The historic importance of the Azores was also to have a stopover and refueling opportunity on route between Europe and North America – and there are still some routes from PDL to West, connecting to Boston or Toronto. There is also a seasonal Delta service from New York. Thereby, Azores Airlines is quite well connected in these areas by additional codeshares and interline agreements. If you first head to Terceira, you may even connect to Oakland in Greater Los Angeles with them directly. But as the archipelago is really booming as a holiday destination, the list of possible destinations may change quickly (in the summer schedule, for example, I saw a flight to Cape Verde – just don't know how frequent it is).
Arriving at Ponta Delgada Airport PDL
I arrived with SATA / Air Azores at about 11:20pm and have been amazed how efficient the ground handling has been. Unboarding the plane was just a short walk to the terminal – and even though I was in row 11 of an A320, my luggage just arrived at the belt when I entered the arrivals hall. Amazing performance. Thus, more or less ten minutes after being at the parking position, I already sat in the taxi to the hotel.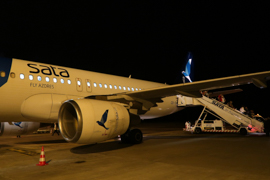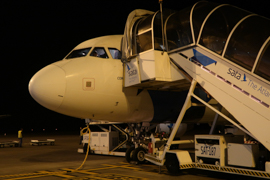 Ponta Delgada Airport PDL – Check-in and Security
The good impression I had of the facilities at PDL during arrival definitely seemed to keep during check-in, security and boarding. There are some ten check-in gates, finally they are all operated by SATA and their staff, who offer services to the other airlines. Due to the close cooperation, you can use the SATA Priority counter to check-in for TAP Business / Star Alliance Gold as well. There was just one security lane, but the people were very professional and helpful as well. Very amazing to see was the quick rotation of my incoming TAP airplane before we left to Lisbon.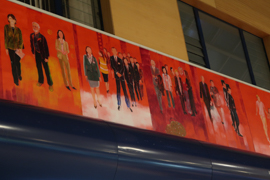 Ponta Delgada Airport PDL – Shopping and Eating
Regarding that it is quite a small terminal, I felt that the "spending money" situation at Ponta Delgada was good. The arrivals area is, of course, dominated by rental car companies. In the other parts of the landside terminal, there are souvenir shops, a cafe, a restaurant and some other stores as well as a post office. Airside (after security control), there is a duty free and two fashion stores as well as another snack bar / restaurant. Of course, you may buy Azores product more or less everywhere – what about bringing home to your beloved ones some Azores jam, tea or nuts?
Overall, I felt that the offer of shops and restaurants is fine. The airside space is just very limited and might not be able to keep up with the demand in the next years. Therefore, the landside offers exceeded my expectations.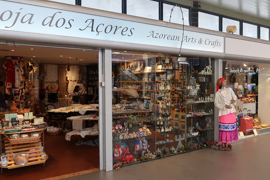 Ponta Delgada Airport PDL – SATA PLUS Lounge
There seems to be close collaboration between TAP and SATA / Air Acores – and this also allows TAP Victoria status guests and Star Alliance Gold Members to visit the SATA Lounge. As an aviation geek, I was of course looking forward to this experience.
If you don't expect champagne and a variety of hot and cold foods, I felt that the lounge visit was quite cozy. The buffet just consists on a selection of soft drinks and a coffee machine (which was broken down at the time of visit), the food was some packed crackers and cookies. The atmosphere was quite nice, though, with some very cozy seats arranged in different groups (one with a TV set) and power plugs around everywhere. No workspaces or similar. You may use your Priority Pass to enter the lounge as well – it is maybe not a place worth paying for but definitely a place you enjoy when you are in.
My Review of Ponta Delgada Airport PDL
Sao Miguel is a tiny, cute and beautiful island – and so is Ponta Delgada Airport to me. Currently, it is a small, regional hub and offers anything you could expect – but also not more. It will be interesting to see how the airport is able to handle the increasing touristic focus of the destination in the middle of the Atlantic – one local told me that you already might be able to book a flight in July and August – but if you are too late, you might run into real trouble booking a hotel or a rental car. The shared civil and military airfield in Terciera (which even has a significantly longer runway) may be able to cover parts of these future needs.
Flyctory.com in Portugal
Here are all postings dealing with Portugal:
Airports on Flyctory.com
Here are all other airport-related postings: